Filipino stars react on anti-Duterte ad
Filipino celebrities and famous personalities have posted their reactions on the smear campaign advertisement against Davao City Mayor Rodrigo Duterte.
Just a few days ago, a smear campaign against presidential candidate Rodrigo Duterte aired on ABS-CBN, TV 5, and GMA 7. The Anti-Duterte ad was paid by vice presidential candidate Antonio Trillanes who have been actively trying to unearth Duterte's alleged bank accounts.
After the ad aired, netizens have expressed mixed reactions. Duterte's fans have been enraged, while others were disturbed, approved of the video, and some don't know what to feel. Now, celebrities and famous personalities alike have voiced out their opinion on this Anti-Duterte TV ad.
Karen Davila, TV host and Broadcast Journalist, has tweeted "To use children" along with emojis of monkeys covering their eyes. As of posting, she has deleted the tweet but FashionPulis.com was able to capture the tweet.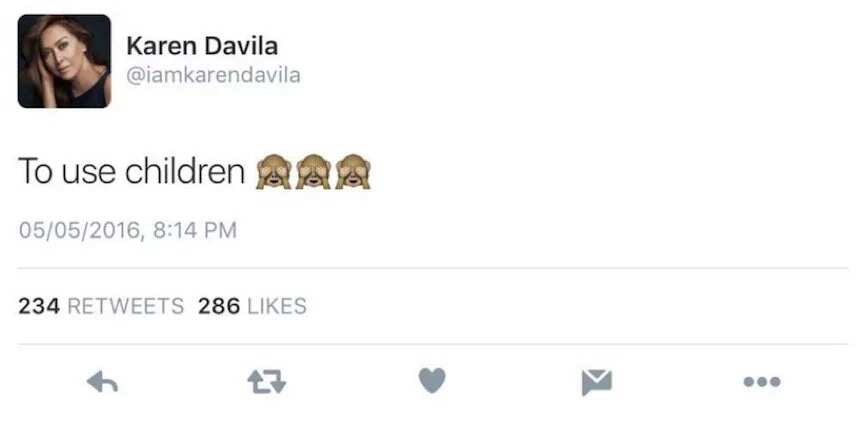 Robin Padilla did not like that the ad used children. He has also shared the same photo that Oyo Boy shared questioning Bantay Bata. The "Pilipinas Got Talent" judge captioned the photo: "Children should not be used in black propaganda, no matter what the situation is. Republic Act No. 7610 June 17, 1992 ..."
Aiza Seguerra blames the media for twisting the truth. She shared a photo on Instagram with a quote saying, "If you're not careful, the newspapers will have you hating the people who are being oppressed and loving the people who are doing the oppressing." In her caption, she claims that "this is exactly what's happening right now" with Duterte. She urges her fellow supporters to "hold tight" until the end.
Singer Richard Poon posted his opinion on Instagram as well. In the photo he shared, Richard blames the Liberal Party, whose signature color is yellow, for making the ad despite the fact that Trillanes who is from the Nacionalista Party paid for the ad to be aired: "The Yellows are using his valid flaws TO DEMONIZE HIM INTO TURNING EVERY DAVAO CHILD INTO A MONSTER LIKE HIMSELF. That is NEVER TRUE of my Davao friends & Davao children. Duterte's flaws WILL NEVER OVERSHADOW his SHINING COMPETENCE to give A BETTER GOVERNMENT. And YellowControl will never be able to HIDE their INCOMPETENCE under the BANNER OF MORALITY."
Some netizens recall irony in Duterte's previous political ad – Duterte Para sa mga Bata – where he also used children to inform voters that children are his top priority.
Source: Kami.com.ph