Opposition connect the dots on Gloria Arroyo's speakership to "Prime Minister" under a federal-parliamentary gov't
- Leaders of opposition admonish every one about the symptomatic effects of Pampanga Rep. Gloria Macapagal-Arroyo's step to power as the new House Speaker
- The opposition has connected the dots about the Duterte admin's plot to fast-track federalism resulting in a parliamentary form where GMA would be the PM (Prime Minister)
- Leaders of the opposition say that the cha-cha bids of GMA Admin were a hindsight to today's actuations of the gov't toward federalism and extension of power
PAY ATTENTION: Click "See First" under the "Following" tab to see KAMI news on your News Feed
The opposition is threatened that now House Speaker Gloria Macapagal-Arroyo would become the country's prime minister under a parliamentary-federal constitution.
KAMI learned about the opposition's apprehension when opposition members and leaders expressed their worries regarding GMA's rise to power for the second time amid the fast-tracking of the change of charter via a constituent assembly.
In an earlier report by KAMI, the former president got elected by the majority of the lower chamber following Rep. Pantaleon Alvarez's unseating.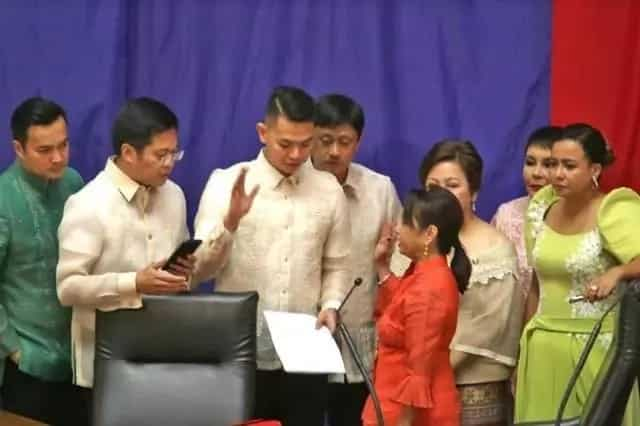 Liberal Party External Affairs VP, Erin Tañada raised that her election to speakership post would be detrimental, knowing that the government would push for cha-cha through joint assembly of Congress.
"That's why I'm saying Con-@ss [sic] is a very dangerous proposition right now because if they move and they are able to secure it is a voting jointly proposal, then they can always push that it will be a parliamentary system and then GMA is prime minister," he stated in an interview with Rappler.
Another former representative, from Akbayan, Barry Gutierrez markedly recalled Arroyos's previous voracious appetite for power when she was still commander-in-chief of the archipelago.
Gutierrez quipped, "[s]he's a threat in the sense that she's very capable of pushing successfully the agenda of the administration with Congress, which is charter change at the moment. She has the smarts, she has the experience, and this is something that she's wanted to have for a long time."
Trillanes also shared his apprehension, "Definitely, she is not a positive influence to our society because she used to be the face of corruption and I don't think she was able to rehabilitate herself or her image along those lines."
He also prognosticated about the clash of Arroyo and Duterte's interests in relation to stay in power. "Their interests are not the same. Duterte's interest is to prolong his stay in power. GMA's interest is to reclaim power. That's diametrically opposed; at some point, it will clash."
Former President and now House Speaker Gloria Macapagal-Arroyo is a Filipino professor of economics and politician who served as the 14th president of the Philippines and the second female president of the republic after late Former President Corazon Cojuanco-Aquino. The said president stepped down from power after a piled number of issues concerning her governance amounted to cases filed against her that resulted in her house arrest for 4 years. She was later acquitted by the Supreme Court a month after President Rodrigo Duterte took office.
POPULAR: More stories about Gloria Macapagal Arroyo here!
Have you missed our Tricky Questions? Today Filipinos will answer the new set of really tricky questions our team has prepared. So… What about you? Are you smarter than these people we've met in the streets of the Philippines? – on KAMI HumanMeter YouTube channel!
Source: KAMI.com.gh