- A little girl seen studying even without a roof to protect her from the heat and rain elicited appreciation from the netizens
- Many were inspired by the little girls determination and perseverance
- The video gained a lot of shares, views and comments from the netizens
PAY ATTENTION: Click "See First" under the "Following" tab to see KAMI news on your News Feed!
While many of us complain about the bad weather, a little girl who is just 8 years old tries her best to finish her homework even without a roof protecting her from the harsh weather.
Elaine Dolfo was doing her homework when a Passerby Rolando Villanueva saw her which really struck him.
He captured the scene and uploaded it online which immediately gone viral.
The video caught international media attention with U.K. news outlets such as Daily Mail, LAD Bible, and Unilad writing a feature about little Elaine.
According to Rolando, Elaine said that they became homeless just recently after her father got sick.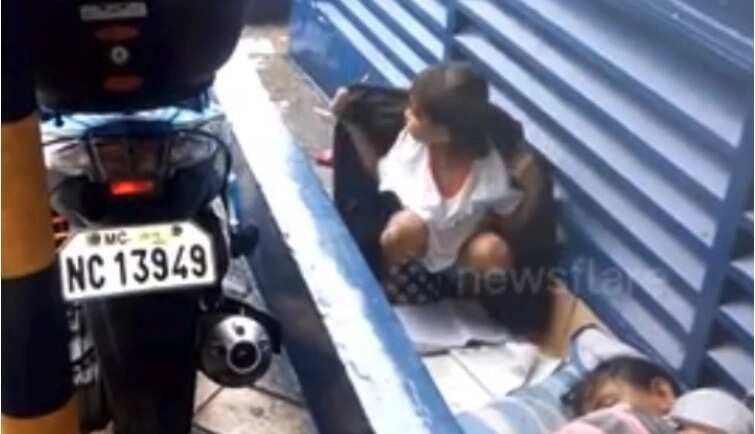 Without income, the family was kicked out of their rented home.
Their family consisting of Elaine, her mother Ellen, 40, and younger sister Alexandra, 4, were found huddled in the empty space outside the boiler room of an apartment building on Quezon Avenue when the clip was recorded.
The brave little girl kept up finding a good spot to keep herself and her homework dry.
A Grade 3 student at the Aurora Quezon Elementary School, Elaine has already bagged second honors and she is struggling so as to change their lives for the better.
Makeup For A Gym: Stay Awesome While Working Out | on BeKami
A certified makeup artist of MAC Philippines will create several new looks for our amazing coach Crystalle.
Do you want to learn everything about workout makeup? Click "Play" and enjoy the video!
Source: Kami.com.ph