Roy Lawagan, a 27 year old security guard and a Kalinga descendant, recently passed the bar examination, making him one of the 1,731 new lawyers in the country.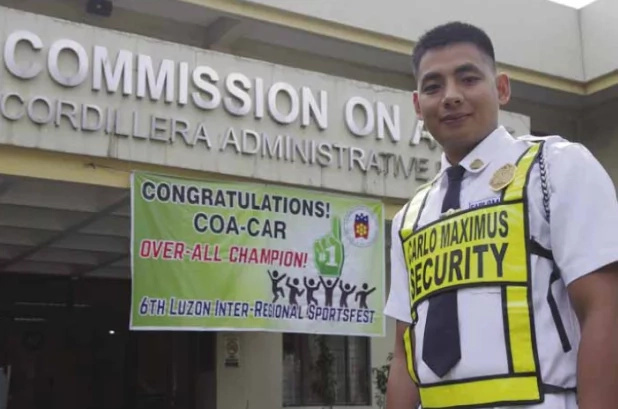 Roy Lawagan, is now one of the 1,731 new lawyers in the country. He is also working as a security guard at the Commission on Audit office in La Trinidad, Benguet.
Despite failing to pass the 2014 bar exams, Lawagan made another attempt to clear the bar exams.
In the preparation "Habang nakaduty ako, nagbabasa ako kahit saan-saan dito. Pero mostly doon sa taas kasi may library dito," Lawagan said in a media interview. He did a self-review for the 2015 bar exam. He said that "Being a lawyer was my father's dream."
Lawagan finished a four-year criminology course at University of Baguio. He completed his law studies at Saint Louis University.
According to him, working and studying at the same time is difficult. Another factor that made it hard for him is that his wife is pregnant with their daughter, now four years old, during the time when he was still a first year law student. However, his family is also his inspiration."Nagulat po (ako), pero masaya po. Kasi may tiwala naman ako na kaya niya. Sabi niya kaya naman daw niya," his wife reacted.
Lawagan also said that passing the bar is an advance gift for his birthday on May 11. "Tumakbo ako sa internet shop. Doon ko chineck kung talagang may pangalan ako doon. Meron naman," Lawagan said. He said he is staying in COA as one of its security guard till May 15.
Last May 3, the list of the 2015 bar passers was released. Supreme Court Associate Justice and Chairman of the 2015 Committee on the Bar Examinations, Teresita Leonardo de Castro, said that only 26.21% of the 6,605 passers successfully made it.
The bar examinations were held during the four Sundays of November last year at the University of Santo Tomas.
RELATED: 
Source: Kami.com.ph