- Fifth Solomon fumed at an unnamed celebrity mom
- Though he did not disclose the identity of the celebrity, he revealed a hint about the celebrity's gender
- He had an argument with the celebrity's mom which happened in a party he attended
PAY ATTENTION: Click "See First" under the "Following" tab to see KAMI news on your News Feed!
Fifth Solomon took to Twitter to express his anger towards someone he had an argument with. He disclosed that he attended a party where the incident happened.
According to him, the celebrity mom is really mean. Though he did not mention any name, she is a mom of a male celebrity.
This made many brows raised out of curiosity regarding the mom's identity. Netizens began to speculate which male celebrity he is talking about.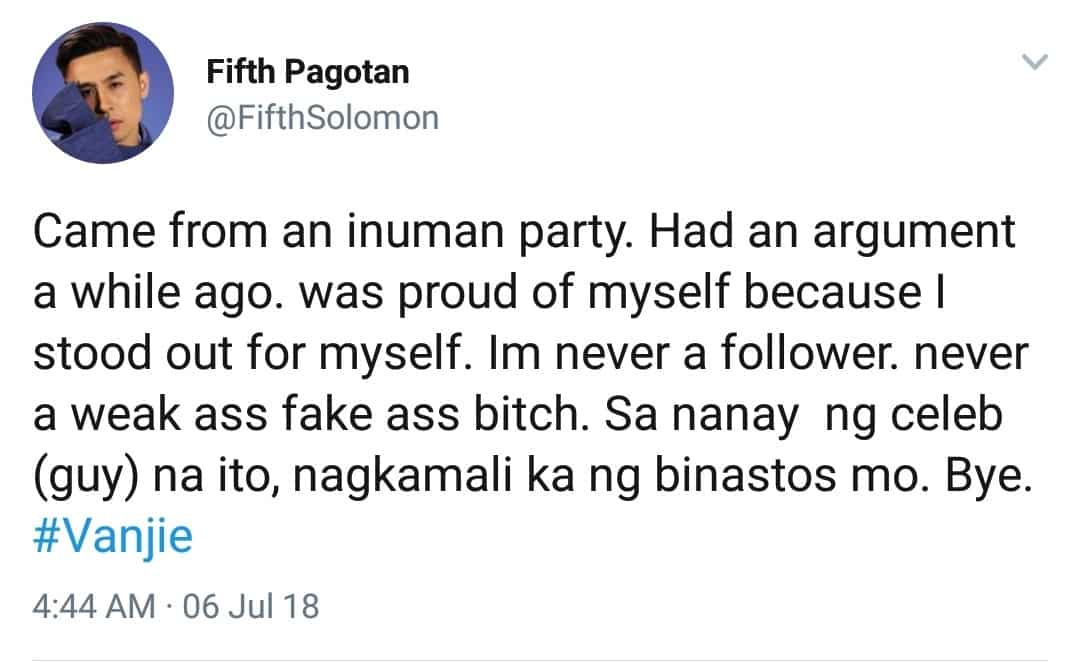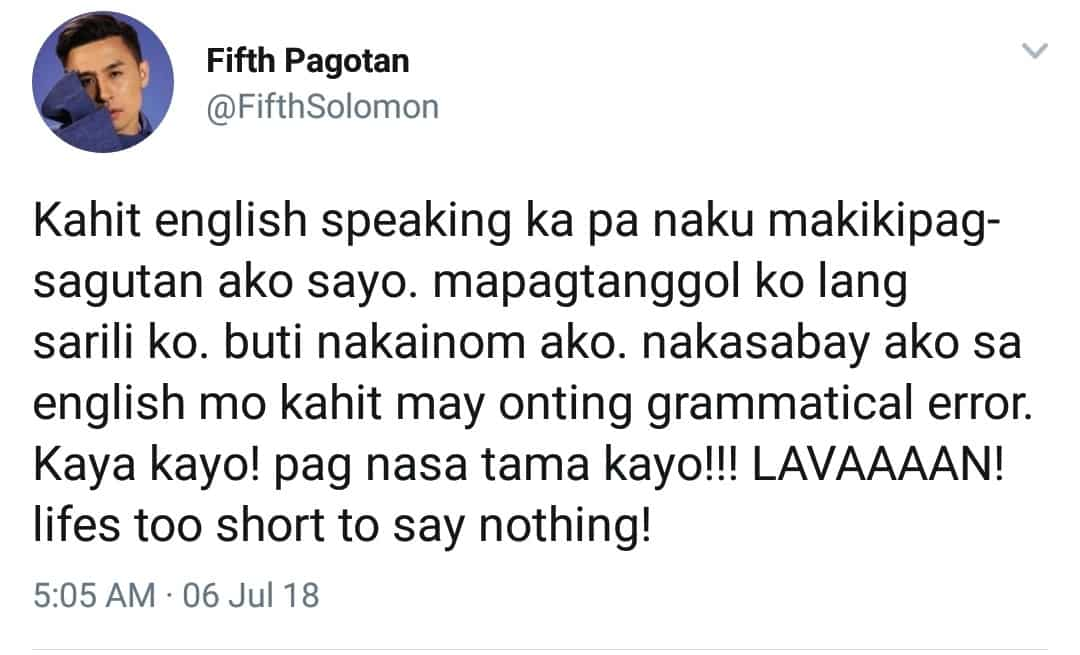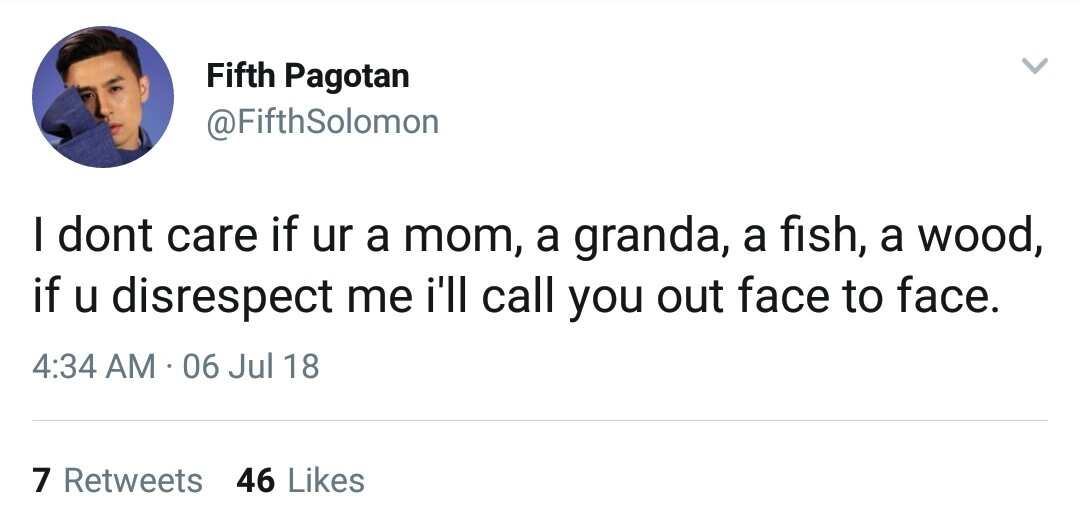 There are also some who did not like how Fifth reacted. According to one netizen, it is not proper to talk back in such way to someone who is older than him.
There are some who dared him to name the mom whom she is referring to.
Here are some of the netizens' comments
Wala ka pang nararating may inaway na.
Nakainom lang nag english na. haha yan sila e!
So ibig bang sabihin anon12:18 pag nabully ka shut up ka nalang kc wala ka pang narating?? WRONG!!!!
A neophyte in the business trying to shoot the stars too much too soon! Masakit bumagsak totoy!
RESPECT IS EARNED, not demanded.
Successful people shoot for the stars, aim for the highest heavens. Those that just stare and gaze at the stars have nothing to show but sore eyes.
humahanash teh dahil malapit na ang movie?
Ayyy trueeewww! Mag rant tayo on social media para mapag-usapan. Paki credit muna ng ayos sa writer yung ginetlak mong title! Hahaha
Di mo nalang sana pinatulan. 1. nakainom ka 2. She's older than you 3. tama kana sana, naging mali pa
I agree x 100
What the mother of this celebrity said is downright insulting and uncalled for.i am an educated woman but I have no qualms telling this woman a piece of my mind In the same scenario, Hindi puwede ang huwag patulan.
if someone i dont know or care about sabihan ako na she doesnt trust me, tf i care haha. its really not worth the fight.
i wont even bother makipag away to earn her trust.
No yan ang mali.pag binastos ka kahit mas matanda pa sayo o feeling above you. Di mo hahayaan na maliitin ka. How would they learn their mistake when you'll just tolerate them. Paano kung bastos yan sa mga katulong nila o iba pang tao.
#ONLYINTHEPHILIPPINES: IYONG EXCUSED ANG KABASTUSAN NG ADULTS JUST BECAUSE THEY'RE MAS MATANDA.
MALI! Kesehodang matanda na pag binastos ka aba lumaban ka!!
Be respectful be a gentleman, that means being the bigger person. Wala siguro itong breeding.
I agree 100%. 1. Kung sinabi man nila na they don't trust you at nakikipag argue ka kapag nakainom ka, you just proved the other person they are right. 2. Sinundan mo pa ng rant sa social media
Breeding is irrelevant. It's standing for your right. No one has the right to insult and put you down in front of strangers. Need to teach this woman a lesson.
4:23 what do you call the mother who outright called him an untrustworthy person? She was banking on the fact that her age and gender would give her a pass. People like that should be put in her place. You go Fifth! Bet she wasn't able to sleep that night. Winner ka
Philippine Yoga Tutorial: Add Zen To Your Workout | on BeKami
Yoga for beginners: your intro to yoga is already on BeKami! Were you aware that Crystalle is not only a well-known fitness trainer in the Philippines but also a big fan of yoga? So, if you have already wanted to try yoga, this tutorial is a perfect opportunity to make the first move towards this activity right from your home!
Watching it, you can learn some basic poses and tips.
Source: Kami.com.ph