- Gary Valenciano's fans got worried about his health
- This is after the news about him having a kidney cancer broke
- The actor assures fans he is already cancer free
PAY ATTENTION: Click "See First" under the "Following" tab to see KAMI news on your News Feed!
Gary Valenciano used to be one of the judges of Your Face Sounds Familliar Kids. He had to undergo an open heart surgery thus celebrity mentors Jed Madela and Nyoy Volante served as judges as well.
In a news which came out on Friday, news anchor Korina Sanchez had an exclusive interview with Gary where he revealed that he was diagnosed with a kidney cancer. Since the only a portion of the interview was shown, his fans and supporters got worried with the news. Gary then posted a message in Twitter assuring his fans that he is already well. The full interview will be shown in Rated K this Sunday where the singer will share his battle with the trials with a renewed faith.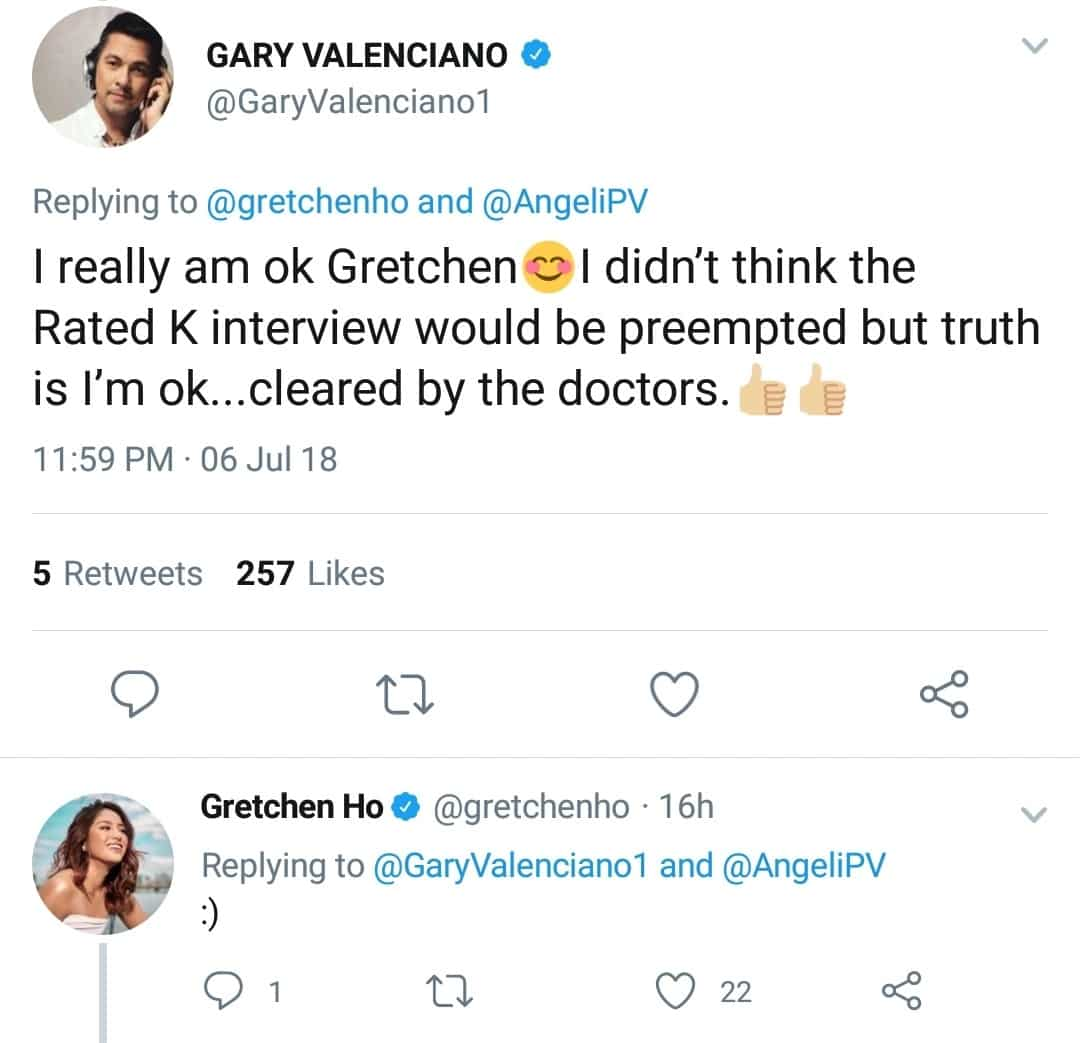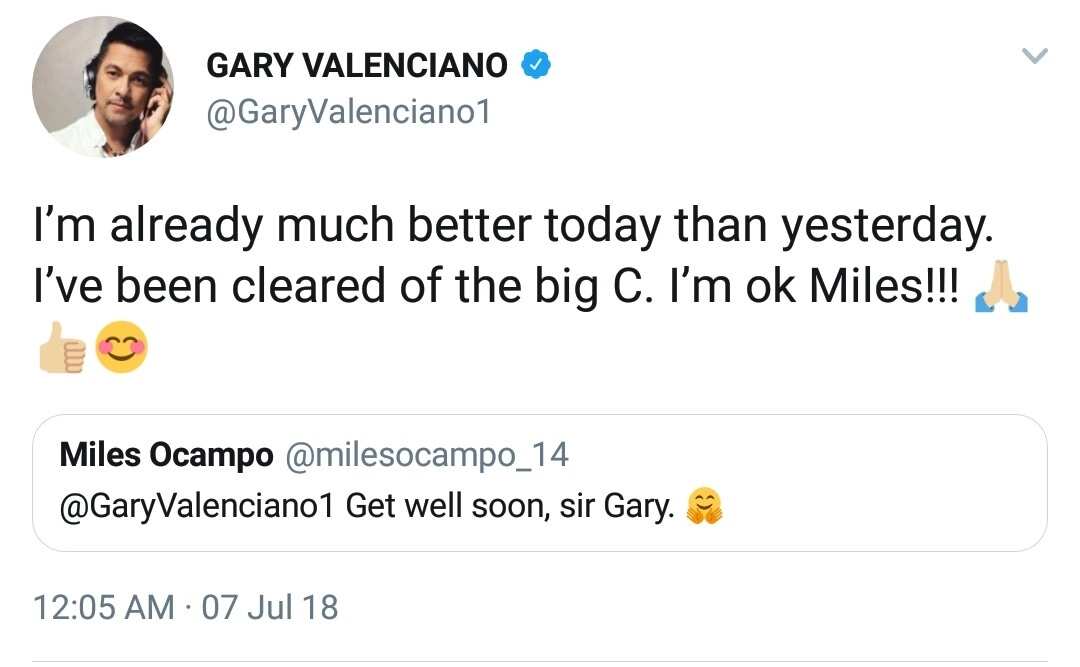 Here are some of the netizens' reaction from Fashion PULIS.
Kasalanan ng preview ng Rated K pa-controversial kasi! Kung makikita mo sa commercial maiisip mo na he HAS cancer hindi he HAD. Dahil sa preview yon ng Rated K na yan!
Wrong. TEASER sa interview ni Gary kasi. If Gary doesn't want an interview, why would the show do it?
Obvious naman that Gary wants to inform his fans about his condition and the latest updates after his surgery. The interview was done with his consent. Kaloka!
What i'm saying is the way the teaser was presented! Na iisipin mo d pa siya magaling! Of couse the interview was done with his consent duh?!
you can only be cleared of cancer after 5 years of being in remission.
maybe they are not ready to talk about it.
then why tell the world on nat tv
ang alam kong sakit ni Gary V noong nakaraan is nagka open heart surgery,then yesterday news broke that he had cancer. Today naman wala na daw ang cancer ni Gary V. parang ang gulo ng balita.
How is he cleared of cancer after being diagnosed only a month ago? Once you have cancer, you're only cleared after 5 years.....unless he was actually diagnosed 5 years ago.
It depends on the extent of the cancer. Perhaps it was cancer that was easily removed without involving other parts. Perhaps he didn't need any other interventions like chemo or radiation but surgery.
pede naman ma clear in less than a year kung VERY early stage ang cancer.. dahil yung treatment/therapy like radio therapy or chemo therapy ay hindi gaano katagal kung very early stage.
I hope gumaling nga ng tuluyan si Gary V. and to the family naman na affected ng mga news and interview. I think they need a release a statement kung ano ba talaga ang nangyari kay Mr Pure Energy Gary V. maraming nag aalala at nagdasal dahil naniwala nga sa news na may cancer.
His family doesn't owe anyone an explanation of all the details regarding his health. Your prayer is enough, dear.
Actually His family can release a statement regarding Gary's health without divulging too much info. There's just too much confusion going around. They should at least do it to clear the air and for the fans worrying about him. Gary is such a huge icon in the Philippine music industry, there are thousands worried for him.
well those people who spread the news should explain hindi yung paglaruan si Gary V ng media. It is not fair.
or the ones who reported this issue should explain the story. Wag pag laruan si Gary V sa media. Mataas ang respeto namin sa kanya. Do not him.Wag ganun.
Maybe he had early signs of cancer years ago and na nakita agad and na cure right away.Ngayon Lang na share ni gary v after having a heart surgery. Wala Lang naisip ko lang. Ang cancer Kasi hinde basta basta sakit yan.
Nice mr. Pure energy. Good to hear that po.
last month lang nadetect yung mass sa abdomen nya
baka lang hindi ready ang pamilya nya na pagusapan ito.
So bat nagpa-interview?
eh bakit sinabi pa kung di naman pala sila ready
he said in the interview na malignant daw sabi ng doctor, then walabg chemo or radiatio ? medyo odd.. baka benign lang kasi as far as I know oag malignant yan, yan yung may stages and even stage 1, hindi mo agad madeclare na cancer free..
Gary is known as Mr. Pure energy because of his explosive dance moves. He is a total performer as he can sing, dance and play musical instruments as well.
Philippine Yoga Tutorial: Add Zen To Your Workout | on BeKami
Yoga for beginners: your intro to yoga is already on BeKami! Were you aware that Crystalle is not only a well-known fitness trainer in the Philippines but also a big fan of yoga? So, if you have already wanted to try yoga, this tutorial is a perfect opportunity to make the first move towards this activity right from your home!
Watching it, you can learn some basic poses and tips.
Source: Kami.com.ph