- The birth story of Jennica Garcia-Uytinco is now making rounds online
- This is after the couple revealed their unusual practice when Jennica gave birth
- Alwyn even drank on the placenta smoothie prepared for his wife
PAY ATTENTION: Click "See First" under the "Following" tab to see KAMI news on your News Feed!
Alwyn Uytinco and Jennica Garcia-Uytinco once again took the internet by storm after sharing their bizarre birthing method which can really be considered unusual here in our country.
They opted to undergo lotus birthing which means the umbilical chord is not cut immediately. Instead they let it separate on its own which would usually last for 3-10 days.
The actress also shared that her doula, a woman who is trained to assist another woman during childbirth and who may provide support to the family after the baby is born, prepared a smoothie made out of fruits and placenta blended together.
Jennica was so happy to see how her husband Alwyn showed support for her as he took two sips from the smoothie before handing it to her.
She expressed how thankful for having a supportive husband.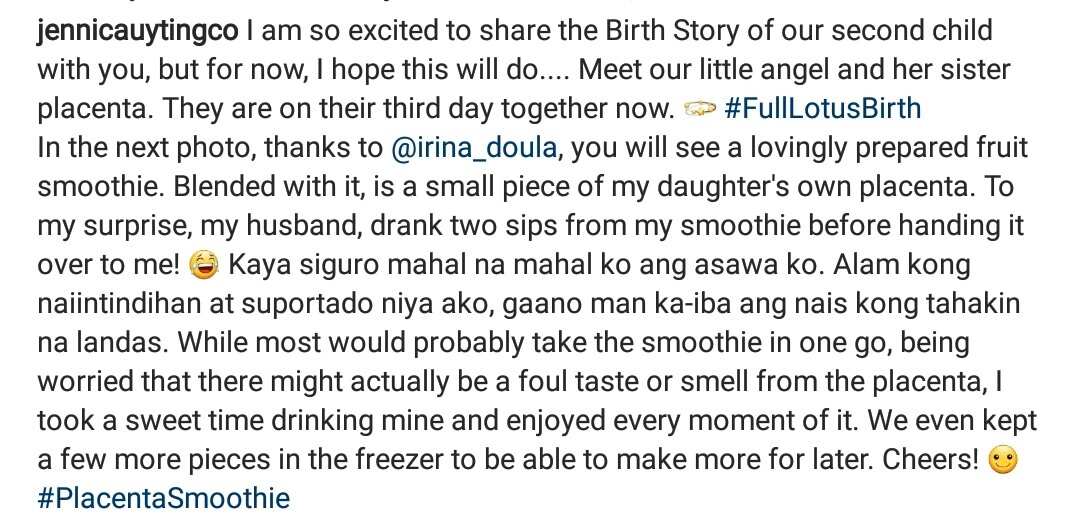 This elicited mixed reactions from the netizens. There are some who thinks this is gross as they can consider this as cannibalism according to them.
Yet there are others who believe in the benefits of ingesting placenta for the mother's health. It is even becoming more popular in some parts of the world.
Here are some of the netizens' reactions.
Hindi ko to kaya! My gosh, ang daming bacteria kaya nyan...EWan ko ba?!
sana pati yung cord.. lagyan ng minced beef or chicken sa loob. parang lingganisa ganern. plus smoothie panulak.
Don't be an ignoramus! It's gainng popularity here in the US for mothers yo eat their placenta after giving birth. It is very nutritious.
I find this GROSS, I respect them for drinking the placenta but I don't get it why they post it in public.
Kung maka ignoramus itong si 9:54 lol, hindi pa naman backed up ng solid research ang pag lafang ng sarili mong placenta, karamihan sa lumalabas na studies may mga limitations (e.g. walang placebo control). And correct me if I'm wrong, pero although naoobserbahan siya sa ibang mammals, eh not till recently lang that humans started doing this for some weird reason. Saka diba, placenta serves as filter for toxins as well, so baka yun pa ang nakakain mo. Ughkkk
Eeew. Sana di na nya pinost with pic pa! Even if you can ingest it, it's gross pa din!
Accdg kay google. Placenta is an organ and cannibalism is eating flesh/organ of other human being. Sooooo i guess?
12::59 wala na kayong pinag iba sa hayop bumabaliktad sikmura sa term pa lang grosssssssssss
Kadiri!!!! I want to puke!
Huuuh? Bakit daw??? Kadiri na nga na pinost nga sana naman sinabi nya kung bakit nya ininom. She sounds so creepy to me like yung kumakain ng mga lamanloob na tao while reading her caption lalo na sa part na nilagay pa nya sa freezer!
I think it' for postpartum kemeroot. May iron daw etc kaya it's good. Pero hello!!!! she can just easily buy those in pharma over-the-counter!
"I took sweet time drinking mine and enjoyed every moment of it" hahahahaha
Is that safe?
It's common practice in Europe and the US specially among celebrities. Kim Kardashian did it.
May mga published studies na saying wala syang benefits, and hinde sya safe. Hinde porket gumawa ni Kim k
eh safe na, kalowka
Anong purpose bakit ininom? Kasuka
Kung ipapahid sa mukha pampakinis pwede pa pero yung iinumin? Canibal eww
Hinde pa ako nanay. Question Lang what is the purpose of this ba? Ngayon ko Lang Kasi nalaman may ganito pala... and pumayag talaga Yung doctor sa ganito case? I find it sketchy. LOL
Placenta daw kasi is full of nutrients. Pero no scientific studies claim naman na talagang proven na beneficial ito. And kadiri tlaga! There are so many other ways to keep your body nourished naman, wag naman kumain ng placenta. Parang barbaric
Ok daw po sya kasi anjan natira lahat ng vitamins at nutrients na natira ni baby nung nasa tummy pa sya ni mommy
Though I won't do it myself, I think it's something natural. Watch your pet cats and dogs giving birth, and they would devour the placenta after cleaning their babies.
Those are non humans. Why would human do things that cats and dogs do? Actually they even eat their own babies too sometimes.
But she's not an animal
Oo nga kinakain nila babies nila, bakit ganun?
YUM!!!!
They are all mammals:-)
Omg!this couple is too much.
Ive heard & read about this and there's no proven benefits naman. Plus it's your body's waste why would eat your waste tho.
Omg no! Whoever thought this is okay?! That placenta used to be inside your body, just like vital organs in the body, with all the blood and other body fluids, tapos kakainin mo? Kahit na nilinis pa yan or kung anong hinalo dyan, eww!! That's insane. This is the first time for me to hear about this. This is so disgusting talaga!
It has bacteria and mercury among other toxic things that should never be ingested
Googled it..it somehow combats post partum depression daw..pero yuck pa din.
Walang scientific studies na magbaback up niyan. Kalokohan lang yan ng mga mahilig magpauso sa internet lol!
Not yet proven kaya yuck mga pauso nitong dalawang to nakakadiri
Daming ignorante dito! Lol! She promotes the natural way of giving birth, also lotus birth can give your babies more blood, more blood means more iron, and iron is essential sa brain development, also hindi lahat ngayon kaya yan so i think she's just proud of her achievement kaya nya pinost, and about the placenta. It is common in other countries, ginagawang capsule, finafry, powder etc for consumption.
ok pa yung pinafry or dried.. pero fresh at ihalo sa smoothie.....NO NO! animalistic ang peg
Sorry but there is no scientific evidence to back up the claims.May warnings pa nga jan ang Centers for Diseases Control and Prevention kase may mom na ngpasa ng blood infection through breastfeeding after consuming placenta capsules.Hindi porket ginagawa ni Kim kardashian yan e legit na yan.
Isa ka din sa ignorante baks, walang scientific studies na makaka prove ng benefits ng paglamon ng placenta na yan. Madumi yan. Its a fad na dapat mawala
Motherhood changes your life pero wag naman extreme. I have no issue of lahat ng organic at natural kemeroo eh patulan nila para mag promote pero this one I find it repulsive and disgusting
Wala naman talaga published benefit so why eat a part of your body. Sounds creepy to me
I read it sa ibang website yesterday. Churned my stomach inside out. Masustansya daw kasi ang placenta, tapos may ibang kakapanganak pa lang na naiiwasan ang postpartum depression at naboboost agad ang energy levels after giving birth. Aminado naman si Jennica na medyo kakaiba ang tinatahak nyang landas, but grateful that the husband is supportive of her.
Jennica Garcia-Uytinco is the daughter of Kapuso actress Jean Garcia. She also had entered showbiz but decided to live a simpler life when she got married to Alwyn Uytinco.
Philippine Yoga Tutorial: Add Zen To Your Workout | on BeKami
Yoga for beginners: your intro to yoga is already on BeKami! Were you aware that Crystalle is not only a well-known fitness trainer in the Philippines but also a big fan of yoga? So, if you have already wanted to try yoga, this tutorial is a perfect opportunity to make the first move towards this activity right from your home!
Watching it, you can learn some basic poses and tips.
Source: Kami.com.ph