Social media went abuzz again with the release of the latest commercial by the phenomenal loveteam of Pambansang Bae Alden Richards and Kalyeserye sweetheart Maine "Yaya Dub" Mendoza.
The latest commercial is for the coffee brand, Nescafe, that shows the on-screen (even off screen?) sweethearts sharing a moment together while having a cup of coffee.
The commercial which highlighted the phrase "when minutes turn into moments" starts with Maine finding a red animal origami and following the rest until it leads her to Alden Richards who has a red rose origami and a cup of coffee. The commercial has a certain magical romantic fairy tale feel highlighted by a catchy background music, which is true to most Nescafe commercials.
The lyrics for the song that was used goes:
What's another story to hear
What's another laugh or two
What's another tick on the clock,
when it's magic shared by you?
What's another smile to give
What's another kiss or two
What's another line to say,
when it's love shared by you?
A cup in hand
You know it's worth your while
A cup in hand
Can you just stay for a while
Let minutes turn to moments
Let's sip
Let's share
The latest TV commercial by the breakthrough stars of 2015 was well received especially by the multitudes of supporters that the Kalyeserye loveteam has.
Some netizens claim that it is the best Necafe Philippine comercial: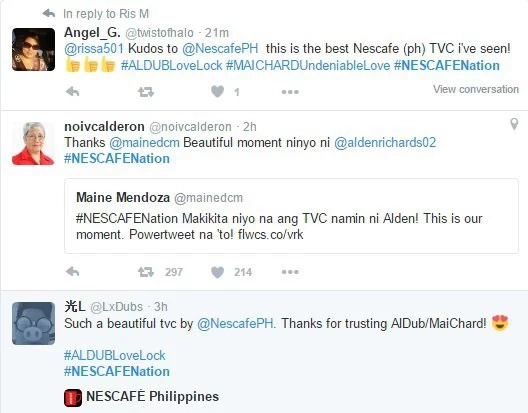 One follower even wanted to buy more coffee after watching the commercial:

Another could not help but take note of how the loveteam look at each other: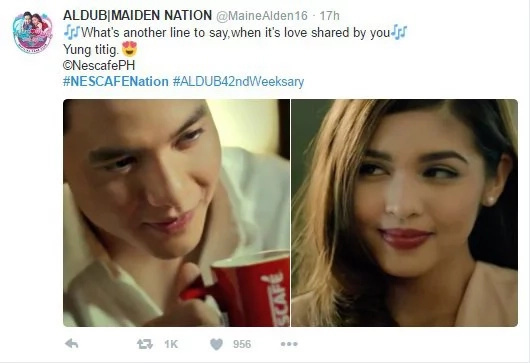 And another, noticed how Alden held Maine in his arms with a paper rose: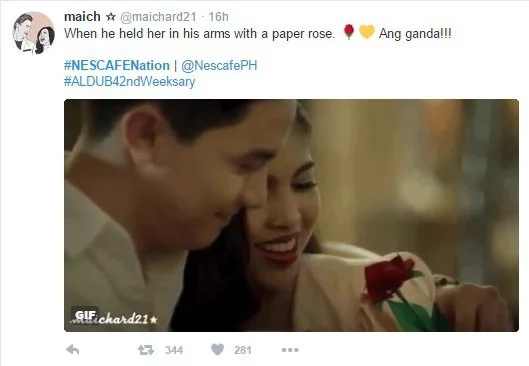 Could there be a period film project coming up next for the AlDub loveteam?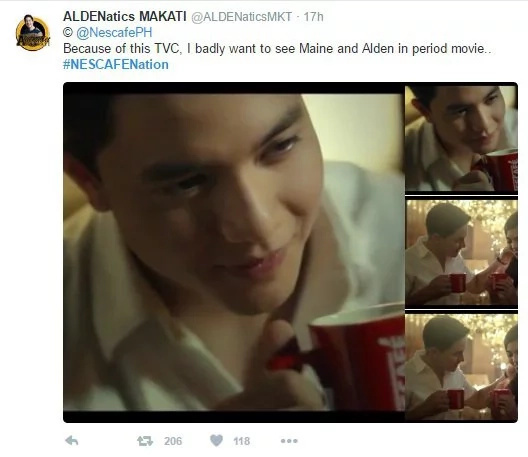 Currently, Alden and Maine are also busy with the shoot of their upcoming film to be released in time for their first anniversary as a love team.
Source: Kami.com.ph