Ara Mina accused as 'immoral, gold digger' after Rina Navarro broke silence on betrayal issue
- Rina Navarro recently made a lengthy post about the alleged betrayal between her future husband and a sexy actress whom she considered her friend
- Although Rina didn't name the persons involved, many netizens pointed their finger at Ara Mina as the culprit behind it all
- Lolit Solis and another magazine previously had blind items implicating an affair between a government official and a sexy actress allegedly discovered accidentally by the fiancee
PAY ATTENTION: Click "See First" under the "Following" tab to see KAMI news on your News Feed!
Rina Navarro has finally broken silence on the betrayal issue that hounded her, allegedly her future husband and a sexy actress.
Although the film producer didn't name the persons concerned in her lengthy Facebook post, many netizens still put two and two together and have concluded that it was Ara Mina and Rina's fiance who got involved.
It can be recalled that Lolit Solis previously made an IG post about an unraveling of an affair, which accidentally happened during an event where the actress was a guest.
Lolit even described that the actress invited the girl to sing with her on stage, and while the girl was holding the phone of the actress for the lyrics, the text of the girl's future husband came in. And the rest as they say, is history.
Now after weeks of staying silent, Rina finally spoke up. She stated her piece through her FB post.
Netizens however didn't mince words in lambasting Ara Mina openly on social media.
Here are some of the comments of netizens.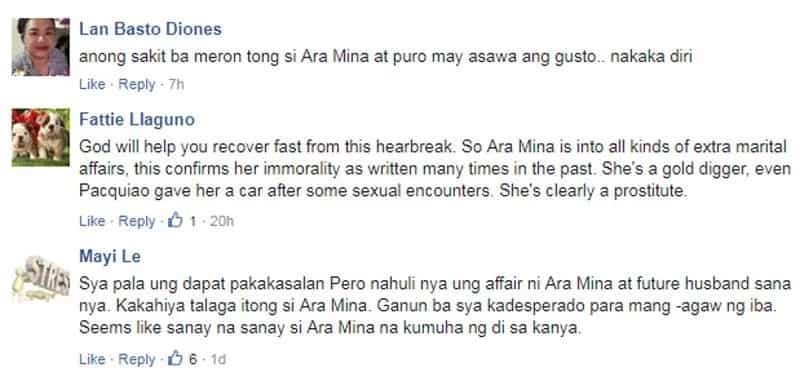 Street Vox Pop - Asking women what kind of male boy they prefer? on Kami YouTube channel This video simply shows the surprising preference of women when it comes to the type of man that they prefer, or rather, want.
Source: KAMI.com.gh