- Agot Isidro is well-known for voicing her opinions especially when it comes to politics
- She recently received a death threat
- It garnered mixed reactions among netizens
PAY ATTENTION: Click "See First" under the "Following" tab to see KAMI news on your News Feed!
Actress Agot Isidro recently received a death threat from a netizen which alarmed her.
KAMI learned that the Twitter account of the netizen has already been suspended.
According to PEP, a netizen who goes under the handle of @RusCo87690206 posted this tweet, "Malaman ko lang pres[s]Con mo pupunta talaga ako. I'll make sure la[p]nos mukha mo sa asido."
To which Agot replied with, "Kailangan ba umabot tayo sa ganito?"
Another screenshot was posted by the actress.
Following this, a tweet by @PNPHotline was posted, reminding the netizen that legal actions can be taken against him since this is a direct threat.
Agot thanked the people who reported the account of the netizen, "Thank you for reporting, guys. I think suspended na sya. Mag-ingat tayong lahat. #PanahoNgHalimaw kasi."
The recent news about the actress had brought arguments among netizens, based on the website of Fashion Pulis. Some think that she's not as feisty as she appeared to be. She's very vocal about her political opinions especially with the current administration.
On the other hand, some people also defended her, saying it's a matter of life and death and anyone would react the same.
Read some of the comments from netizens below: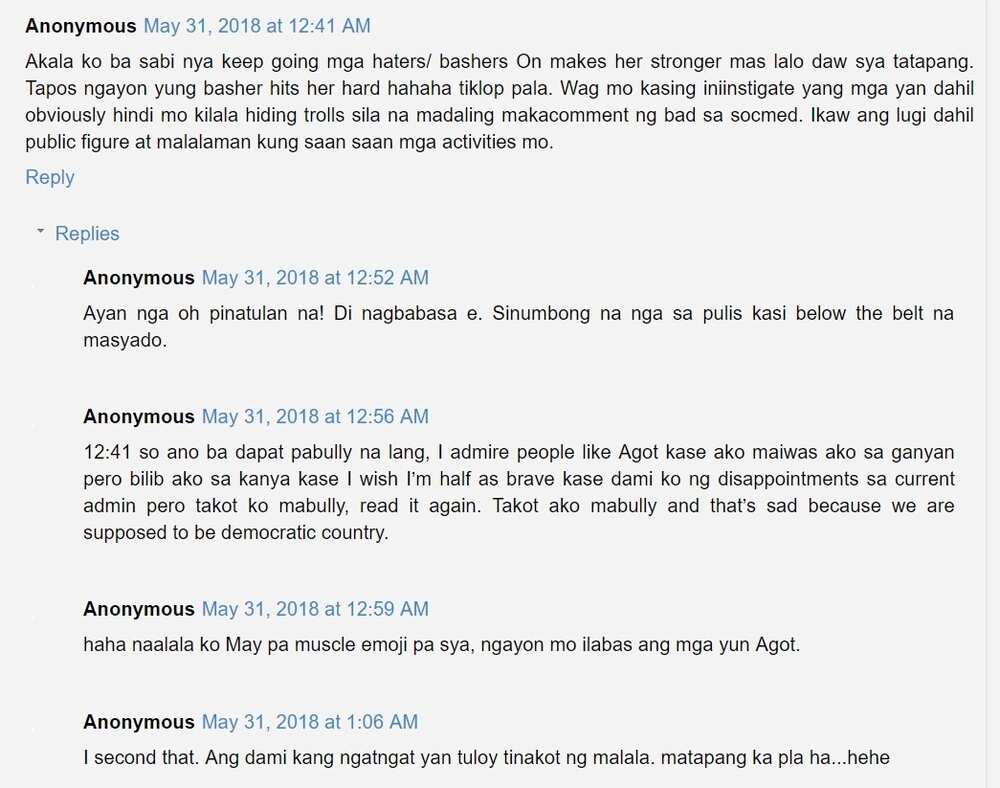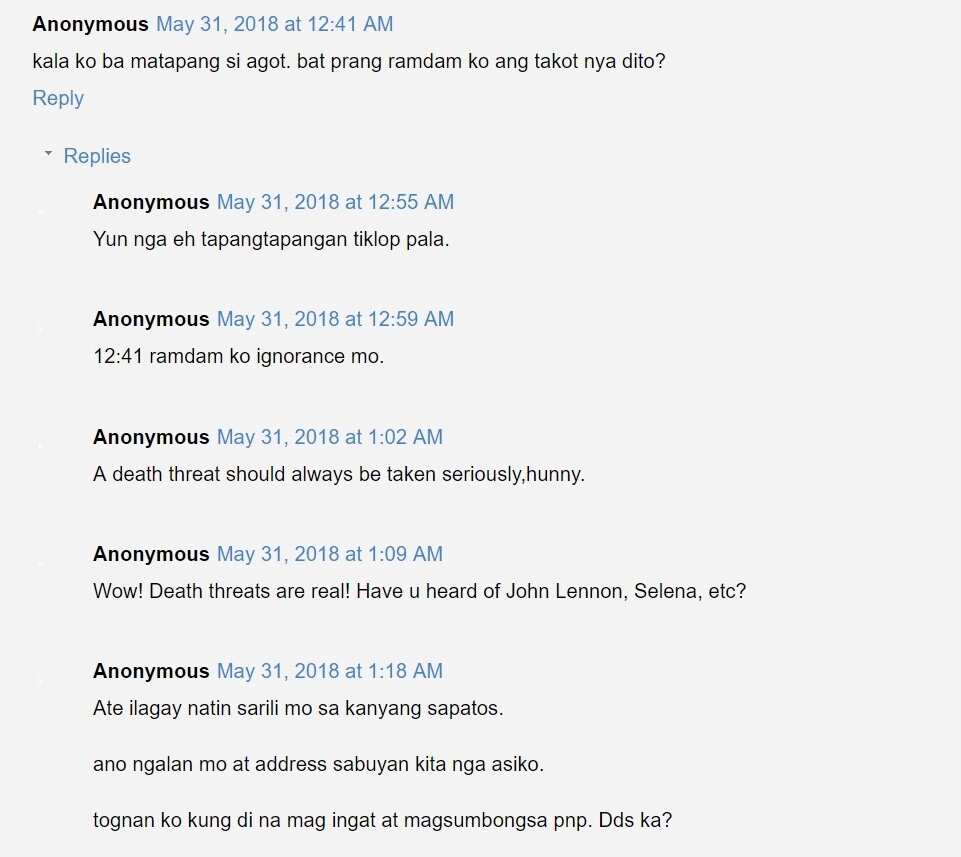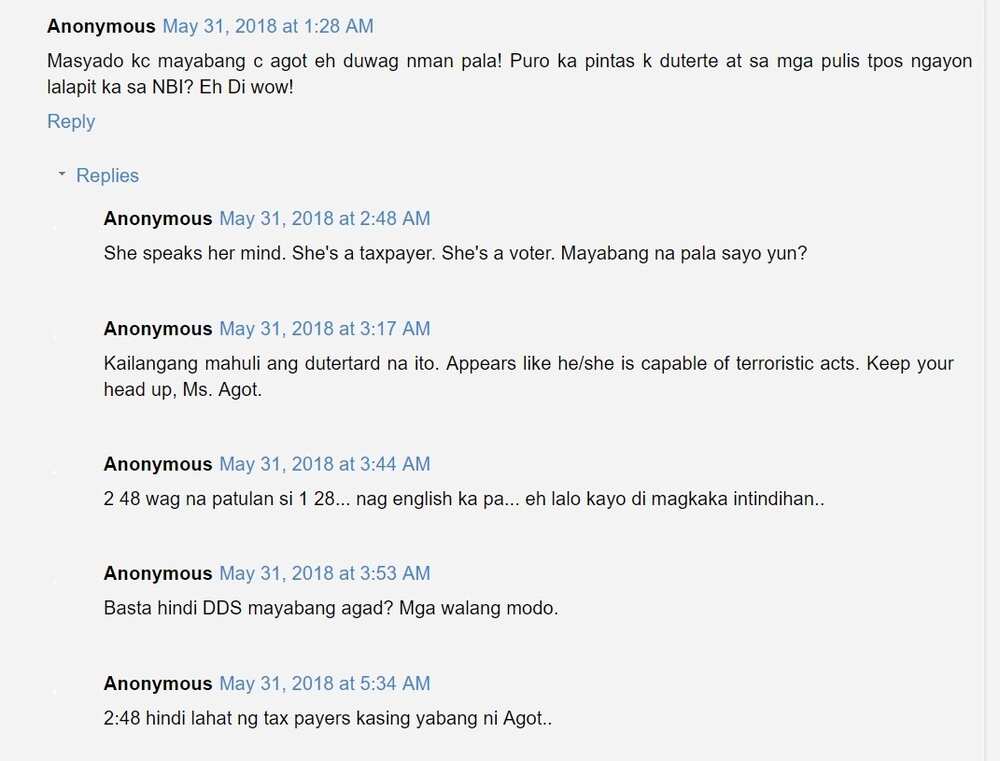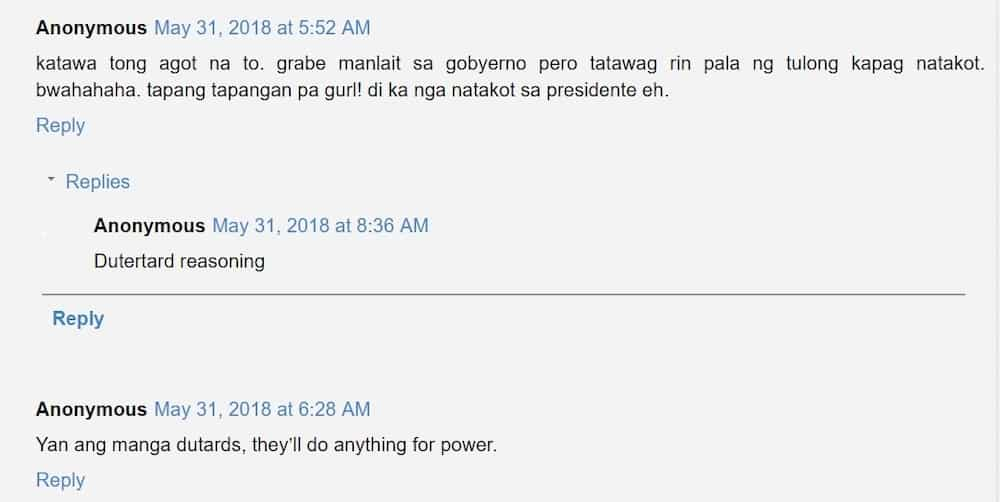 Maria Margarita Amada Fteha Isidro, better known as Agot Isidro, is a singer turned actress and appeared in many television shows and movies. She is also popular for her role in the 1993 comedy sitcom 'Oki Doki Doc' alongside Aga Muhlach. The actress is also known for being a Duterte critic.
Today, we are going to ask individuals from the Philippines whether they think a tomato is a fruit or a vegetable. What is your opinion? Listen to these tricky questions and try to answer them yourself. What do people in the Philippines celebrate on June 1st? What is the 11th fruit mentioned in the song Bahay Kubo? Do you want to know the answer?
Tricky Questions: Is Tomato a Fruit? - on Human Meter YouTube Channel
Source: Kami.com.ph