- Kapamilya singer Morissette Amon is once again under fire after her duet with Jessica Sanchez
- Some netizens said that Morissette stole the spotlight from the international singer who was in the country for a visit
- There are some who expressed their annoyance for Morissette's 'attitude problem'
PAY ATTENTION: Click "See First" under the "Following" tab to see KAMI news on your News Feed!
Morissette Amon is once again being bashed after being involved in the intrigue about Sarah Geronimo's controversial breakdown in her concert abroad.
The kapamilya singer is being accused of stealing the spotlight from the Fil-Am international singer Jessica Sanchez who guested in the sunday variety show ASAP.
Jessica and Morissette sang together in a duet and many netizens got annoyed with how the Kapamilya singer seemed to compete with the guest.
Many of the netizens think Jessica should have been given a solo performance instead. Some Twitter users expressed their annoyance and pointed out that "sapaw" during their performance of the hit Demi Lovato song "Stone Cold".
Here are some of the netizens' comments in the website Fashion PULIS.
"The difference between singing to EXPRESS from singing to IMPRESS. Singing from the soul effortlessly. Todo birit si ateng mong MA while Jessica Sanchez tinayuan lang siya. Soul singing is so OBVIOUS"
AnonymousMay 28, 2018 at 1:02 AM
True, sobrang kinanta ni Morisette na di mo na na feel yung emotion ng kanta.... and yes, Jessica should have been given a solo performance. But I guess this is what Morisette's handlers want, attention kahit nega ang dating, at least napapagusapan. Kahiya naman din talaga sa guest na si Jessica. Sana si Jona na lang ang pina duet with Jessica. Jona belts but the song is still felt by the listener when she does it.
AnonymousMay 28, 2018 at 1:24 AM
True. Mas gusto ko si Jona kasi may soul talaga pag kumakanta. Saka she knows how to blend, she knows when to give way. Hindi yung pabibo.
AnonymousMay 28, 2018 at 1:51 AM
Yes, I agree. Jona knows how to sing when it's a duet.
AnonymousMay 28, 2018 at 2:18 AM
Jona was trained well during Last Diva and GMA shows. Kanya-kanya silang highlight, di nagsasapawan.
AnonymousMay 28, 2018 at 2:32 AM
oks pa na sila na lang ni SG for sure mag eenjoy ang lahat and it will be a great colab.
AnonymousMay 28, 2018 at 2:45 AM
Last diva? La Lola Diva bakla ka! @2:18
AnonymousMay 28, 2018 at 3:51 AM
Lola ka diyan. La Diva/s kaya.
AnonymousMay 28, 2018 at 1:03 AM
Saw their number too, yan din napansin ko nanapaw si Morisette hays sguro nagulat din si Jessica, in fairness ang nice pa rin ni Jessica. Si Morisette pati ba naman bisita sapawan pa kaloka
AnonymousMay 28, 2018 at 1:03 AM
Hilig yata talaga ni Ateng Morisette na manapaw, mang-outshine at magpabibo.
Daming nega eme ni Ate lately ha.
"Diba? Hahah masyado kasing pa big star si ateng, pag kakatanda ko sabi nya pag daw duet or as group kailangan daw may blend, ano ginagawa nya kanina? Masyado pa bida masyado ke Jessica Sanchez"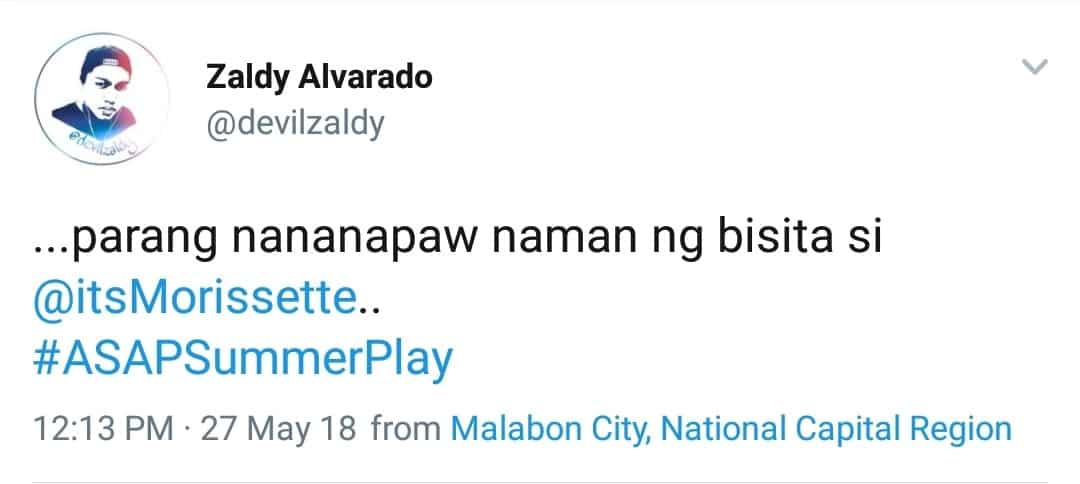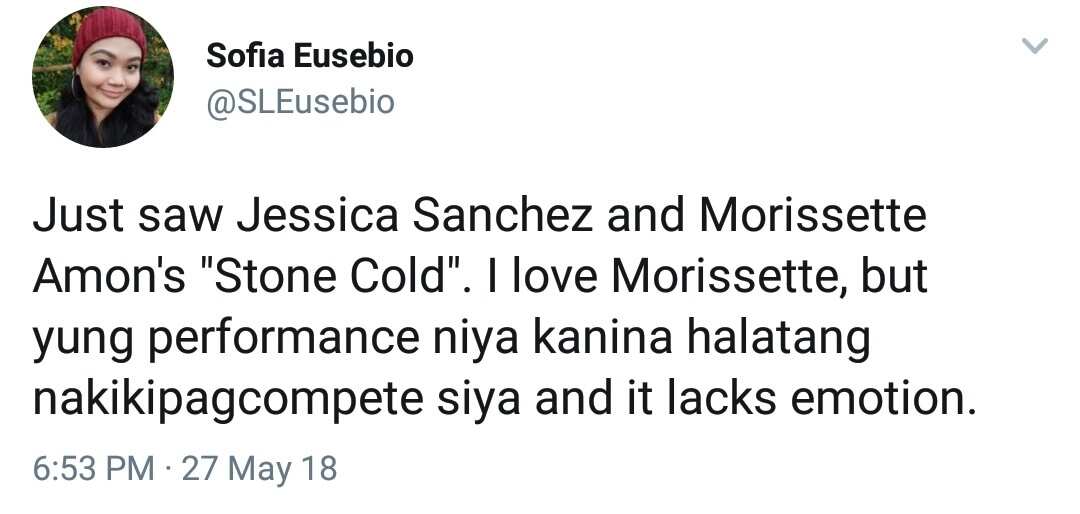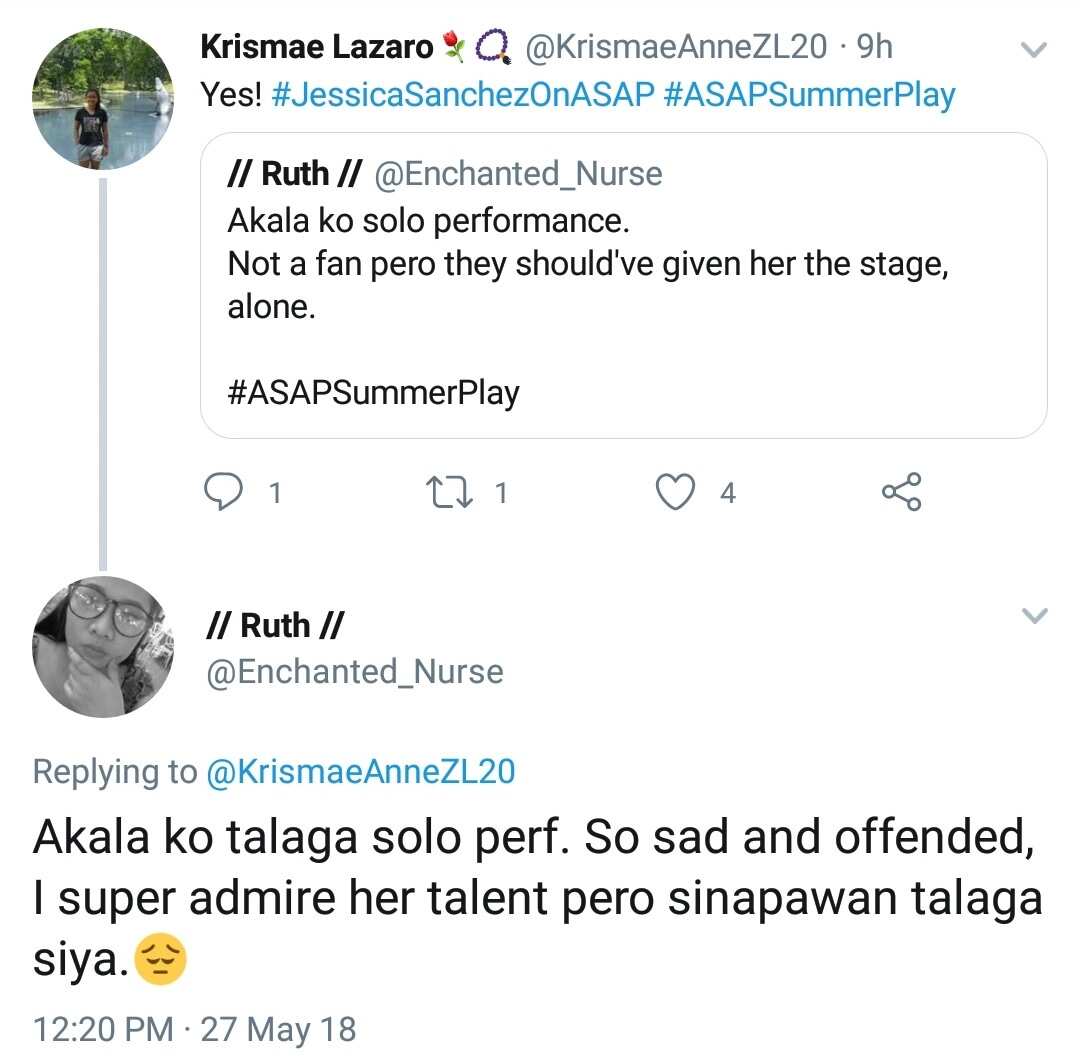 Watch their performance here:
Morissette rose to fame after competing n the first season of ABS-CBN's The Voice of the Philippines in 2013. She became part of Sarah Geronimo's team.
Jessica Elizabeth Sanchez is from California and was known worldwide for her stunning performances in America's Got Talent.
BBOOM BBOOM Dancing Challenge- on HumanMeter
How would you react when you see a beggar dancing to a viral dance craze? Check out this video and enjoy the reactions of the people watching.
Source: Kami.com.ph