Duterte denies Trillanes' plunder case
Poll front-runner Rodrigo Duterte fires back and denies Senator Antonio Trillanes IV plunder case against him on May 5.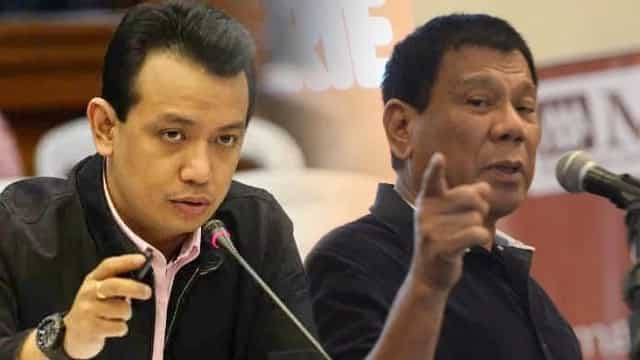 Trillanes who runs for the vice presidential post under Nacionalista Party has filed plunder case versus Duterte over the suspected "ghost employees" in Davao City at the Office of the Ombudsman. His camp referred to a 2015 Commission on Audit report revealing that the government of Davao City under Duterte's regime has had a total of 11,000 non-existent contractual workers accepting an amount of P708 million every year.
However, Duterte's party denied the accusation. "Trillanes only wants fancy attention; that is why [these] piecemeal releases [only] tickle the media but not the people fed up with trapos," Peter Tiu Laviña, Duterte's spokesman, said in a statement.
Laviña explained that the Department of Interior and Local Government (DILG) led by then Secretary Manuel "Mar" Roxas II, now a rival presidential candidate, bestowed Davao City with a Seal of Good Governance last 2015.
"This means the LGU went into evaluation. That award is a positive affirmation compared with trumped up charges," Laviña noted.
Salvador Panelo, Duterte's legal counsel also disputed Trillanes' claims. "If the Commission on Audit (COA) found the hiring of contractual employees irregular, then it would have already filed a case against Duterte. But there's none, so what is Trillanes talking about? He is a congenital liar and a publicity hound," Panelo said.
Moreover, Partido Demokratiko Pilipino-Lakas ng Bayan (PDP-Laban) spokesperson Atty. Paola Alvarez  likewise negates Trillanes' accusations pinpointing that it was an old issue.
"This is an old issue that Mayor Duterte has already explained as without any basis. The city government hired various employees and assigned them to different agencies for a certain period of time. They were contractual employees that the city government accommodated to give them temporary employment," Alvarez stated.
Source: KAMI.com.gh