- Gary Valenciano underwent an emergency open heart surgery
- After a dance performance, Gary felt tightness and pain in his chest
- Doctors found out that his main valve was 95% blocked because of diabetes
PAY ATTENTION: Click "See First" under the "Following" tab to see KAMI news on your News Feed!
Multi-awarded singer Gary Valenciano underwent an emergency open heart surgery on Sunday, May 6.
KAMI learned that his main valve was 95% blocked because of diabetes.
According to PEP, Manila Genesis Entertainment, his management company, released details about his surgery.
Apparently, after a dance performance with his son Gabriel, Gary felt tightness and pain in his chest.
"Two weeks ago, I celebrated my 35th anniversary in entertainment with a dance performance with my son, Gabriel, and a beloved team that's second family to me.
"To some, it may have looked like routine movements for my songs from yesteryears, but that performance is one I won't ever forget.
"My life from that point would never be the same.
"After that dance, I felt a sensation I'd never felt before -- not even during the times I would push myself, riding my mountain bike on the trails for extended periods of time -- I felt tightness and pain in my chest.
"Friends - the good news? I have a good, strong heart.
"The doctors are amazed.
"My heart and all its blood vessels, with the exception of one, are miraculously in excellent condition.
"Surprising after 39 years of Type 1 diabetes.
"The tough news? The one exception - the main valve, my left anterior descending artery (LAD) is 95% blocked and now has very thin walls, because of diabetes."
The veteran singer apologized for all the shows and commitments he will miss due to his surgery.
"I now lie here on a hospital bed because I need a bypass immediately. I apologize to my 'ASAP,' 'Your Face Sounds Familiar,' and 'Showtime' families and fans, the companies and organizations i am scheduled to do shows for; the students from various universities I am so excited to meet...
"I was especially looking forward to 'Unstoppable,' Darren Espanto's concert. I need to excuse myself from all these commitments until I fully recover from the bypass surgery."
To avoid gossip and speculation, Gary felt the need to explain his condition.
"I thought it best to give you the details of my condition to prevent gossip and speculation that may be cause for worry and concern.
"I know one day soon I will give my all on that stage again, perhaps in my spirit, even stronger than ever before.
"I believe this will be a story to tell people, and yes, it will be another one of God's amazing faithful, merciful, gracious, and good ways.
"Let's not worry, ok? Let's just be prayerful."
Read Gary's full post below: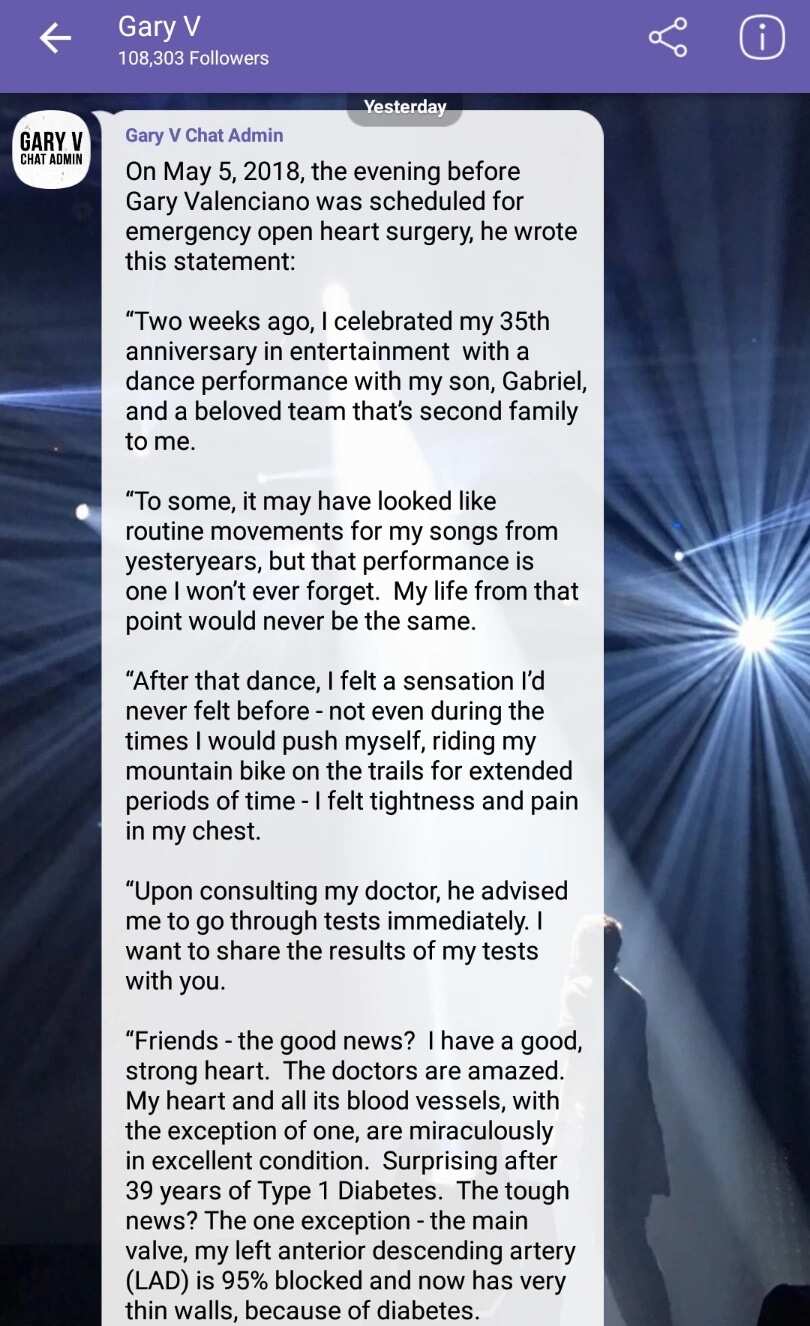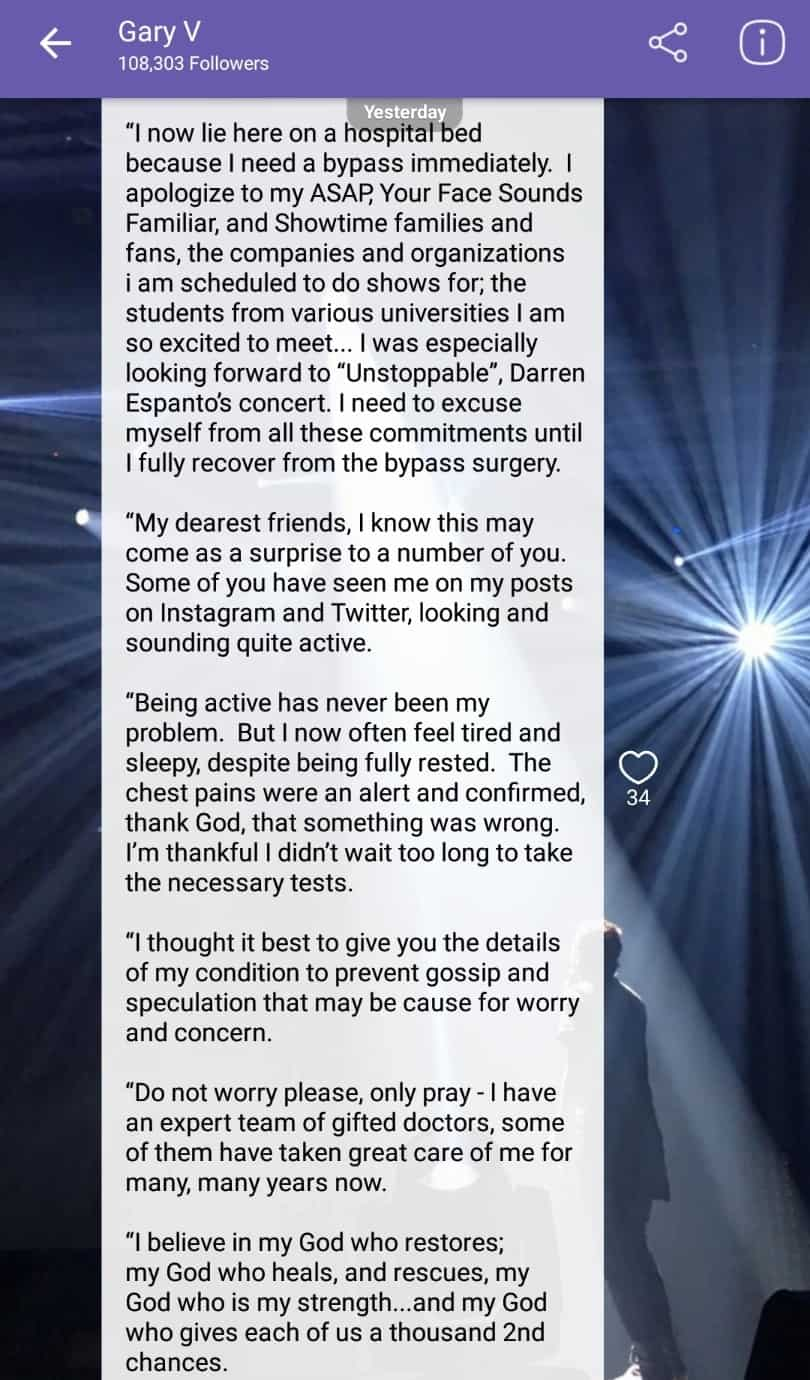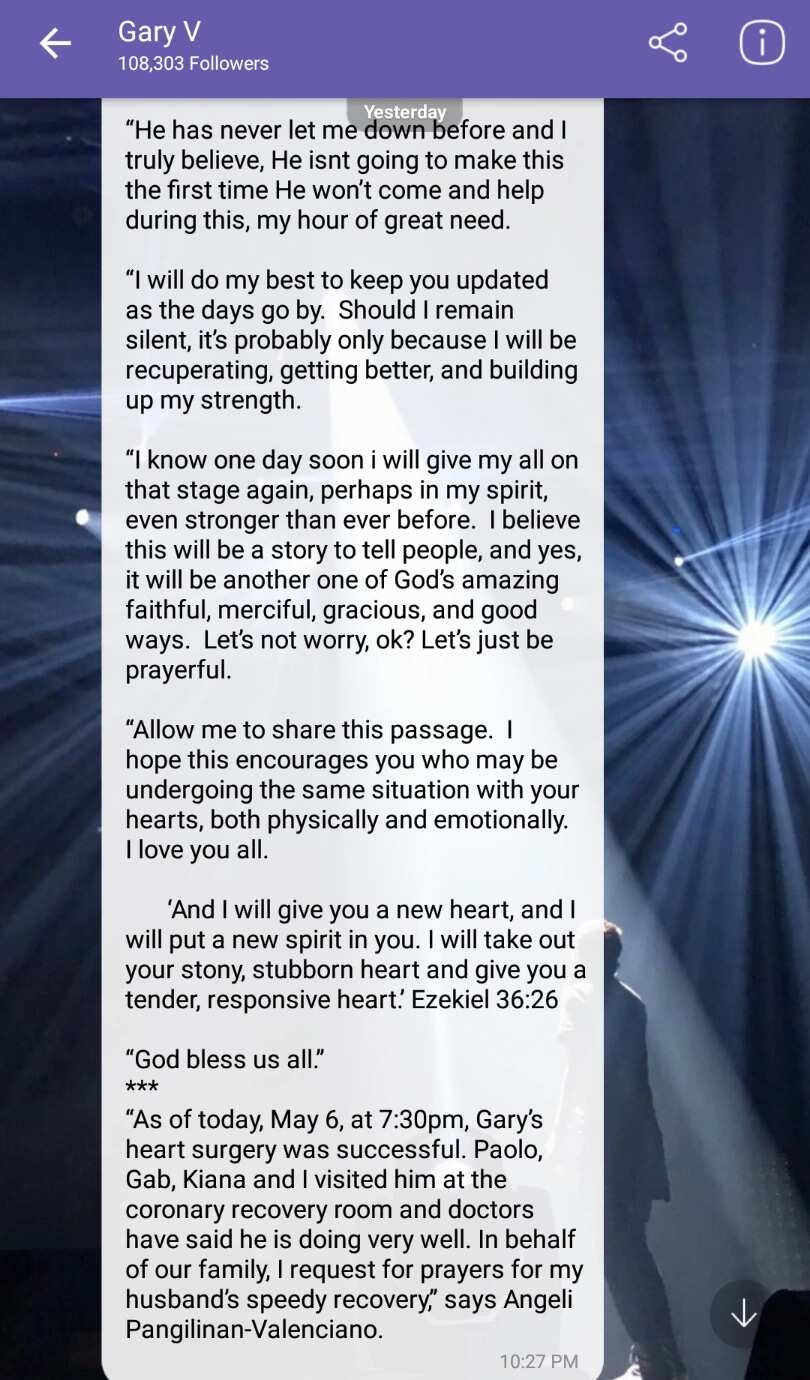 Edgardo Jose "Gary" Santiago Valenciano, most commonly known as Gary Valenciano or Gary V., is a multi-awarded singer and songwriter.
He is married to María Anna Elizabeth "Angeli" Pangilinan and they are blessed with 3 children, Paolo, Gabriel, and Kiana Valenciano.
Mr. Pure Energy was diagnosed with Type 1 diabetes when he was only 14 years old.
Doctors had no idea what's wrong with Angelo. His mom is in pain watching her son suffer. This family needs money for appropriate medical checkup that would allow to set diagnosis. All together we can help! Find Marlyn Rosamiran's contact details in the end of the video.
I am bigger than my illness - Angelo - on KAMI YouTube Channel
Source: Kami.com.ph