- Xian Gaza posted bail for 126,000 pesos and now released from jail
- He posted a video saying that he is "Nyeam free!"
- Xian is selling his surrender shirt for 9,000 pesos and a coffee date with him
PAY ATTENTION: Click "See First" under the "Following" tab to see KAMI news on your News Feed!
Self-proclaimed CEO Xian Gaza was released out of jail last April 13 after posting baill for 126,000 pesos.
Xian, who surrendered at Malabon City Jail on April 12 received two warrants for violating Anti-bouncing check law.
KAMI learned from that after he was set free, Xian did a Facebook live saying that someone bailed out for him.
"Thank you po sa mga tumulong (to those who helped)," he said while walking around in a Mall at Quezon City.
He also shared some of his experiences inside jail.
"I'm now ready for a new life, lead me Lord,"
"Masarap makalaya,"
"Ang hirap doon (It's tough there), my goodness. I don't wanna go back there. Nyeam," the alleged scammer said.
According to Inquirer.net, he even changed his profile picture with a caption, "XIAN GAZA, 24, Filipino, Single, EX-CON"
Meanwhile, Xian also posted a photo of his orange 'surrender' shirt.
This is the shirt he wore on April 12, the date when he voluntarily went to Malabon Police headquarters.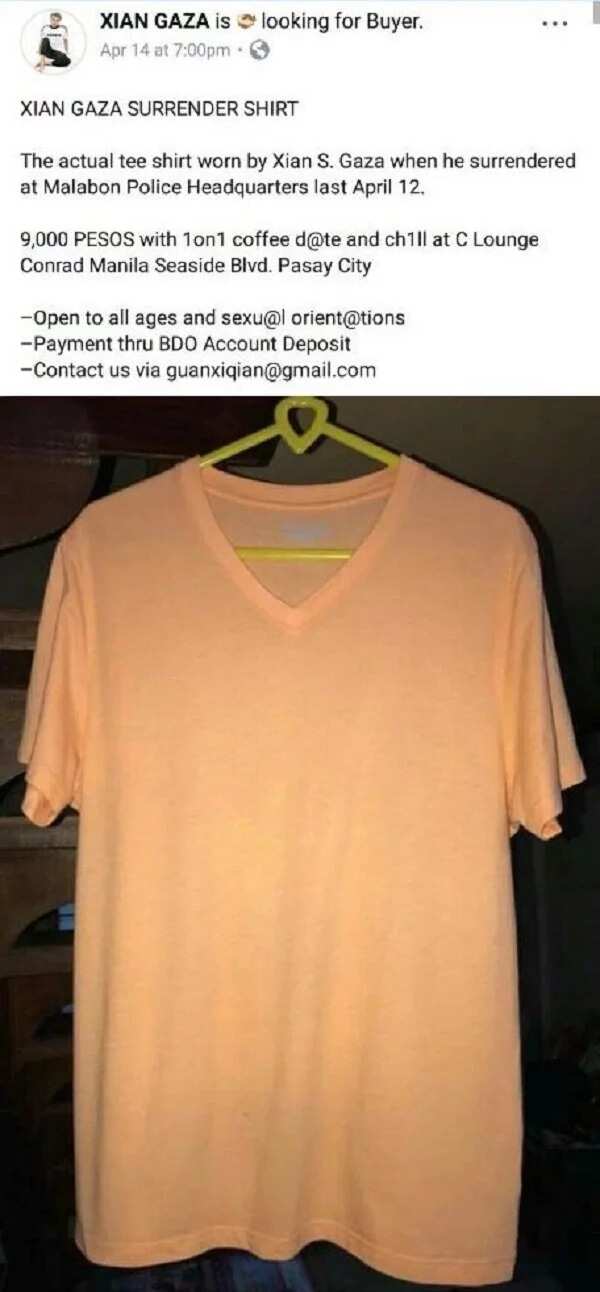 He was actually selling it for 9,000 pesos with a one on one coffee date with him at C Lounge Conrad Manila, Seaside Blvd. Pasay city.
Xian also specified that buyers can be of any age and any gender.
However, he deleted this post and changed it to another post a shirt he is selling with a print, "Nyeeeaaaaam".
Instead of 9,000 pesos, he is selling the white shirt with " Nyeeeaaaaam" print for 450 pesos.
Christian Albert Gaza, Xian's full name made haeadlines last year because of his coffee date proposal to Kapamilya actress Erich Gonzaga thru an eye-catching billboard.
Unfortunately, the actress refused but in a nice way.
Cheneleng Pili's success story inspires us to keep chasing our dreams. Road to success: I cried a hundred times - makeup artist and business owner Cheneleng Pili on KAMI Youtube channel