- La Sallians won Rotary National Debate Championship
- They tackled issues relating to the commercialization of indigenous cultures
- The debaters won the hearts of many with their ability to make people see how commercialization can help these people
PAY ATTENTION: Click "See First" under the "Following" tab to see KAMI news on your News Feed!
In a rather familiar scene, La Sallians and Ateneans clash head on to clinch a title, this time not for basketball, but for the title of champions of the 5th Rotary National Debate Championship: The Gov. Prospero Crescini Cup (RNDC), sponsored by the Rotary Club of San Francisco Del Monte (RCSFM).
In a very tight three-two (3-2) split vote, the team from De La Salle Zobel (DLSZ team B), composed of Raymond Tiuseco, Desher Empeno, and Gabby Dimatatac, emerged as champions against their worthy opponents from Ateneo De Manila Senior High School (AHS team B) composed of Javy Pineda, CJ Carlos, and Matthew Varona. The two teams battled it out to convince the judges that the latter should support the commercialization of indigenous cultures as a means of preservation, with DLSZ B taking the affirmative side and AHS B defending the negative side.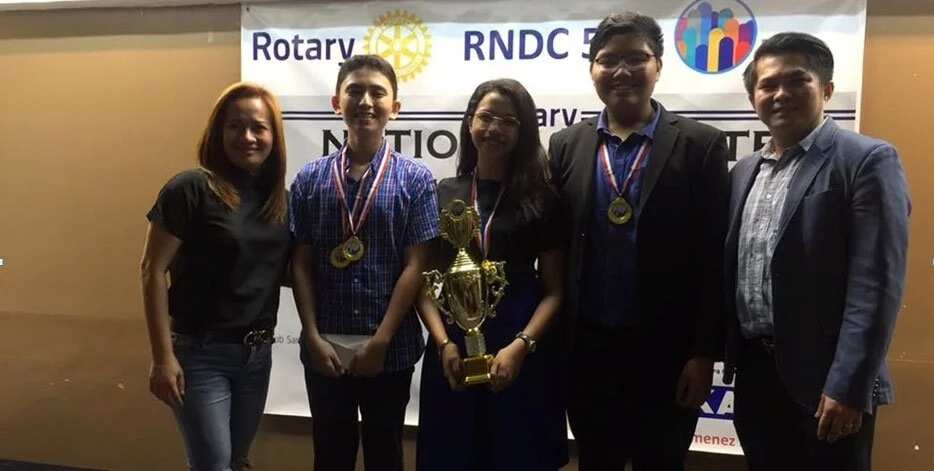 L-R: Rotary Midtown President, Sarah Deloraya-Mateo, RNDC winners from DLSZ: Raymond Tiuseco, Gabby Dimatatac, Desher Empeno, and RNDC organizer, Atty. Arnel Mateo
Commercialization and innovation as preservation
Team De La Salle Zobel argued that commercialization is key to raise awareness on the plight of various indigenous communities. They buttressed this by saying that normally, Filipinos only know of indigenous communities like the Lumads because of human rights atrocities committed against them, so what commercialization does it that it brings indigenous arts and culture into the mainstream consciousness, by raising national awareness on the indigenous communities per se through their profitable commodities. Team Ateneo, countered this by saying that it is better for the culture to die a dignified death and to be kept in museums than for it to be transformed into something virtually unrecognizable due to the influence of market forces and fat cat capitalists.
The second speaker of the affirmative side Raymond Tiuseco captivated the hearts and minds of the audience as he charmed his way to winning the finals best speaker award. It was indeed a tight race and everyone just enjoyed the night filled with conversations on cultural preservation and other advocacies of the Rotary Club international.
Cream of the crop
The champions of this year's RNDC were determined in a two-day rigorous selections process with several awards given to various debaters from institutions across the country.
Here is the list of the best high schools debaters in the Philippines as determined in the 5th RNDC:
1st Matti Tan (Ateneo Senior High School A)
2nd David Africa (Ateneo Senior High School A)
3rd Angela Yu (Assumption College San Lorenzo A)
4th Martina Marquez (Assumption College San Lorenzo A)
5th CJ Carlos (Ateneo Senior High School B)
6th Jake Peralta (Southridge A)
6th Matthew Mercado (Ateneo Senior High School A)
6th Luis Garcia (Southridge A)
9th Raymond Tiuseco (De La Salle Zobel B)
9th Matthew Varona (Ateneo Senior High School B)
La Salle- Ateneo rivaly
Last year, Ateneo High School bagged the championship against a team from De La Salle, although not from DLSZ but from La Salle Green Hills. AHS won RNDC for the second year in a row last year, and the third time in four years, which is a testament of Ateneo's tradition of excellence in the field of debating.
De La Salle Zobel is also no stranger in winning debate competitions having won the Asian Schools Debate Championship last year, defeating teams from Bangladesh, India, the Philippines, Taiwan, Thailand and Vietnam.
Rotary's Vision
The RNDC is in line with RCSFM's Basic Education and Literacy Program. The RNDC aims to provide a venue for secondary students to develop, practice and hone their skills in the art of argumentation and debate, and to capacitate the youth by giving them the opportunity to express their learned views on various current educational, scientific, social and economic issues.
The adjudication in the RNDC is supervised by a five-member Adjudication Core, which was carefully selected in terms of their debate and adjudication credentials and their alignment with the values of Rotary Club International. This year's RNDC was composed of debate champion and former Philippine Debate Union (PDU) Chair, Rotarian Victor Baguilat Jr., RNDC alumnus and former champion Luigi Alcaneses; former PDU secretary and national top judge, Romeo Latoza, national semifinalist debater, Jem Domingo, and internationally-subsidized judge, Yong Bantolo.
Grandma sells palitaw until midnight to send grand kids to school on Kami YouTube channel This video teaches us a thing or two about the meaning of giving unconditional love, where one can sacrifice much for her loved ones.
Source: Kami.com.ph