- Anne Curtis is in Australia for the Holy Week
- But that didn't stop her from sharing a post about the waste situation in Siargao
- The star vacationed in world-famous surfing island during the Christmas break last year
PAY ATTENTION: Click "See First" under the "Following" tab to see KAMI news on your News Feed!
Anne Curtis may be far away on a different continent, but she's still looking out for the Philippines.
The actress is currently in her hometown in Australia with the rest of her family for the Holy Week break.
But an Instagram story calling attention to the waste disposal situation in Siargao Island caught her attention.
Anne then tweeted an appeal to Siargao authorities and tourists to take care of the island.
On March 30, Anne tweeted: "Hello Siargao Official. Saw this sa IG of @s.e.a.movement Hoping resorts and restaurants start using reusable cups, straws, etc to lessen waste.. & the LGU lead in proper waste disposal to keep the island clean & preserved. To the visitors, leave only footprints. Palihug."
The screenshots in Anne's tweet were of the Instagram stories of S.E.A. Movement, a non-profit organization for volunteers in Siargao dedicated to keeping the island clean.
It showed overflowing trash bins at Cloud 9, a popular surfing area in Siargao.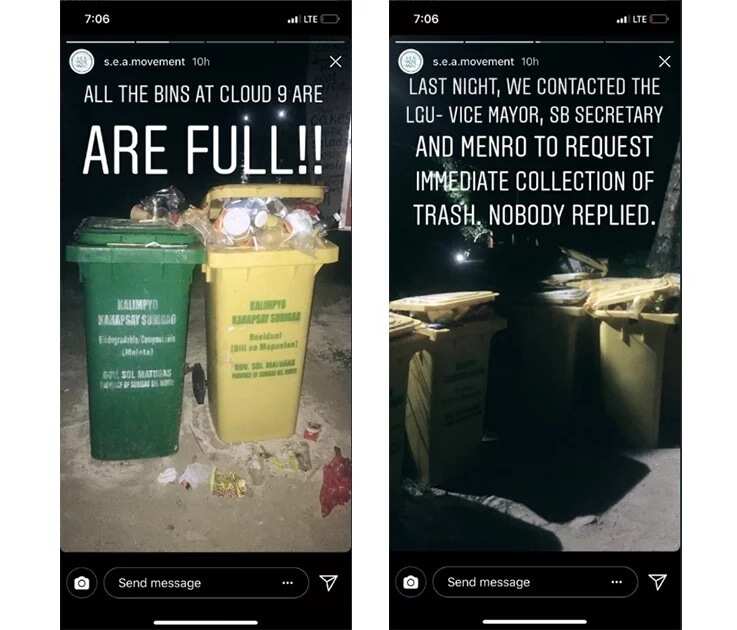 According to S.E.A. Movement, they tried to get in touch with the local authorities to request immediate collection of trash. However, they said nobody replied to their request.
In a follow-up tweet, Anne pleaded: "Wag nating hayaang masira ang napakagandang isla natin."
One netizen called out Anne for posting the issue through social media.
The Twitter user wrote: "I know I don't have the right to say this but how about u hit em up directly & privately? U are influential. They wud surely listen to u. I think sharing it on social media wud make things worse. U know how people sentionalize negative news & surely it will affect their tourism."
But Anne defended herself and said her tweet was a call for everyone, including tourists, resorts, and restaurant owners, who should be working together with the local government.
Anne wrote: "Again, this was a shotout to EVERYONE. Read my caption again I mentioned Resort & Restaurant owners, LGU & even tourist/visitors who might be some of my followers. To only leave footprints, palihug. Social media is the fastest way to raise awareness. Which was my intention. ❤️"
Other netizens agreed with Anne and echoed her call, especially for tourists to be mindful of the trash they leave behind when on vacation.
Anne also shared information for her followers who are in Siargao and want to help in a clean up.
On March 31, 11:36 AM, Anne updated her followers with some good news.
"Awesome news! The trash can have been picked up and cleaned! Yahooooo! ❤️ Don't forget to follow @s.e.a.movements on instagram to join their regular cleanups if you're in Siargao!!!! ❤️❤️❤️"
Anne fell in love with Siargao island after she spent five days there on vacation with her family in December 2017.
She first visited the surfing island in 2012.
On her second visit, she praised the development brought about by the influx of tourism to the now world-famous surfing destination.
At the same time, as early as December, she also called on the government, locals, and tourists alike to take care of the island in terms of proper waste management and use of less plastic.
READ ALSO: Hoy gising Siargao! Karen Davila shares traumatic experience while surfing with family in Siargao
Anne is a Filipino-Australian actress, model, television host, and recording artist.
She is dubbed as the "Country's Sweetheart" and the "Ultimate It Girl".
Her wedding to Erwan Heussaff in November 12, 2017 was one of the most talked-about celebrity weddings.
They got married in Queenstown, New Zealand.
READ ALSO: Namamanhikan na ba sa Australia? Jasmine Curtis-Smith is very sweet with boyfriend Jeff Ortega on vacation in Australia
Doctors had no idea what's wrong with Angelo. His mom is in pain watching her son suffer. This family needs money for appropriate medical checkup that would allow to set diagnosis. All together we can help! Find Marlyn Rosamiran's contact details in the end of the video.
I am bigger than my illness - Angelo - on KAMI YouTube Channel
Source: Kami.com.ph