- A Pinay overseas Filipino worker shared how she handled her tough life working abroad
- She was able to manage working and studying at the same time
- She also shared other experiences of her fellow DH abroad
PAY ATTENTION: Click "See First" under the "Following" tab to see KAMI news on your News Feed!
Though most of the OFW stories that we have read or heard were about the difficulties they encounter working abroad, there are some who will also give us some inspiration.
While most of them flew outside our country with high hopes of having a better life, some of them aimed for something that will help them achieve their long term goal.
Just like Marian Labbao Otos who was able to finish a short course with Ateneo de Manila University with the help of Philippine Consulate and Caritas.
She finished a caregiver course and also Leadership and Social Entrepreneurship.
Marian took up this courses for she still plans to go back her in our country one day and use all her learnings from these courses.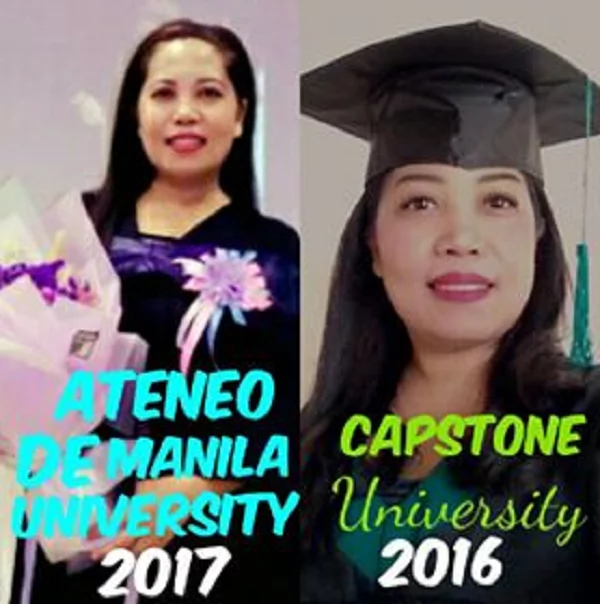 It is also in her nature to help and reach out to other people as she also shared how she was able to help out her kababayan who suffered from the selfish hands of her employer.
Our letter sender is truly one of the true 'bagong bayani' of our country.
Here is Marian's inspiring OFW story.
I'm Marian Labbao Otos married blessed with a son I'm 41 but turning 42 this Feb.
Mahirap buhay SA Riyadh kumpara SA Asian countries kasi no day off mga helper SA Riyadh Saudi for 6mos ngtiis ako khit Friday which is supposed to be a helper holiday ngtatrabaho kami though magaan trabaho ko kumpara SA iba helpers na Indonesian KC mostly SA mga bata lng ako nkatutok lalo na Yun bunso na anak KC tinuturuan ko cla Ng English...Yun amo ko lng na lalaki Ang marunong mag English kaya Kung may problema ako sa knya ako nagsasabi like pag di agad pinadala Ng amo Kong babae Yun pera ko pra SA pamilya ko ngsasabi ako sa amo lalaki tapos ginagawan nya ng paraan maipadala Yun pera either siya Yun mgpadala mismo or utusan nya mga lalaki nyang anak then pinagsasabihan nya din amo nmin BABAE... Ako lng allowed na may celfon Yun mga kasamahan ko Indonesia nkikigamit sila pag gusto nila message or call sa pamilya nila kaya ok samahan nmin kc nkita nmn nila diko cla pinagdadamutan saka mas tipid kasi if skin na cla mkitawag kesa bili ng fon card using landline. Madalas Yun amo kung BABAE lang problema nmin kc madalas di nya agad pinapadala SA pmilya nmin Yun pera na pinakikisuyo nmin ipadala nya one time noon nasa ospital tatay ko kasi naistroke nakisuyo ako sa madam nmin ipadala agad kasi para SA gamot Ng tatay ko NASA ospital di pinadala agad dun ako nagalit di ako ngtrabaho mghapon. Hirap kasi do or die nlng SITWASYON kasi hawak din nla passport nmin. Nagkulong ako SA room nmin SA rooftop di ako ngtrabaho tpos pinatawag ako Ng amo kong lalaki para kausapin ako kaharap buong pamilya nya then hinarap ko cla nmn ng maganda kasi professional kumausap sa mga helpers Yun among lalaki xmpre dhil alam ko galit sakin c MADAM dun ako pumuwesto sa malapit sa drawer Ng mga kutsilyo kasi dun kami SA clean kitchen Kung tawagin open forum as foreign worker I have to be alert lalo pa nasa loob ako Ng bahay nila at Wala ako relatives sa Riyadh Yun tito at tita ko nasa Jeddah cla Ginawa ko di ako umupo nanatili nkatayo nkasandal sa drawer Ng kutsilyo sa likuran ko hehe… then ok nmn kasi pinagalitan Ng amo lalaki Yun ASAWA nya saka mga anak nya after nya narinig side ko so I'm blessed but some relatives of Madam di maayos pagtrato nila sa helper nila sinasaktan cla at ginagalaw. Mostly PINAY at Indonesian Yun nagagalaw wala daw cla magawa kasi madalas dalawa Yun nangrerape sa knila mgpipinsan ganun tsambahan nila wala dun amo Ng helper saka nla gawin yun pangrerape sa helper. Yun iba PINAY sinasabi no choice mahalaga wag mabuntis at wag cla patayin uuwi buhay Ng Pilipinas nakikipagkwentuhan ako sa knila pag may PARTY SA BAHAY Ni amo or ngkikita SA ibang lugar na may family gathering ganun.
Bago ako umuwi Yun PINAY na helper Ng kapatid Ng amo ko tinaga nya balikat Ng anak Ng amo nya na BABAE di na daw nkapagtimpi sa galit nakulong xa for few months pero mabait sa knya ibang members Ng pamilya pwera sa dalaga na tinaga nya sa balikat kya pinalaya siya ng kusa pinauwi ng maayos sa Pinas nmn buti di nmn gnun kalalim Yun pgkataga...Naiyak ako Ng lisanin ko Ang Saudi naisip ko swerte ako kumpara sa karamihan lalo na first timer ako though gusto nila ako BUMALIK sa knila noon tumawag din cla skin SA Pinas di na ako BUMALIK kasi mababa sahod kahit nangako pa cla taasan no Ng 200SR sahod ko di na tlga ako BUMALIK ...nag apply ako Ng hongkong pero madaya agency nmin Ng kasama ko kasi SA iisang bahay lng DaW kami di nla cnbi na Yun employer dadalhin nila kami SA china.
Pagdating nmin Ng hongkong dumiretso kmi SA agency then after 3days kmi lng Ng kasama ko lumipad going xiamen China kasi dun employer nmin...wala kmi nagawa dasal nmin ok lng bsta mbait Yun employer kasi bawal Yun ginawa Ng agency samin eh. Pagdating nmin Ng china, ok nmn mga amo big-time business man SA china malaki din bahay like most houses in Saudi at mabait din nmn cla then process nla papers nmin dun after 6mos di nila kami exit kasi need dapat noon exit di nila kami pinakinggan after 8mos ayun saka kmi exit to Hongkong then OS na daw kmi di na kmi mkabalik Ng china so pumunta kmi ng agency sa hk tinawagan employer sa china kinausap nmin then ngsabi kmi that's their fault they shouldn't have to terminate the contract as easy as they wanted to do kelangan bayaran nla remaining most sa 2yrs contract namin pero di cla pumayag promise cla help nila kami makakuha Ng new employer sa hk then ipadala nla.
2 pinay 1 indonesia kami 2 pinay tutok tutor at alaga sa 3kids Yun Indonesian Gawain bahay... inayawan ko Yun 10 or 11pm gigisingin kami Ng amo babae or ipakita Yun activities Ng mga bata the whole day at paa nya pa paggising samin bastos till naubos PASENSYA ko nun ngalit siya sa kasama ko PINAY then ngsasalita xa nun bahagya lumayo Yun kasama ko then hinatak nya sa braso then yun is food kuripot cla bumibili kmi Ng makain pg day off nalang.
Sa hk may PINAY lumapit sakin sunday Yun puro pasa din first timer SINAKTAN xa Ng amo nya babae di daw xa gumanti at hinampas xa Ng hawakan Ng vacuum cleaner sa tagiliran dinala ko sa agency nya at pinagalitan xa kasi few days palang pala siya sa amo nya then pinababalik siya sa amo nya then dinala ko sa Philippine Consulate at dun xa ngreklamo after few days nkauwi naman xa Ng Pinas... meron din muntik marape Ng amo nya tumakas then ngtanong sakin saan Philippine Consulate sa hk dinala ko dun after few days nkauwi Ng Pinas kaya mas ok pa din sa Asian countries kasi malapit lng at mas ok din nmn labor and Consulate dto sa macau it's like hk nmn patakaran... ayun life ko dito diko masabi masarap KC mhirap nmn tlga buhay ofw mabait din nmn amo.
Yun bang tipo na pde pgtiyagaan hanggang mgsawa ka kakatiyaga mhalaga ok mgpasahod nmn normal na Yun Maraming gawain... lately nhulog ako sa ladder sa paglilinis muntik na ako mabagok buti nlng naibalanse ko paa oo at Yun right ankle ko Yun nadale pero di nmn severe mild injury Yun lng TAGAL mawala maga at skit KC sa buto mismo Yun nbugbog...for 2yrs di ako umuwi dhil kapos pa din KC kamakailan lng malaki nagastos sa sis kkng pumanaw na at after few months Yun hubby nya din pumanaw then kkatapos ko pinagamot Yun sis Kong ngkasakit SA KAGAGAWAN at kapabayaan Ng asawa nya at Yun Isa Kong utol din 6mos ko binigyan Ng pampagamot din Yun Mata Ng nanay ko pinaopera ko kaya no ipon mahalaga nkatulong sa pamilya Yun nmn obligasyon Ng ofw Ang sandalan Ng pamilya hopefully by April uuwi pra ENROLL Yun anak Kong upcoming grade 11 SA FEU Kaya kayod marino pa din pra SA edukasyon Ng anak ko
Habang DH dto Ng aral ako Ng short courses at Graduated na Ng caregiver at ATENEO DE MANILA UNIVERSITY short course LEADERSHIP and SOCIAL ENTREPRENEURSHIP last year...an achievement abroad and preparation in case for good na sa Pinas dahil masarap pa din magtrabaho sa sariling BAYAN
At the age of 24, she opened her own cafe and co-working space with her hard-earned savings from being an OFW and is now a successful restaurateur. Success story: From belittled OFW to successful restaurateur | Kami Stories on KAMI youtube channel.
Source: Kami.com.ph