Yung mga ganitong lalaki hindi dapat pinaparami! Pinay found out her guy was cheating on her and more than 22 other girls through Spotify
- The Twitterverse exploded after Iris Vicencio shared her love story
- The 18-year-old found out the guy she was dating has been cheating on her all along
- The discovery happened after "Mark" dedicated a Spotify playlist for her
PAY ATTENTION: Click "See First" under the "Following" tab to see KAMI news on your News Feed!
Falling in love and letting another person into your life is hard enough. And then you find out your S.O. is shady as hell and is cheating on you all along.
A broken heart can be the hardest to heal.
18-year-old Iris Vicencio became the talk of the town on Twitter after she exposed her cheating S.O. - the guy she's been dating for two months who turned out to be dating other girls at the same time.
In a series of tweets, Iris explained that she's been dating a certain Mark, a guy she met through the dating app Tinder.
They've been chatting and flirting with each other for six months before they went on their first date.
By their second date, Mark was already professing his love for Iris. He even made her believe he's the one. He told her he wants to spend the rest of his life with her.
Iris fell hard. She was ready for Mark to be the one.
That is, until she found out Mark is making the same moves and telling the same flowery promises to at least 22 other girls!
How did she find out? Surprisingly, through Spotify playlists.
Mark made a sweet move by creating a personalized playlist for Iris. He called it "Iris | A Chill Mix".
Unfortunately for Mark, Iris found more than 22 other "chill mixes" that Mark created for other women.
That initial discovery opened up a can of worms and more secrets than Iris had bargained for.
Iris has since made her account and her tweets (including screenshots) private.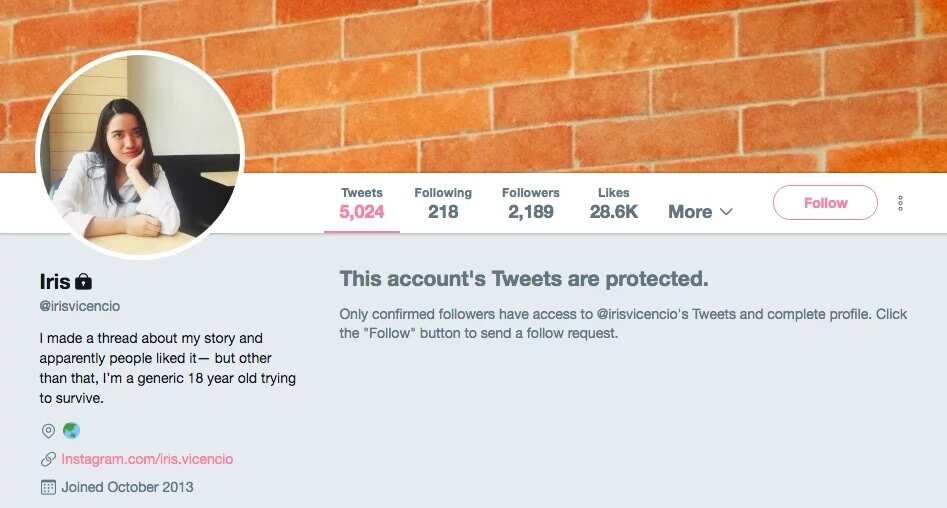 But here's some of her tweets as quoted by Myx.
"I've been talking to this boy (let's call him Mark, bc I'm not about to name names.) and we've been hitting it off, like lowkey wants to be my boyfriend hitting it off yknow?"
"We went on like 2 dates but I've known him for like 6 months before the 1st date. Nung 1st date sabi nya "Pwede ba kita ligawan?" 2nd date naman, sa loob ng movie theatre sabi nya "Iris, I love you." And he's said it plenty times since then. Ako si gaga, naniwala."
"He was good talaga, he'd always pay for food & movie tix, open the door for me, talk to me when I need him, offer to help with my thesis, sabi pa nga nya he wanted to bring me home to las piñas to meet his fam. I thought it was super legit."
"It started getting even more real when he'd say stuff like 'Akin ka nalang' and 'Sayo lang ako. I commit to you.' That type of sh**. I introduced him to my best friend pa. Ganun na sya kalegit."
"I didn't really give him an easy time kasi ayoko talaga mag trust ng guys kagad, and TBH I wanted to be super single but I let him like me. Wala syang obvious flaws na he was talking to other girls, and he kept assuring me that ako lang talaga. Nakilala ko pa friends nya."
"THEN COMES THE DAY IT ALL ENDS. I was at school, chilling with friends and chatting with Mark on my phone until he sent me this: He made me a playlist on @Spotify, so ako si gaga kinilig."
"So I opened the playlist to look at the songs. Mind you, I was at school right next to my friends so lahat kami kinikilig at nagsasampalan pa sa kilig. Ang cool nung songs, and they were all my vibe. I thought pa nga 'he knows me so well.'"
"Then I opened his spotify account to see other playlists na ginawa nya. First thought: Ang dami nyang time gumawa ng playlists. AND THEN I FOCUSED ON THE NAMES OF THE PLAYLISTS."
"22 GIRLS. 22 NA GIRLS LANG SA SCREENSHOTS NA TO. MARAMI PA YANG IBA TINAMAD LANG AKO MAGSCREENSHOT NA. PERO 22. GIRLS."
"I wanted to give him the benefit of the doubt na baka exes lang nya lahat (kahit morally wrong and masakit parin kasi ang dami na nyang naging babae and ginawan ng playlists, pero at least hindi sya nagcheat diba?) So I checked yung kay Lily, kung kelan napublish. MARCH 7, 2018"
"MIND YOU, 6. MONTHS. KO. NA. SYA. KILALA. 2. MONTHS. NA. NYA. AKO. NILILIGAWAN. Tinignan ko pa yung iba. Beatrice, Chelle, and Iyah. P*******a, kilala ko pa si Iyah. Hahahahaha. At this point, over na ako hindi ko na kailangan i-confirm."
"BUT THEN I THOUGHT, baka mahilig lang sya gumawa ng playlists para sa friends nya??? So I confronted him and nagpanic sya, tumawag pa sya. I was at school so hindi ko masagot. I was soooooo mad."
"When I got home from school I finally texted him (because I blocked him on facebook messenger.) I only wanted an explanation."
"'Wag na what's the point anyway.' Ayun lang, no follow ups, no explanation. This to me, was proof that he did what he did. Para sakin, kung wala syang masabi, guilty na talaga sya. He blocked me on facebook after that. BUT, I found Lily— so my question is:"
"Should I reach out to Lily and inform her na may kasabayan sya? Or let them live their life at wag ko na sila guluhin."
"The end, sana nagenjoy kayo hahahahahaha. I love you @Spotify, you saved me from finding this out too far into the future. Also, props to him because every playlist had different songs. Sobrang convenient pala ng spotify sa paglandi."
After her initial thread trended on Twitter, Iris was able to connect and chat with a handful of the other girls that Mark made a playlist for.
That's when she found out how Mark used the same tactics he used on her on the other girls.
Iris also found out that Mark took another girl to the UP Fair. Except he told Iris that he doesn't like going to the UP Fair when she invited him to go.
In the end, Iris only wanted an explanation from Mark. So she could get some closure and help her move on.
She tweeted: "A few minutes later, naiiyak na ako- hindi dahil nasasaktan ako pero dahil nafrustrate ako sakanya. NAIIYAK AKO KASI INAANTOK NA AKO AT AYAW PARIN NYA MAGEXPLAIN SAAKIN???"
"And so the explanation comes, I still do not 100% believe this pero eto lang ang meron tayo. I'll break it down for you:
1. 4/25 girls lang ang totoong dinate nya.
2. 21/25 girls are girls from either Tinder or OkCupid.
3. He made playlists through the spotify weekly playlists."
"Ayun ang ending ng explanations nya. Ako naman, ayun din ang ending ng relationship namin. Hindi nya ako pinaglaban. Umalis sya ng walang nangyari. Isa pang patunay na wala syang lakas ng loob o wala syang pake."
Myx was able to interview Iris. She had this to say to every girl who has ever been cheated on:
"It's never a girl's fault if a guy cheats. Kasi, he's done it to so many DIFFERENT girls - and we barely have anything in common, then that just goes to show that cheaters will do it to anyone, it never matters who you are."
KAMI wishes Iris the best of luck, and hopes Mark learns to treat women better.
Rens Tuzon panicked when he spilled coffee on a painting he was working on as a student. Little did he know, the incident would lead him to a Eureka! moment. His surprising discovery on how coffee can be a great medium to create exquisite works of art made him the amazing coffee artist he is now.
How a messed up painting became the finest artwork of all time - on KAMI YouTube Channel
Source: KAMI.com.gh