No erasure policy ba kamo? Teacher shares his student's wittiest style for no erasure policy on his exam
- A student impressed her teacher when he used a creative way to change his answers during a "no erasure policy" examination
- His teacher posted a photo of his answer sheet in his Facebook account
- This could seriously come in handy if you realize that you wrote down the wrong answer and you are not allowed to erase your previous answer
PAY ATTENTION: Click "See First" under the "Following" tab to see KAMI news on your News Feed!
A Facebook user named Ariel Yorpo Ebio, was a teacher at Goldenstate College Gensan.
He posted a photo of what his student did to follow the rules yet at the same time was able to walk around it.
The instruction from the teachers says, "Erasures means wrong."
Just as the test progresses, the student realized he wrote down the wrong choice but as he was not allowed to erase his answer, he thought of a clever way to somehow alter his answer without erasing it.
He thought of a sentence starting from the letter of her first choice and constructed a phase leading to the correct answer.
4. Akong answer kay C
9. Akong answer kay B
14. Bahala na basta C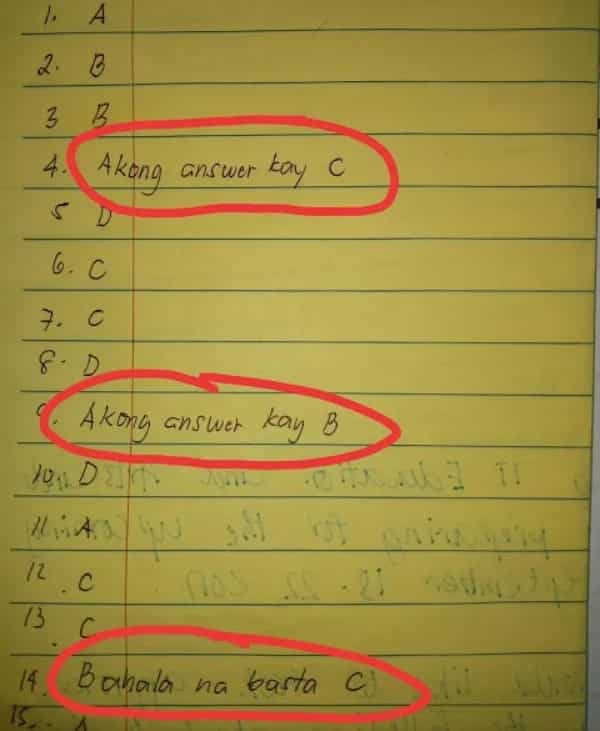 It is obvious that on number 4, his first answer was "A", but he added a sentence starting with 'A' to support his final answer which was, 'C'. It was so funny that Mr. Ebio posted it online.
Teachers commonly use this policy to make sure that the students will be cautious before writing. It is a way to find out if the student knew the correct answer right after reading the question. Also, a paper with tons if erasures looks dirty and can be confusing at times.
Mr. Ebio thought what the student did was brilliant though he did not mention if he considered the student's style.
The post gained attention online and was featured in many sites and pages online.
Would you steal money from a blind man? on Kami YouTube channel
A test of honesty. Find out how these random people would react to a social experiment testing a person's honesty
Source: KAMI.com.gh