- Kris Aquino fired back at a basher for a comment in her Instagram post
- One of her Instagram follower alluded to the celebrity about being a mistress
- Kris said this issue was not new to her
The Queen of all media lashed out at a netizen who commented and alluded her of being a mistress and a relationship wrecker.
This was after Kris Aquino answered back at a netizen accusing her of being "magnanakaw."
In the comment section of Kris's Instagram an Instagram user under the handle name @shirtlesspinoy said that destroying someone's reputation is a criminal act.
The netizen also gave out other examples of criminal act like being a "kabit" or destroying relationships.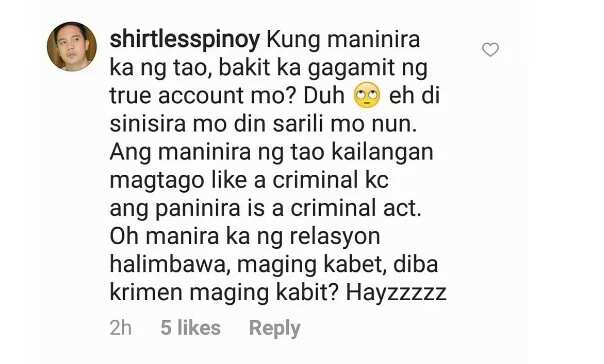 Kris replied to this and said she knew some bloggers who destroyed other people's reputation repeatedly.
She also said, "Regarding the pagiging KABIT, kung pinatatamaan mo ko, find something new to accuse me."
Kris cited the Speaker of the House Pantaleon Alvarez who admitted having a mistress.
"Work on your abs, they are impressive. Your logic, unfortunately, it needs tutoring."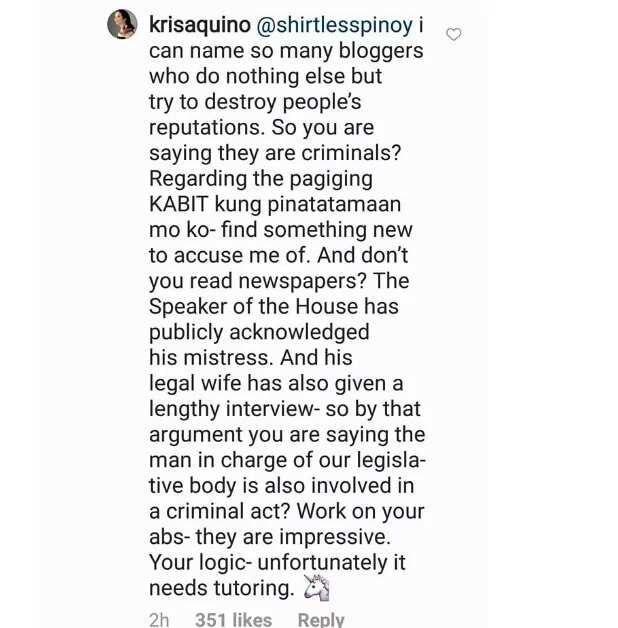 The basher was not take aback as he or she answered back at Kris's answer.
According to the Instagram user, it was not his intention to allude Kris with the issue about being a mistress as he was just giving an example of a criminal act.
But he technically said Kris was once a mistress of Joey Marquez because his marriage with Alma Moreno was not yet annulled during that time.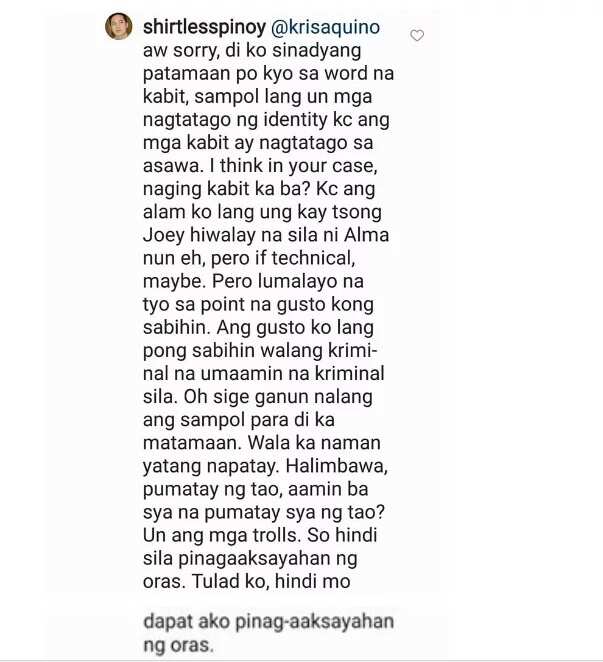 The netizen also said, "Oh sige ganun na lang ang sampol para di ka matamaan. Wala ka naman yatang napatay.
"Halimbawa, pumatay ng tao, aamin ba sya na pumatay sya ng tao?
"Yun ang mga trolls. So hindi sila pinag-aaksayahan ng oras.
"Tulad ko, hindi mo dapat ako pinag-aaksayahan ng oras."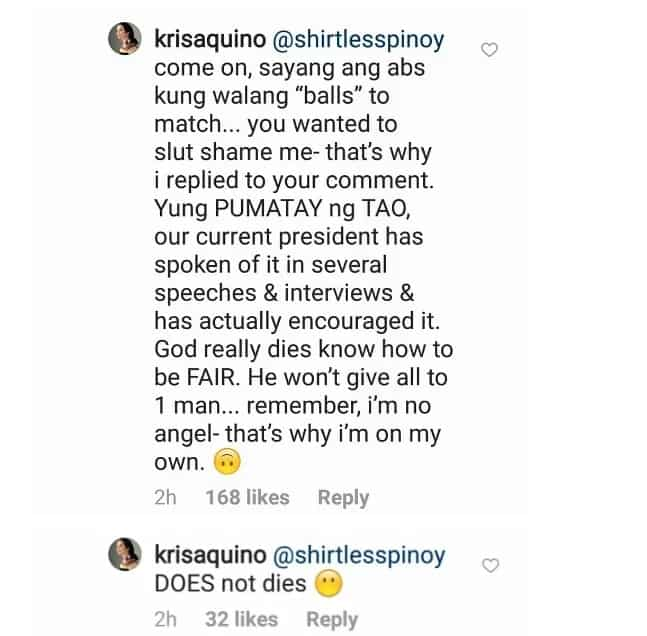 Kris seemed determined to shut down this basher and fired back at him.
"Yung PUMATAY ng TAO, our current president has spoken of it in several speeches & interviews & has actually encouraged it.
"God really does know how to be FAIR. He won't give all to 1 man...
"remember, i'm no angel, that's why i'm on my own."
The Queen of All Media proved that she still has a life after TV with her social media career.
She has more than 3 million followers on Instagram.
Her Facebook account has almost 100, 000 likes and more than 1 million followers.
Her YouTube Channel, The Aquinos' subscribers is also rapidly increasing.
Would you steal money from a blind man? on Kami YouTube channel
A test of honesty. Find out how these random people would react to a social experiment testing a person's honesty
Source: Kami.com.ph