- Sharon Cuneta and Gabby Concepcion's love team came back to life because of the controversial Mc Donald's TV comercial
- Netizens even Millenials are now hooked to the phenomenal love team of the 80's which happened from reel to real
- Sharon Cuneta tells her love story and answered FAQs about her exes specifically the one with Gabby Concepcion using her account under the name of 'April Mondragon'
PAY ATTENTION: Click "See First" under the "Following" tab to see KAMI news on your News Feed!
Mc Donald's Philippines latest TV commercial of old flames Sharon Cuneta and Gabby Concepcion went viral.
This contorversial TVC brings back the kilig of all the Sharonians who knew the love story of the Megastar and KC's dad.
Now, even the 'millenials' or the younger generation are curious why this TVC got so much attention.
KAMI learned from cosmo that it happened with the personal FB account of Krizette Laureta Chu where she started to ask and verify questions about Sharon's love life.
So many speculations about the Megastar's love story were written on the comment section on the latter's FB page.
After a long thread and some little arguments, a certain 'April Mondragon' commented and gave the answers to all their questions.
Little did they know that 'April' was none other than the Megastar herself.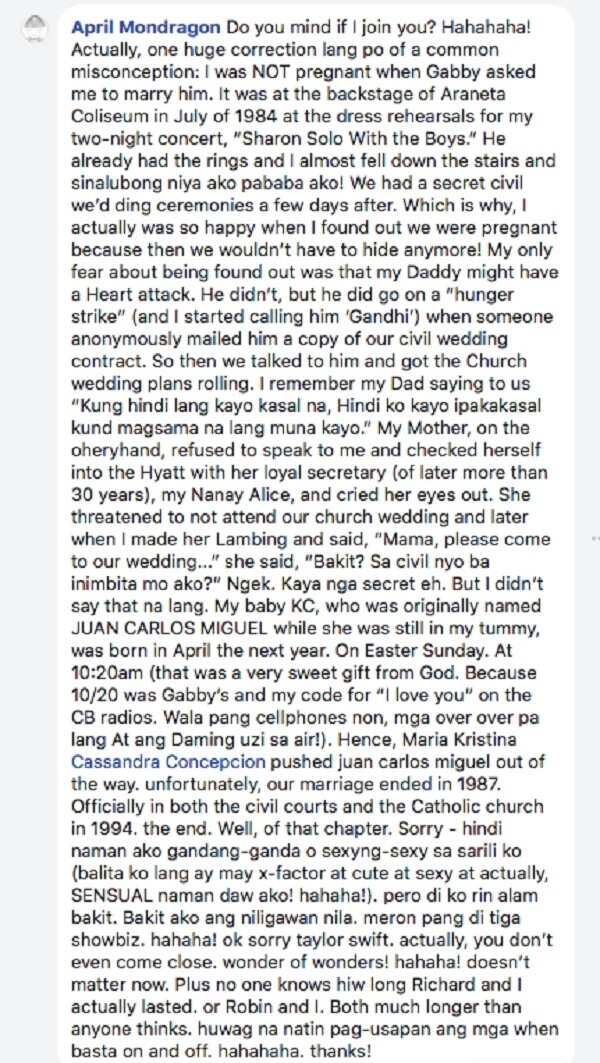 'April Mondragon' is her personal account on FB. This name was actually the character that she portrayed in her movie in 1981 with Gabby Concepcion 'Dear Heart'
April then tell the stories that occurred following the 'secret wedding', the birth of their daughter KC Concepcion.
'April' also revealed that KC was born at 10:20 a.m., a romantic coincidence as 10/20 was Gabby's code for "I love you," in the Citizen's Band radio [CB radio, a system of short-distance radio communication].
And even before 'bashers' question 'April's' identity, she simply introduce herself as Sharon Cuneta.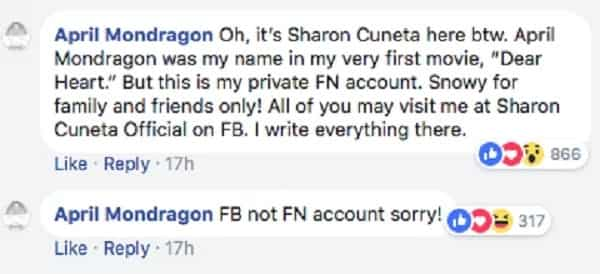 She even comfirmed it on her Official page by posting the private conversation she had with Krizette.
Mc Donald's released their latest TV commercial that features the 80's reel to real couple Sharon Cuneta and Gabby Concepcion last February 9.
It gained so much attention that even Sharon's aunt Helen Gamboa got carried away and cried upon watching the Mc Donald's ad.
Sharon and Gabby's only daughter KC Concepcion commented 'Never in my wildest dreams' upon seeing that her Dad followed her mom on Instagram.
Beauty hack has never been this easy. Curly Hair Using Paper Tissue on KAMI Youtube Channel
Source: Kami.com.ph