- A fan page for a South Korean actor suddenly changed its name to "President Duterte Supporters"
- Its members were caught by surprise
- The admin then posted propaganda news against Duterte critics
PAY ATTENTION: Click "See First" under the "Following" tab to see KAMI news on your News Feed!
A member of the "Kim Soo-hyun" Facebook fan group exposed the alleged sale of their page to a Duterte supporter.
On February 8, Karla Obispo posted a screenshot of an update on their fan group.
It said that a certain Donnabelle Gamboa Pascual changed the name of their group from "Kim Soo Hyun" to "President Duterte Supporters".
Members of the South Korean actor's fan page were confused as to what was happening.
Karla wrote on her personal Facebook page: "I'm a member of many 'fan groups' in Facebook. Most of them have more than 10,000 members exchanging updates or comments of Korean Idols... I'm very surprised when I saw this sudden change. I'm wondering how much is a Facebook group with thousands of members. LOL"
From the screenshot, we can see that the administrator in question explained that she thought the page was not active anymore.
"I thought you're not active anymore that's why I've changed the name of this group," said Donnabelle.
Because of the name change, Karla said some members started leaving the group.
"Hi Admin, people are leaving this group because not all of us are Duterte fanatics. Please don't sell the fan group for political purposes," said Karla on her comment to the admin update.
According to a report by the Inquirer, the Kim Soo-hyun fan group has more than 13,000 members.
The Inquirer was able to take a screenshot of the page when it changed its cover photo and name to "President Duterte Supporters".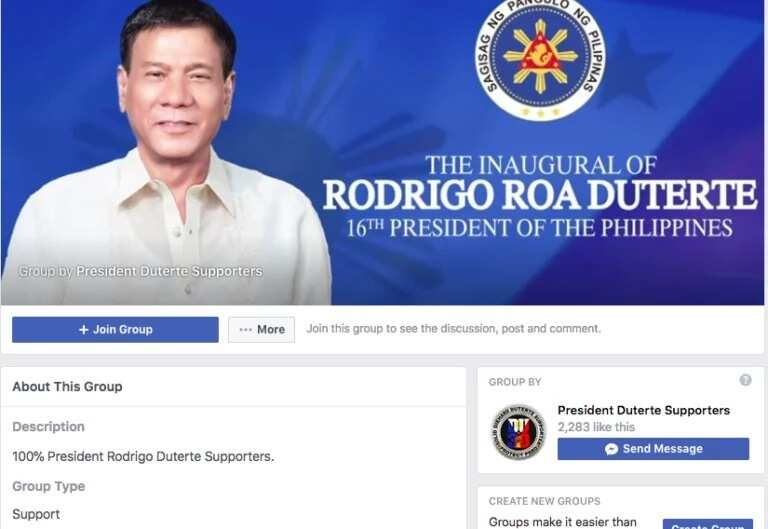 The administrators of the page were listed as: Bless Gamboa Pascual, Donnabelle Gamboa Pascual, and the Facebook page "President Duterte Supporters".
Karla also shared a screenshot of a claim that the page was bought by a Duterte supporter.
The page "President Duterte Supporters" sent a message to Karla.
It said, "Hi Miss Karla Obispo! I've bought that page so I have the right to do what I want. Don't worry I will return the original name as soon as it will become active."
But the real purpose of the name change was revealed when Karla saw the pinned post was a propaganda against Sen. Risa Hontiveros, a known critic of Duterte.
Karla also shared that the name was again changed to "Davao CT".
Karla wrote on her update: "Eto na yung pinned post sa fb group. Propaganda against Sen. Hontiveros. Pinalitan na ulit yung name ng group to Davao CT"
According to some netizens, this was not an isolated case. Commenters on Karla's post shared similar experiences with their Facebook pages.
Maria Luisa wrote: "Na experience ko yan pero I can't remember na kung anong page yun. Inunlike ko din after nag change ng name into DDS."
Day Manzanilla-Bautista wrote: "Ay grabe meron din ako ni-like na page dati biglang DDS page na ngayon".
Vicky Duterte Villafuerte revealed it also happened to the page of deceased Senator Miriam Defensor-Santiago.
"Ganyan din nangyari sa group ni miriam defensor nun nagalit nga kami e," said Vicky.
Vikki Alcantara wrote: "Madami ganitong group saka mga pages. Madami ako nilike noon na naging DDS page. Imba."
But according to a report by Inquirer, the administrator has already returned the name of the group to "Kim Soo Hyun"
The last change happened around 2 in the afternoon on February 10.
Karla speculated that because of the exposure, the sale of the Facebook page was reversed.
"Mukhang nagkabalikan na ng bayad kasi naexpose," said Karla in a Facebook comment.
Aside from propaganda against Hontiveros, the administrators of the group also posted fake news about Oprah Winfrey and Senator Bam Aquino.
Karla provided a screenshot to the Inquirer.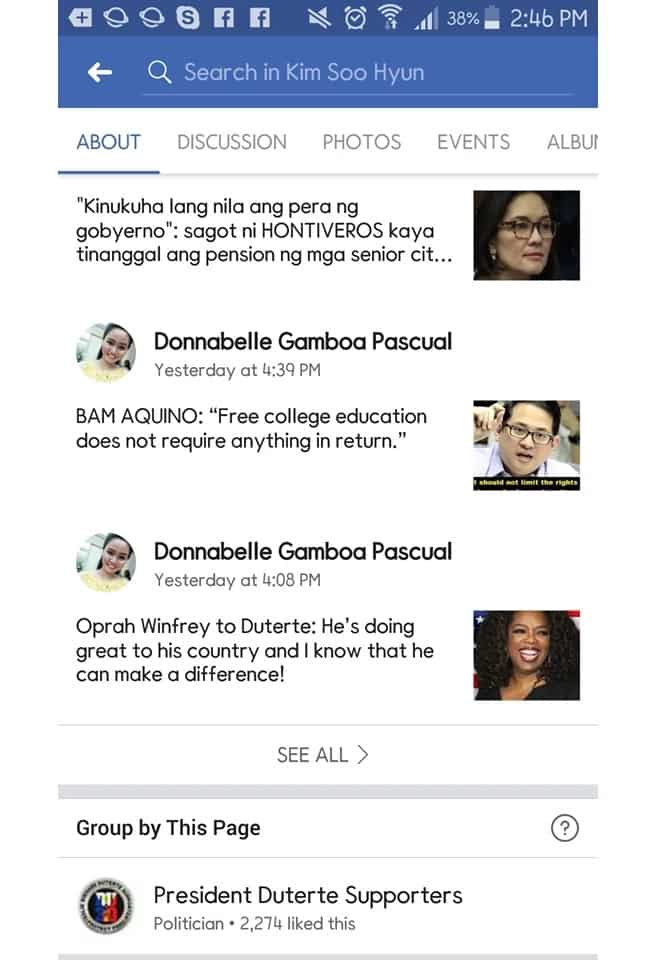 Before 3 PM, the administrators have left the group, which has now been changed back into a Kim Soo Hyun fan page.
According to Rappler, the Facebook account of the administrator Donnabelle Gamboa Pascual have been deactivated or taken down.
But they found out that Donnabelle is also a member of pro-Duterte groups such as "President Duterte V.P Marcos Worldwide Supporters", "President Rody Duterte Facebook Army", and "President Duterte News".
Learn about the inspiring story of Cheneleng Pili, who was able to reach her dreams through hard work and determination.
Road to success: I cried a hundred times - makeup artist and business owner Cheneleng Pili - on KAMI YouTube Channel
Source: Kami.com.ph