- Two ladies planned to steal wallet of old man
- They positioned themselves in such a way to ensure execution
- The two successfully took the poor man's wallet
PAY ATTENTION: Click "See First" under the "Following" tab to see KAMI news on your News Feed!
In today's time, it's not easy to trust anymore considering that the thief who would let you say goodbye to your wallet could even be the lowly pregnant woman standing right next to you.
Such is the thing that happened to a senior citizen who was buying medicines.
Good thing that everything was being recorded on the drug store's CCTV, as reported by Philnews.
It could be seen that the two ladies were initially conversing, probably planning how to execute their plan to steal the wallet of the old man.
One of them positioned herself beside the man while the other, the pregnant woman, was busy trying to get the man's wallet.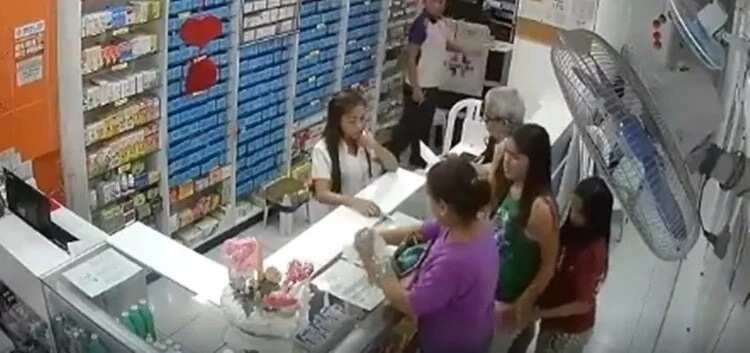 After several seconds, the girl successfully pulled the wallet out ant the two exited from the drug store in a hurry.
Take a look at the footage below.
This will serve as a warning to many consumers never to let your guard down when buying something.
Always secure your wallet and if possible, try to make sure that it cannot be easily taken out by somebody.
Remember that thieves abound and they're just waiting for the right opportunity to pounce on you.
Would you steal money from a blind man? on Kami YouTube channel This video will show the propensity of people to take undue advantage of the weakness of others.
Source: Kami.com.ph