- The Spice Girls posted a reunion photo with all five former members present
- Their former manager also joined the reunion
- Fans are super excited for the possibility of a reunion project for the superstars
PAY ATTENTION: Click "See First" under the "Following" tab to see KAMI news on your News Feed!
The internet couldn't contain itself after phenomenal 90s girl group, the Spice Girls, had a reunion.
Yes, you read that right. All five former Spice Girls got together and took photos with each other!
Even Victoria Beckham!
The fashion mogul formerly known as Posh Spice wrote on her Instagram: "Love my girls!!! So many kisses!!! X Exciting x #friendshipneverends #girlpower"
Melanie Brown, or Scary Spice, had sweet words for her pop sisters: "These amazing women have helped me become who I am, so to all the girls out there remember "friendship never ever ends"!!!! Boom #spicegirls #coloursoftheword #wantwereallyreallywant #mumsworkinghard #blastoff"
Baby Spice Emma Bunton wrote: "Great catch up with my girls! #bffs always. the future is looking spicy!"
Also present during this epic reunion is their former manager Simon Fuller.
The reunion triggered fans who are super excited for the possibility of future projects for the group.
Filipino fans, of course, hoped the girls will perform in the Philippines.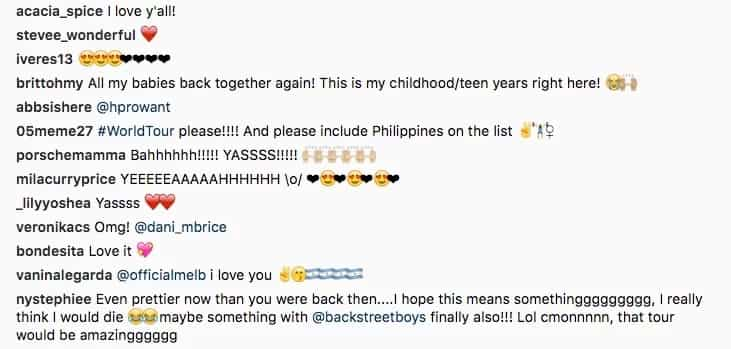 It looks like a reunion project is not just rumors at this point, though.
Rappler reported that the group's publicist released a statement saying they are exploring new opportunities together.
"We all agree that there are many exciting possibilities that will once again embrace the original essence of The Spice Girls, while reinforcing our message of feminine empowerment for future generations," said the statement.
UK news site The Sun also reported that there are a number of new projects for the group, with each member receiving 10 Million British Pounds for every project.
That's a whopping PHP 726,940,970.25!
The possible projects in the works include TV shows in China, a new talent show, endorsement deals, and a compilation album of their greatest hits.
One important condition, though, Victoria was promised she won't have to sing on any of the projects.
The fashion designer and businesswoman had previously said that while she love The Spice Girls, she has put that part of her career behind her.
It looked like Posh Spice had a change of heart.
The phenomenal girl group has sold 85 million albums worldwide.
They were formed in 1994 and is composed of Victoria Beckham as Posh Spice, Melanie Brown as Scary Spice, Emma Bunton as Baby Spice, Melanie Chrisholm as Sporty Spice, and Geri Halliwell as Ginger Spice.
They debuted in 1996 with the immensely successful hit single "Wannabe". It topped the charts in more than 30 countries.
The group disbanded in 2000 after Geri left the group to pursue a solo career.
They reunited for a world tour in 2007-2008.
They last performed together at the London 2012 Olympics closing ceremony.
Talks of a reunion have been going on since 2012, but never materialized.
Learn about the inspiring story of Cheneleng Pili, who was able to reach her dreams through hard work and determination.
Road to success: I cried a hundred times - makeup artist and business owner Cheneleng Pili - on KAMI YouTube Channel
Source: Kami.com.ph