- Photos of a group of mothers in high school uniform went viral
- The women were part of Hope Christian High School Batch 1982
- Netizens found the women so cute and hilarious in their poses
PAY ATTENTION: Click "See First" under the "Following" tab to see KAMI news on your News Feed!
For a lot of people, high school is one of the most memorable four years of their lives. It creates some of the strongest bonds among teenagers who go through a lot of firsts together.
It represents the highs and lows of puberty - of first loves and heartaches, of friendships and drama, of dreams and failures.
It's no surprise that most people look forward to their high school reunions. It's a time to remember their carefree days before they had to face adult life.
But these high school batchmates took their reunion to a whole new level. They not only looked back on their high school days, they also seem to have gone back in time!
Take a look at these photos that have gone viral starting January 26.
Yup, those aren't current high school students. Those are women in their 50s wearing their old high school uniform in their old campus grounds!
According to Tess Rubillos who commented on the viral post, they were part of the 1982 graduates of Hope Christian High School.
Tess said they hosted the 2018 Grand Alumni Homecoming together with Batch '74.
It looked like a very fun reunion! Netizens loved how extra these mothers are.
One netizens zoomed in on one of the women and wrote: "Etong si nanay na nakatirintas pinakapaborito ko! Ang cute cute! Ganyan hair style ko kapag gusto kong magpabebe kay crush e. BWAHAHAHAHAHAHAHAHAHAHAHA!
Another remarked on a certain Amy who was missing from the class picture. It looked like she was present during the day, and might have "cut class" early! LOL.
"Di ko mahanap si amy dito... nag cutting yata. kasi sa parade kasama pa ehh hahaha," wrote FB user Its MingRen Chow together with this photo evidence.
Other netizens simply wanted to do the same for their own reunions, because, let's be honest, these women are cute!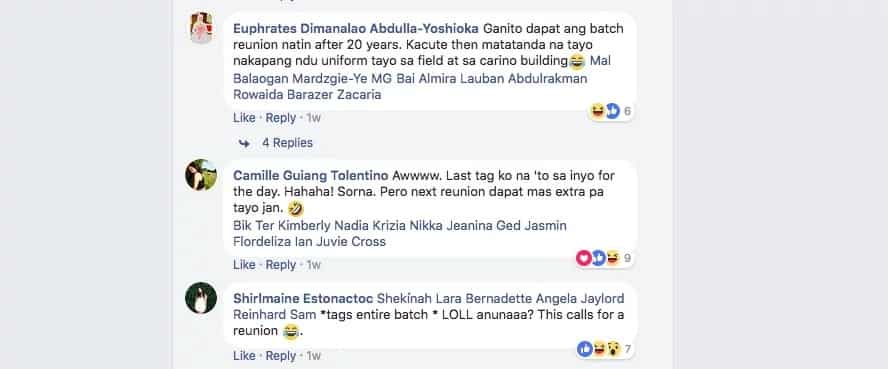 "Ganito dapat ang batch reunion natin after 20 years. Kacute then matatanda na tayo nakapang ndu uniform tayo sa field at sa carino building"
"Awwww. Last tag ko na 'to sa inyo for the day. Hahaha! Sorna. Pero next reunion dapat mas extra pa tayo jan."
"*tags entire batch * LOLL anunaaa? This calls for a reunion"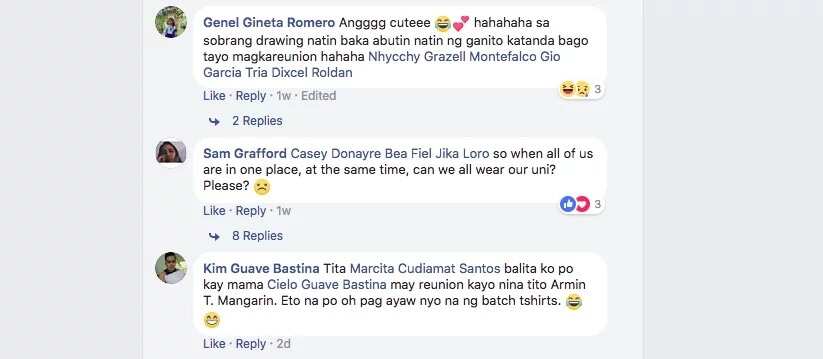 "Angggg cuteee hahahaha sa sobrang drawing natin baka abutin natin ng ganito katanda bago tayo magkareunion hahaha"
"so when all of us are in one place, at the same time, can we all wear our uni? Please?"
"balita ko po kay mama Cielo Guave Bastina may reunion kayo nina tito Armin T. Mangarin. Eto na po oh pag ayaw nyo na ng batch tshirts."
The post has since reached more than 33,000 reactions, 18,242 shares, and 2,400 comments.
The photos have also been shared on different Facebook pages.
Learn about the inspiring story of Cheneleng Pili, who was able to reach her dreams through hard work and determination.
Road to success: I cried a hundred times - makeup artist and business owner Cheneleng Pili - on KAMI YouTube Channel
Source: Kami.com.ph