- Chesca Garcia-Kramer shared on social media how they make their 'kasambahays' feel special
- She sets a good example on how to be better employers
- Netizens were all praises for their kindness and good heart
PAY ATTENTION: Click "See First" under the "Following" tab to see KAMI news on your News Feed!
Not every employer of household helpers find it in their hearts to show kindness and appreciation for their service.
So when Chesca Garcia-Kramer posted on her Instagram account, how they make their 'kasambahays' or as she calls them 'angels' feel special, it gained attention from netizens.
Read Chesca's full post below: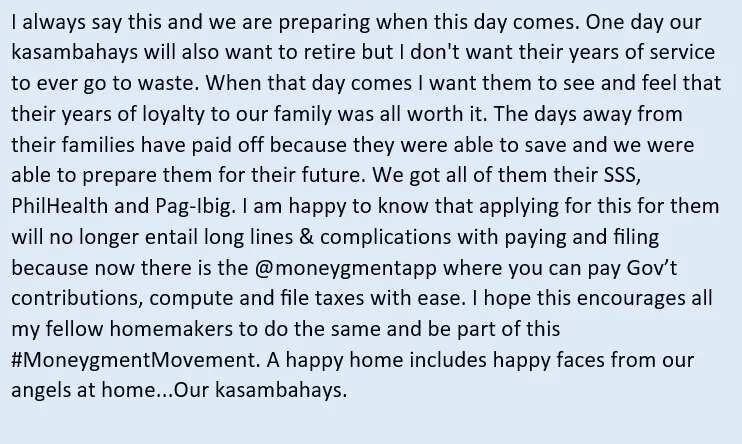 According to Chesca, to show her appreciation for their 'kasambahays,' they are already preparing them for their retirement by giving them SSS, PhilHealth, and Pag-Ibig contributions.
Not all household helpers in the Philippines are enjoying this wonderful benefit.
But Chesca made sure that her angels will benefit from this once they stop working.
"When that day comes I want them to see and feel that their years of loyalty to our family was all worth it. The days away from their families have paid off because they were able to save and we were able to prepare them for their future," she said.
Netizens were impressed and touched at the same time for Chesca's kindness.
They also noted that it's a good thing that her helpers are not wearing uniform so that they can wear clothes they are comfortable with.
Read the comments of some netizens below:
"Naiyak ako isa rin kasi akong kasambahay"
"Hayyst sana ganyan din amo ko kaso wala eh i work also as kasamahay for almost 6 yerss but until now no sss philhealt at pag-ibig"
"Mabait na amo.."
"Kudos to all our kasambahays and to you sweetheart for being a good example to all the homemakers out there"
"I love that you treat them with dignity."
"Sana lahat ng amo katulad nyo...u dont only have beautiful children but u do have a big hearts to ur kasambahays...Bravo!"
"I salute you and Doug for what you do and how you treat the Ate's at home. I also find it nice that you dont make them wear maid's uniform , yun regular and casual clothes lng din sila."
On October 9, 2008 Doug and Cheska tied the knot at the Blue Leaf Events Place in McKinley Hill, Taguig City.
The event was attended by their closest friends and family.
They have three adorable kids - Clair Kendra Kramer, Scarlett Louvelle Kramer, and Gavin Phoenix Kramer.
Cheska turned her back on showbiz to become a full time housewife.
Learn about the inspiring story of Cheneleng Pili, who was able to reach her dreams through hard work and determination..
Road to success: I cried a hundred times - makeup artist and business owner Cheneleng Pili - on KAMI YouTube Channel
Source: Kami.com.ph