- Kaye Abad and Paul Jake Castillo welcomed their firstborn last December 22, 2017
- Kaye shared a photo on her Instagram that gained netizens' attention
- Netizens reacted on her post and reminded Kaye that she is risking the safety of baby Joaquin
It is normal for parents, especially if they have a newborn baby to post photos and videos on their respective social media accounts.
However, in the case of celebrity parents, they have always been closely scrutinized and some even dictate what they should and should not do.
Like in the case of Kaye Abad and Paul Jake Castillo, where the former posted a photo of baby Joaquin sleeping on his crib with Daddy Paul Jake beside him.
The photo was taken with pillows on baby Joaquin's side and on the topmost part of the crib.
Netizens reminded Kaye that this may lead to suffocation if the pillows accidentally fall on Joaquin's face.
They also emphasized that they are just concerned with the baby's safety.
Someone even commented harshly saying:
"You still have a lot to learn on taking care of babies as parents."
Read the comments of the netizens below:




Some netizens think there is nothing wrong with the photo and pointed out that Kaye knows what she's doing as a mother.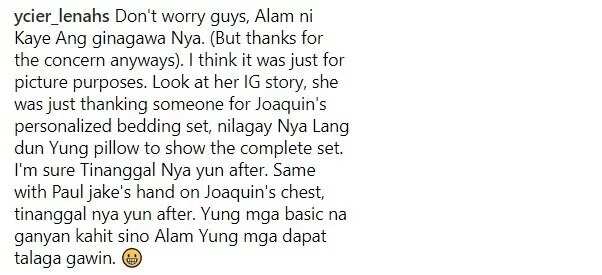 Paul Jake and Kaye officially got together on April 14, 2014 and they admitted their relationship a month after.
The couple got engaged last May 2016 and tied the knot on December 9, 2016 in a wedding ceremony held in Cebu.
Say no to waste! Transform your leftover adobo and turn them into this amazing dish!
Easy recipe: Adobo Burrito - on KAMI YouTube Channel
Source: Kami.com.ph