- "Encantadia" is the iconic Filipino fantaserye of GMA Network
- It has spawned cult-level following among fans
- The original stars reunited recently and gave clues about a possible reunion project
On January 16, the lead stars of the original "Encantadia" series went out for "ladies night".
According to PEP, Sunshine Dizon, Iza Calzado, Diana Zubiri, and Karylle remained close even after the end of their successful fantasy series.
On Instagram, Sunshine shared a photo from their reunion dinner.
Diana also shared the photo and called the four of them as #sanggresofmanila.
In "Encantadia" language, Sang'gre means royalty and is also used to refer to the four characters portrayed by the actresses.
There are speculations, though, that this might not be just a simple reunion because of what "Encantadia" director Mark Reyes posted on his Instagram account.
Direk Mark, who was with the actresses during dinner, wrote: "We're really up to something now! #sanggres4ever #sanggresofmanila".
PEP also mentioned the presence of Georgette Tengco in the photo posted by Direk Mark.
Georgette, the woman in eyeglasses, seems to be associated with the streaming service iflix, based on her Instagram account.
PEP added that Iza and Karylle are business partners of iflix.
Encantadiks, or fans of the show, are excited trying to guess the meaning of Direk Mark's post. Some are asking for a movie, while others want a TV sequel.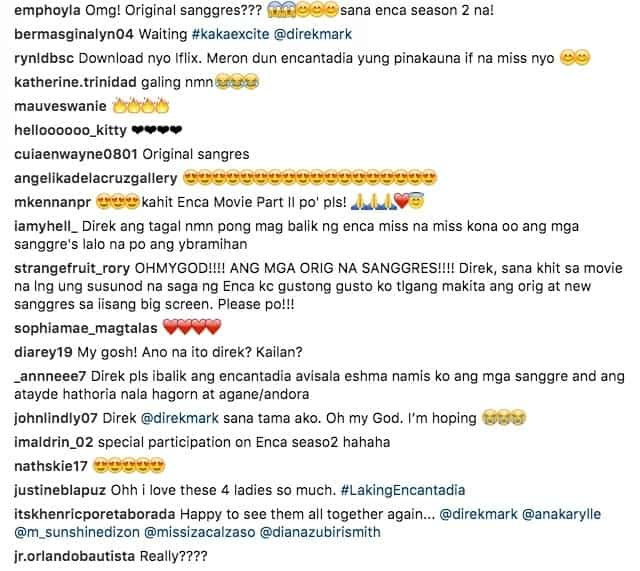 The actresses have already alluded to this special project as early as August 2017.
At that time, they had already met with Direk Mark.
Iza posted the photo on her Instagram back in August 2017.
The immensely successful franchise first ran in 2005 over at GMA Network.
The fantasy saga consists of four television series: "Encantadia" (2005); "Etheria" (2005-2006); "Encantadia: Pag-ibig Hanggang Wakas" (2006); and "Encantadia" (2016-2017).
The last series is a reboot of the original and featured new casts.
Because of its success, it was also featured in a crossover movie "Mulawin: The Movie", which was based on "Mulawin", another popular fantasy series of GMA. It was part of the 2005 Metro Manila Film Festival.
Batang 90's! Games we all miss! Your favourite games of the 90's - on KAMI YouTube Channel
Source: Kami.com.ph