'Home Along Da Riles' star Bernardo Bernardo reveals that he has pancreatic tumor and clinical depression
- Bernardo Bernardo is a veteran actor and comedian
- He revealed on Facebook that he has a growing pancreatic tumor
- The actor also admitted to having a history of clinical depression
Actor Bernardo Bernardo took to social media to ask netizens to pray for him as he deals with one of the biggest battles in his life.
The comedian revealed that aside from having a history of clinical depression, he also has a growing tumor in his pancreas, which is potentially life-threatening.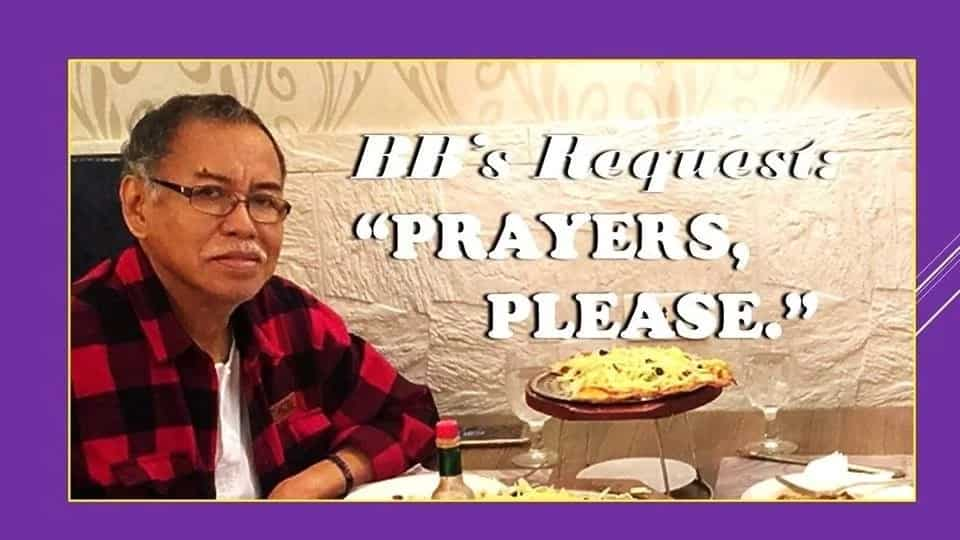 Here is his viral Facebook post:
"BB: January is my birthday month and I have a "Little Lambing" to my FB friends: 'Please say a little prayer for me.'
"Because: I strongly believe in the power of prayer.
"Because: Given my history of clinical depression and anxiety attacks coupled with a potentially life-threatening growth in my pancreas, it feels like it's about time to call for support from FB Prayer Warriors.
"Last month, after a series of lab tests (including an ultrasound and CT Scan), my medical specialist friends at the UST hospital, a gastroenterologist and an oncologist, shared their findings: (in layman's terms) my pancreas is swollen because of a tumor, possibly malignant, growing in the head of the pancreas. As it grows it begins to press on the bile duct and the pancreatic duct and with increasing pressure, the ducts eventually get pinched off.
"I have lost my appetite for food and, consequently, lost a lot of weight at an alarming rate in such a short span of time.
"After another series of lab tests, I'm scheduled for an Endoscopic Ultrasound (EUS) that allows for fine-needle aspiration (FNA) biopsy (to determine if the tumor is malignant); and/or ERCP (endoscopic retrograde cholangiopancreatography), where diagnosis and treatment, using stents, can take place during the same procedure.
"We will deal with the abnormal growth of tissue next. One step at a time. One day at a time.
"That's the 'In The Moment' Snap Shot of my medical prognosis, thus far.
"But cameras are kind. They do not capture the very real pain and fear of the unknown, the hidden costs of this medical journey that has put me in Controlled Panic Mode. I know that in order to continue to fight this battle -- I need Courage. I need Strength. I need Clarity of Mind.
"Which is why, heart to heart, my friends, I hope you will find time to say a little prayer for me.
"Maraming Salamat and God Bless us all!"
Bernardo Bernardo is a 72-year-old veteran stage actor and comedian.
He is known for his role on the hit comedy show "Home Along Da Riles."
The actor played the character of Steve Carpio, an antagonist who always insulted and belittled Dolphy's character, Kevin Cosme.
KAMI is hoping that Bernardo Bernardo will be able to get all the help that he needs!
The story of Romeo Pogoy is just heart-warming! "Selfless brother" – on KAMI YouTube channel:
Source: KAMI.com.gh