Gov't employee who wishes to have prenup shoot in Malacañang denied by Palace
- A government employee seeks to have a prenup shoot in Malacañang
- Follows the advice of presidential granddaughter Isabelle Duterte
- Employee was denied by palace, told to seek approval from President Duterte
A government employee who wished to have his prenuptial photoshoot in the historic seat of government made an earnest request to Malacañang.
He followed the advice of Presidential granddaughter Isabelle Duterte to make a request to the Palace.
In Isabelle's tweet, she said that she herself sent a request to the office for her photoshoot.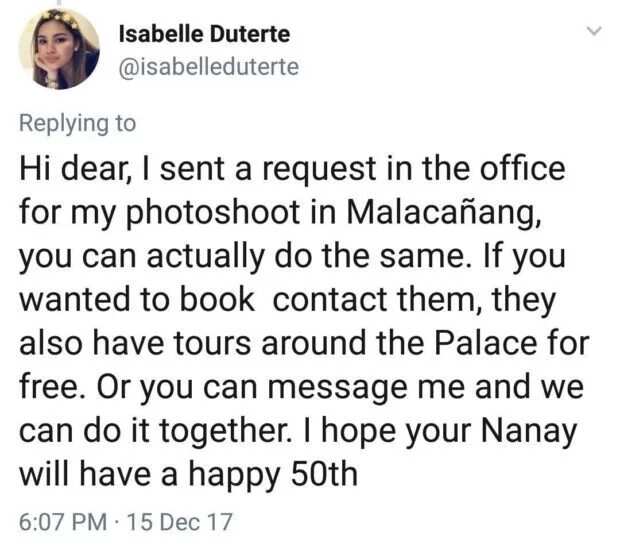 She then encouraged a netizen that he can actually do the same.
"If you wanted to book contact them," said Isabelle.
So the government employee tried his luck.
He sent an email to the Malacañang Presidential Museum and Library on December 19.

According to Inquirer, the 24-year-old employee, who wishes to remain anonymous, stated the following:
His email stated, "My fiance (sic) and I are looking for a historical place to shoot our prenup. Unfortunately, multiple sites has (sic) already declined our request."
"We were about to lose hope with our search until we saw Ms. Isabelle's pre-debut photoshoot in your premises. Our hope was further strengthened when she, through her Twitter, encouraged us that we can send a request to you to conduct a similar activity/function within your premises."
He then asked if his bride-to-be could have her shoot around January 3 to 5 of 2018.
The groom-to-be said that no other historical place could compare to Malacañang.
On December 28, he received a response from the Tours and Visitor Relations Unit.
The reply stated:
"The Presidential Museum and Library is only authorized to facilitate tours in the museum located in Kalayaan Hall."
"Any other activity, especially those of a personal nature, in any location in the Malacañang compound is subject to the approval of the President or his duly-designated deputies."

The gov't employee was somehow expecting he'd be denied one way or another.
He said, "Even if I was hopeful, alam kong (I know) I was nobody to be granted a prenup inside the premises of Macalañang."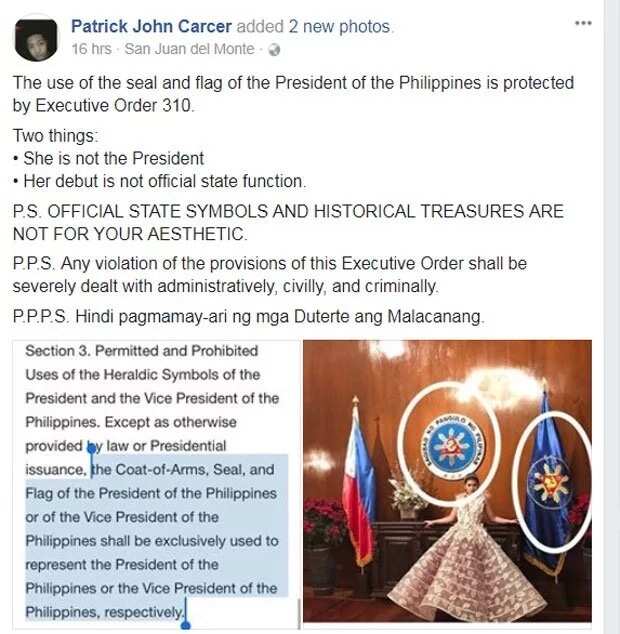 The controversy about photoshoots in Malacañang started when Isabelle Duterte had her pre-debut shoot within the Palace premises.
She drew a lot of flak for such a lavish shoot.
The President defended her by saying it was just a small matter.
Would you steal money from a blind man? on Kami YouTube channel This video will show the propensity of people to take undue advantage of the weakness of others.
Source: KAMI.com.gh