Dr. Duterte denies connection to Mayor Duterte
Dr. Gian Paolo D Duterte has strongly denied the recent accusations that name him as the alleged custodian of presidential candidate Rodrigo Duterte's lands.
This is after Trillanes revealed that a TV network reported the existence of a property owned by Duterte in Cagayan de Oro City, under the name of Gian Paolo Duterte.
While such a property does exist, Dr. Duterte insists he has no affiliations with Mayor Duterte, as Trillanes insinuated.
In a statement issued by Dr. Gian Paolo D Duterte, a resident of Cagayan de Oro City, he denies not only Trillanes' accusation, but his blood ties to the Davao City Mayor as well.
In a public statement that is currently circulating on social media, Dr. Duterte briefly explains his side of the story.
His full public statement is written below:
"It is unfortunate that my name has been publicly mentioned in the GMA7 news report last Apil 29, 2016, of which Senator Antonio Tillanes IV accused Mayor Rodrigo R Duterte and his family of possessing illegally amassed properties."
"For the record, I am a practicing Pediatric Dentist for seven (7) years and I have established regular clients through private practice based in Cagayan de Oro City. Through my profession, I was able to secure a loan from the Bank of the Philippine Islands (BPI) to purchase the real estate property in Cagayan de Oro City, mentioned in the reports of GMA7 and Senator Antonio Trillanes IV."
"I've been doing private practice as a Dental Medicine professional and have never been a politician. I never sought any elected position in the past nor run for public office. Furthermore, our roots come from Cebu and I've yet to establish the degree or any connection whatsoever on how the good mayor, Rodrigo R Duterte, and I are directly related."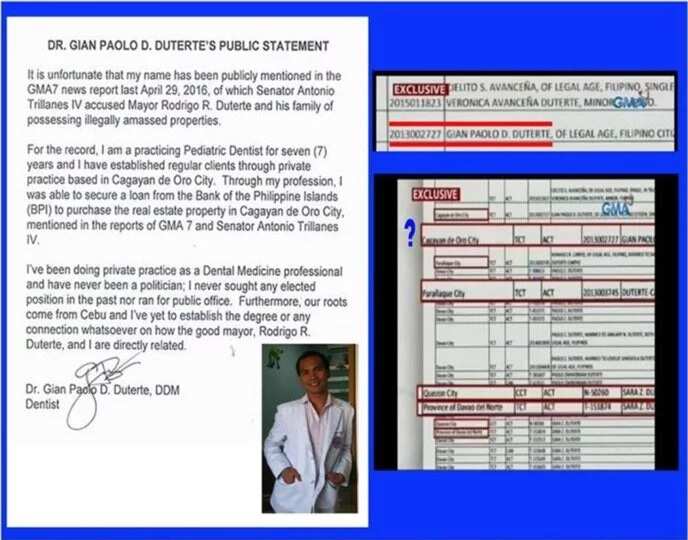 Dr. Duterte also chastises the senator for bringing his name into the issue.
Source: KAMI.com.gh