Philippines among Top 5 "Most Dangerous" country in Asia for journalists this 2017
- 65 journalists and media workers are killed worldwide in 2017
- Philippines was among the Top 5 Most Dangerous country in Asia for journalists
- 4 of our journalists were killed this year
KAMI learned that Philippines is dubbed as the most deadliest country in Asia for journalists. Rappler previously reported about this. The five most dangerous countries were Syria, Mexico, Afghanistan, Iraq and the Philippines according to a media watchdog's year end report.
Among the dead were 50 professional journalists, seven citizen journalists, and eight other media workers. 39 of those killed were targeted for their journalistic work such as reporting on political corruption or organised crime while the other 26 were killed while working due to shelling and bomb attacks, for example.
"It's alarming that so many journalists were murdered outside of war zones," said Katja Gloger, a board member of Reporters Without Borders.
"In far too many countries perpetrators can assume they'll get off scot-free if they're violent towards media professionals," she added.
President Rodrigo Duterte's "cryptic but alarming comment" against journalists in May 2016 proved to be more than just talk in 2017. "The Philippines thus resumed a grim trend going back more than decade – one that was interrupted only in 2016, an exceptional year in which no journalist was killed," it said.
War-torn Syria remains the most dangerous country in the world for journalists, with 12 reporters killed, followed by Mexico where 11 were assassinated. In Iraq, eight journalists including local and foreign reporters, were killed in targeted attacks by the Islamic State group. While nine journalists were killed in Afghanistan in three different attacks this year. And lastly, the Philippines where 4 journalists was killed this year.
The organization said more than 300 media workers were currently in prison, with around half of those in five countries, namely Turkey, China, Syria, Iran and Vietnam.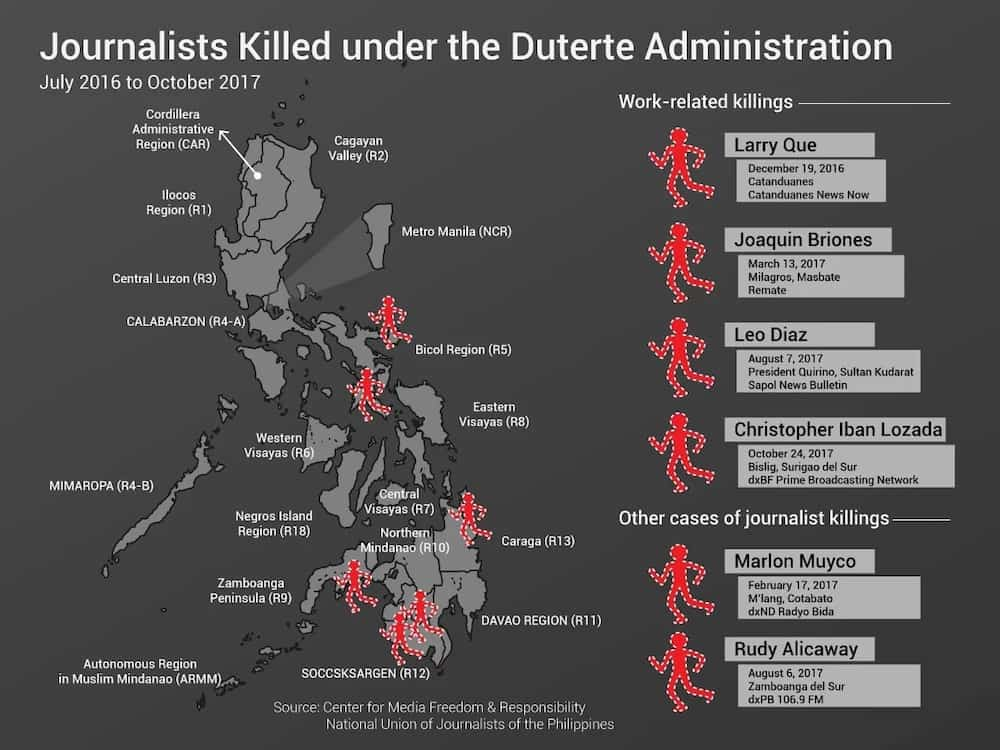 KAMI believes that there's still a chance for World Peace. We pray that the war and killings will end soon.
Source: KAMI.com.gh