64-year-old lolo works two jobs to support family in Hong Kong
- Antonio Espia is known as Tatay Tony to his OFW friends in Hong Kong
- At 64 years old, Tatay Tony works as a service crew in Jollibee Mong Kok branch
- He also works as a musician in Hong Kong for 28 years now
Antonio Espia, affectionately called Tatay Tony by fellow Filipinos working in Hong Kong, inspired netizens recently after his photo in a fast food chain went viral.
In the photo posted by Facebook user Amelou Saqueza, she shared how amazed she was to meet Tatay Tony, who is now 64 years old but still working in Hong Kong.
She compared it to the situation of the elderly in the Philippines who are forced to retire even before they reach 60. Companies also refuse to hire or continue to employ the elderly even though they are still capable of working.
Saqueza also shared that there are 74-year-olds still working in Hong Kong.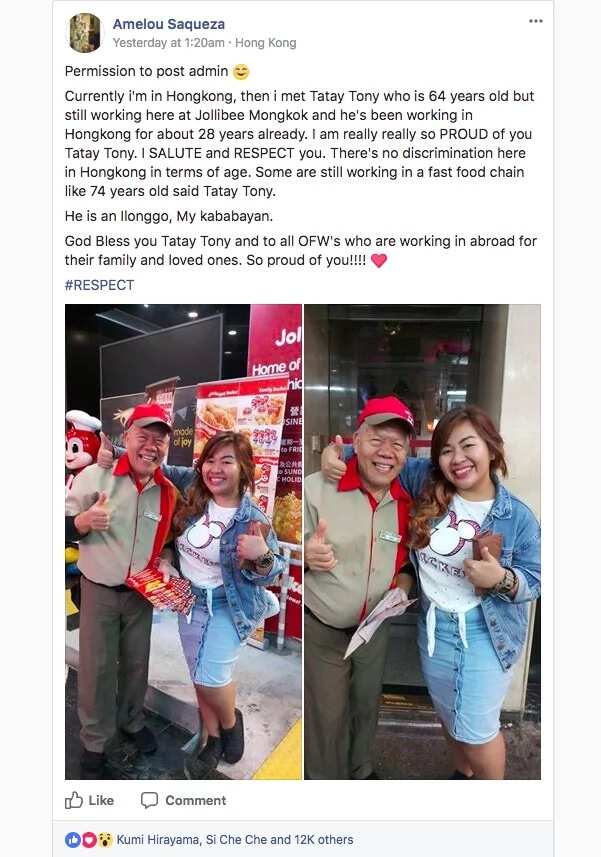 Tatay Tony works as a Jollibee service crew every day from 6 PM to 12 midnight, except on Fridays and Saturdays.
On those nights, he plays keyboards at a restaurant in New Territory in Hong Kong.
In a report by Inquirer, Tatay Tony shared how he became an OFW.
Starting from his childhood in Iloilo, Tatay Tony said he learned to sing and play the guitar and keyboard as a child. He would also join singing contests to buy food.
He is the eldest of nine children. He helped support his family while studying a two-year electronics course by singing in a bar in Iloilo.
He transferred to Manila in 1985 to get a better chance of applying for work abroad.
In 1989, a day after Christmas, he finally arrived in Hong Kong. He worked as a musician in a hotel.
Since then, he has worked for different hotels like Regal, Peninsula, Ramada, Nikko, Sheraton, Marriot, Miramar, and Havana, where he worked for 16 years.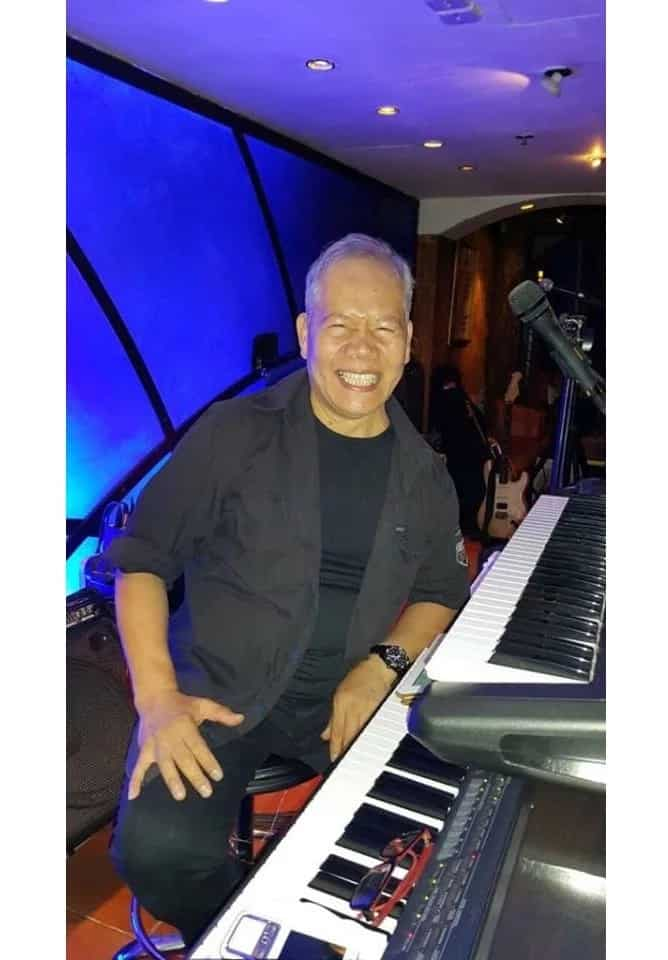 He has now been living in Hong Kong for 28 years. He is now a permanent resident, a permit granted by the Hong Kong government to skilled workers.
Because of his resident status, Tatay Tony will receive a pension when he turns 65. He can also avail of free medical services and other benefits given to locals.
His wife and four young children have also migrated to the country in 2015.
Hong Kong is one of the most expensive places to live in, especially for sole breadwinners.
"I stretch our budget until the next pay day. I ask support from the Hong Kong government for my two children, one of them in high school and one in elementary," said Tatay Tony.
According to the Inquirer report, Tatay Tony pays HK$8,000 or roughly P60,000 for the cheapest apartment.
Source: KAMI.com.gh