Carlo Biando is the first Filipino to win the World 9-Ball Championship since Francisco Bustamante in 2010!
- Carlo Biando walks out in top in the all-Filipino final
- He won the World 9-Ball Championship as the first Filipino since 2010
- From Reyes, Pagulayan, Alcano, Bustamante, now Carlo Biando
Another yet Filipino power that has no limits. No matter what competition, our country will always be proud for our representatives.
It is indeed given that we are always here to support, and make the best impression of our country.
To this day, Carlo Biado wins among the greats of Filipino billiards and getting the world's attention by winning the 2017 World 9-Ball Championship.
KAMI gathered that he now has 13-5 victory over compatriot Roland Garcia on December 14, Thursday located at the Al Arabi Sports Club in Doha, Qatar.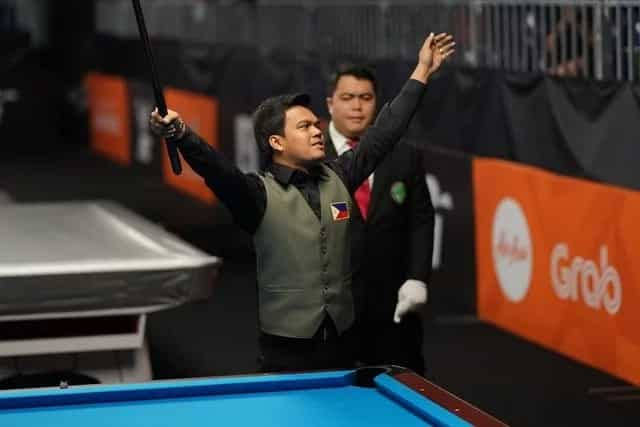 According to Rappler, Biado of La Union, 34-year-old winner, became the 5th Filipino to ever win the title among men.
He is also the first Filipino to have won the title since Francisco Bustamante in 2010.
He had encountered to over 128 players from 40 countries around the world for the top prize.
Biado had raced out to a 7-0 lead before he competes with Garcia on the board, and it was just too much for Garcia from Pampanga to make up.
Now that Garcia based out of Pattaya, Thailand, he was close to 11-5 only before Biado got ahead of him in under two hours.
According to AZBilliards.com, Biado won a worth of $30,000 prize which is nearly equal to all the prize he had won in 2017. Garzia, on the other hand, will win a prize worth $15,000.
The total prize funds to over $200,000.
KAMI wants to congratulate Biado for winning the title and once again made the country proud!
Diligent son of a janitress and a construction worker graduated cumlaude at UP Diliman - on KAMI Youtube Channel.
What is special among Filipinos is that no matter what humble roots we have been through, we wil always make a way to success. KAMI shares an inspiring video of a young graduate below!
Source: KAMI.com.gh