Nang dahil sa malisyoso at mapanirang Facebook posts! Jobert Sucaldito charged with 37 counts of cyber libel
- Radio host Jobert Sucaldito faces 37 counts of cyber libel filed by Kapamilya singer Erik Santos and talent manager Erickson Raymundo.
- This is after his malicious and derogatory Facebook posts about the two complainants were proven to have sufficient ground.
- Jobert even identified them in his blind item.
Radio host and reporter Jobert Sucaldito is charged with 37 counts of cyber libel in connection with the multiple complaint filed by Erik Santos and his talent manager Erickson Raymundo on March 30.
This is based on the joint resolution of Quezon City Prosecutor's Office dated October 12, 2017 signed by Investigating Prosecutor Julan Ilao and Senior Assistant City Prosecutor Jaime Villanueva.
KAMI learned about this news via PEP.ph.
A copy of the said resolution was obtained by PEP on December 12.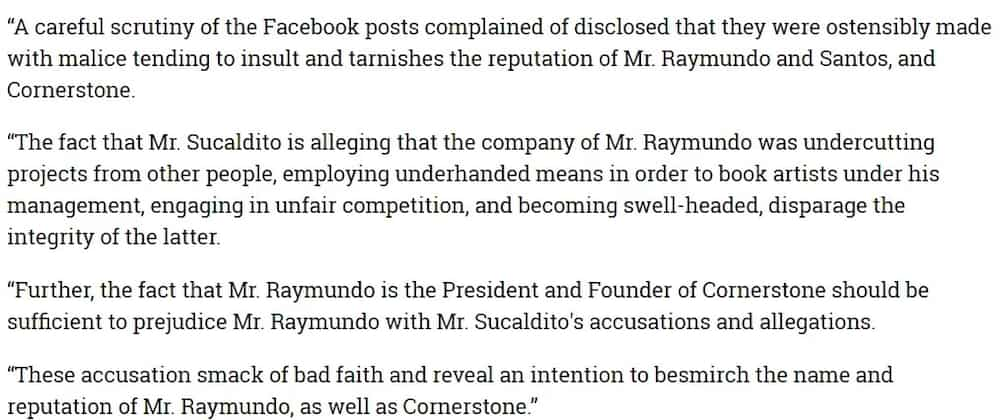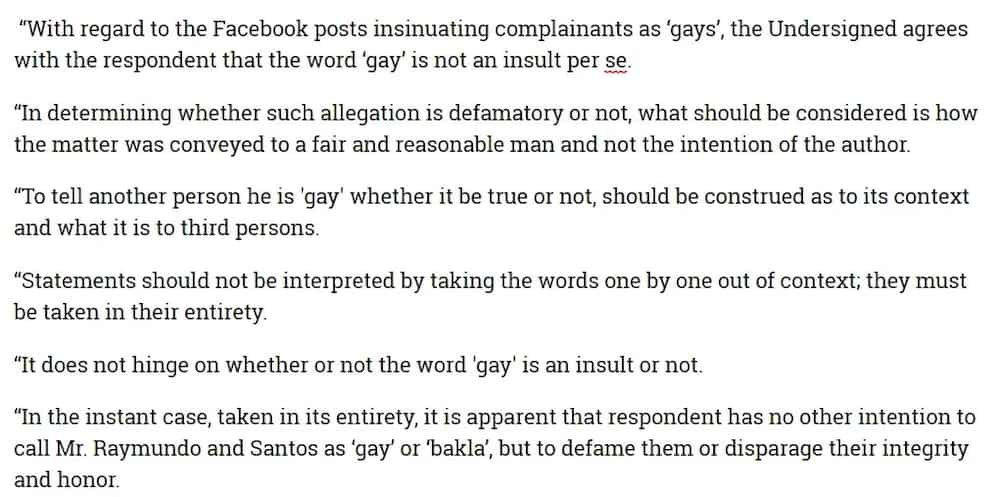 The case started from a blind item by Jobert about a "male grand winner" who allegedly was not able to attend a TV show because he flew to Hong Kong to meet his partner who is also a male.
A blind item about Eric's talent manager also originated from Jobert.
He said that the talent manager was undercutting projects from other people, employing underhanded means in order to book artists under his management, engaging in unfair competition, and becoming swell-headed.
The Facebook post about the blind item was posted on March 10.
This was followed by multiple posts insinuating the gender preference of the two complainants who act nice in public but were traitor according to Jobert.
He finally identified the two after he was reported to his boss in the TV station he is working in.
"Abot-langit na ang galit ko sa dalawang mag-tiyahin na ito - ERIK SANTOS na iyakin at ERICKSON RAYMUNDO ng Cornerstone na ubod na ng yabang ngayon.
"Wala kayong mga utang na loob. Mga p****** kayo!!!"
According to the resolution, Jobert was able to submit his onsolidated counter-affidavit regarding the complaint filed by Erik and Erikson.
"In defense, respondent claims that complainants are public figures, who are, therefore, the subject of fair comment, thus, actual malice must be proved."
"After an assiduous review of the evidence presented by the parties, there is SUFFICIENT GROUND to engender a well-founded belief that respondent committed the crime of Libel penalized under Section 4 of the Cybercrime Prevention Act of 2012."
"The downfall of Mr. Sucaldito is when he actually named and positively identified complainants Raymundo and Santos on one of his posts, which makes the element of identity present, as evidenced by the Fifteenth and Eighteenth count in the complaint-affidavit of Raymundo and Eighteenth and Ninetheenth count in the complaint-affidavit of Santos."
Visit our site to gain more access to the latest news, updates and informative videos.
Source: KAMI.com.gh