After slamming Mexico, the US and Australia, Davao City Mayor Rodrigo Duterte has a new target: Singapore. In his political rally in Daet, Camarines Norte, the tough-talking Mayor threatened to burn a Singaporean flag after hearing the Singaporean Embassy's plans of taking legal action against his supporters who uploaded a fabricated photo of Singaporean Prime Minister Lee Hsien Loong endorsing him.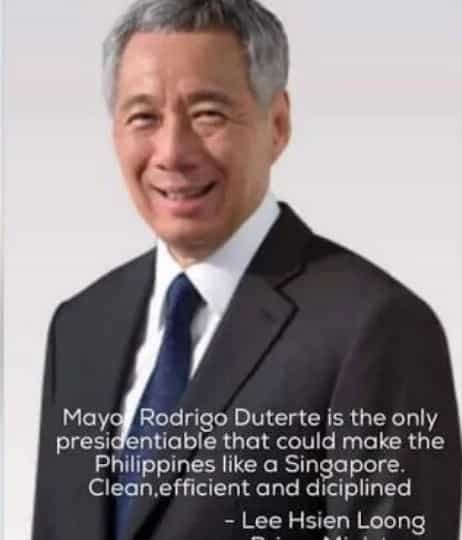 Duterte said: "Humanap kayo ng flag ng Singapore, susunogin ko putangina."  (Find me a flag of Singapore and I'll burn it, son of a bitch!). The Mayor even raised his middle finger and murmured more bad words.
The Singapore government earlier denied claims spreading online that its Prime Minister Lee Hsien Loong has endorsed a Philippine presidential candidate.
Singapore Embassy Manila said in a Facebook post last Friday that any report of endorsement is "untrue."
After being ignored by Duterte supporters who continue to proliferate false information, the Singaporean government sought legal advice on the continued sharing of a misleading endorsement depicting its Prime Minister Lee Hsien-Loong supporting Rodrigo Duterte. The Singaporean government wants the ad to be taken down immediately.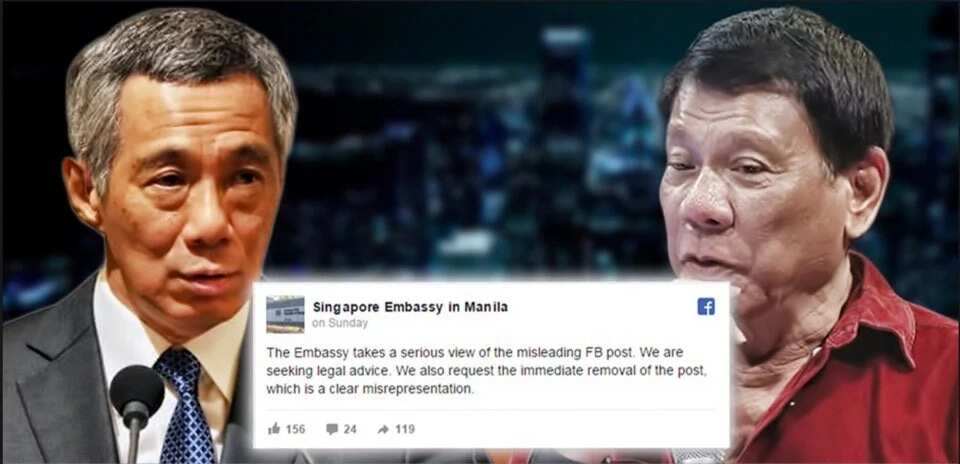 The Singapore government has taken this matter seriously, and will not tolerate misrepresentation of their prime minister.
"We also request the immediate removal of the post, which is a clear misrepresentation," it said.
This is not the first, but second time, the embassy has appealed to Filipinos, Duterte supporters specifically, to immediately cease and desist the disinformation campaign in social media.
In a text to GMA News, it said: "We decided to put up a second clarification this morning because we view this incident seriously and we want it  to be taken down. It is still being shared around so we will not let go of the matter," reiterating that there is no such endorsement and vehemently wants those posts to stop circulating.
"Singapore does not endorse any candidate. The choice is for Filipinos alone to make. We wish the Philippines well in the conduct of its elections," it said.
Sadly, this isn't the first time fanatical Duterte supporters have spread lies in the election period. After Duterte cursed the Pope, and the Pope forgave him, supporters twisted these words by going around claiming the Pope admires Duterte for his 'honesty'. This was quickly refuted by Filipino Catholic bishops as factually untrue.
RELATED: WATCH: Trillanes alleges Duterte family is excessively rich; LRA confirms ownership of hidden wealth
Source: Kami.com.ph