Beware of "singkwenty" bills! Netizens react to hilarious fake money
- A netizen by the name of Ageygey Hadjiphanis shared how she got duped by a Divisoria vendor
- She thought she was given a P50 bill, but it turns out to be a "singkwenty"
- The vendor turned an orange P20 bill into red and passed it off as a P50 bill
- Netizens had hilarious reactions to the obviously fake money
On Monday, Ageygey Hadjiphanis shared through GMA News' YouScoop page a series of photos showing a fake P50 bill that she received from a seller in Divisoria.
Upon closer inspection, the netizen found out that what she's holding is actually a P20 bill. The vendor just erased the number 5 and wrote with a red marker the number 2.
The whole bill was also dyed red to resemble a real P50 note.
GMA News showed the fake bill to Bangko Sentral ng Pilipinas. The BSP advises the public to exercise caution especially this Christmas season.
According to currency integrity deputy director Grace Malic, smaller bills are more prone to tampering because people don't usually check them carefully.
Netizens dubbed the fake bill as "singkwenty", a combination of singkwenta for P50 and twenty.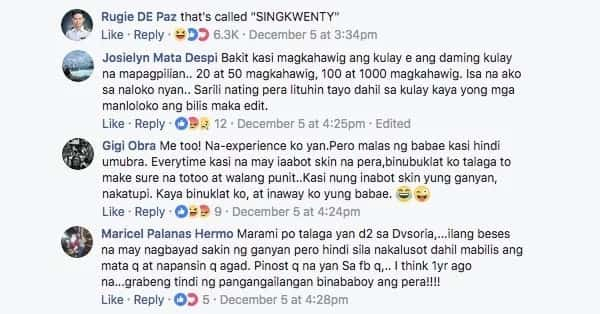 Source: KAMI.com.gh