Hashtag Jon Lucas defends himself against bashers "Kasabwat ka sa pagkamatay ni Franco"
- After Hashtag Franco's death, it seems that the grieving family and friends are caught in a series of "he said, she said"
- Hashtags member Jon Lucas got involved after expressing his support for fellow hashtags member Tom Doromal
- Lucas now defends himself against his bashers on social media
It was reported earlier that Hashtags member Jon Lucas posted on his Facebook account, expressing his support for fellow Hashtags member Tom Doromal.
Tom Doromal was the first one to air his side about Franco's drowning incident. Some time in November his interview was aired by Rated K.
Then just recently, Franco's girlfriend Janica Nam Floresca exposed her version of the truth through an interview together with Franco's parents.
She claimed that Tom Doromal and the boatmen did not do enough to save them.
After Janica's tell-all, Jon Lucas posted on social media about his sentiments.
Lucas received tons of bashing after this, netizens were saying that he was also not present during the accident so he has no right to his claim.
He was quoted saying:
"Sana andon nalang tayo lahat sa pinangyarihan, para lahat tayo may alam, para kahit mahusgahan niyo siya tatanggapin ko kasi alam natin yung nangyare eh.
Some were confused by his statement because Tom Doromal already aired his side prior to Franco's parents and Janica's interview.
"Ang daming istorya eh, biruin niyo ang daming stories, pero di pa natin naririnig lahat lahat! (Both sides) nakakapanghusga na tayo?"
Now, it seems that Lucas is defending himself, when KAMI learned about his recent Twitter post via Star Cinema ABS-CBN.
He said, that he is only replying to those who bashed him about his IG stories.
One basher also accused him of being "invloved" in Franco's death.
"Kasabwat ka sa pagkamatay ni Franco"
To which Lucas replied with:
"Talaga? Ang layo layo ko kasabwat ako? Ni di ko nga alam na nasa Davao sila, Talagang patagal ng patagal ang mga tao sa social media palala ng palala.."
Read his complete two-page lengthy post here: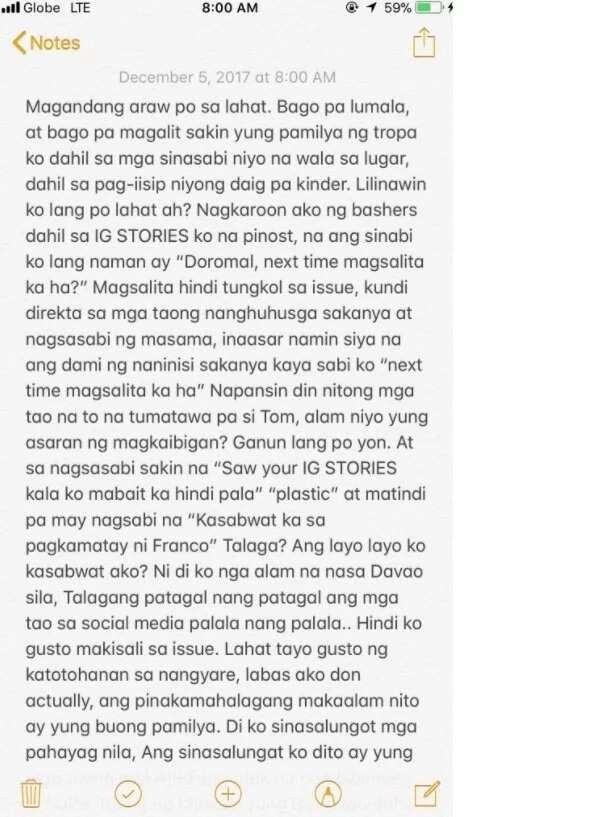 As of writing, Tom Doromal hasn't commented about this issue yet.
The Hashtags group was first introduced by the noontime show It's Showtime around 2015.
It is an all male dance group that performs regularly on the show.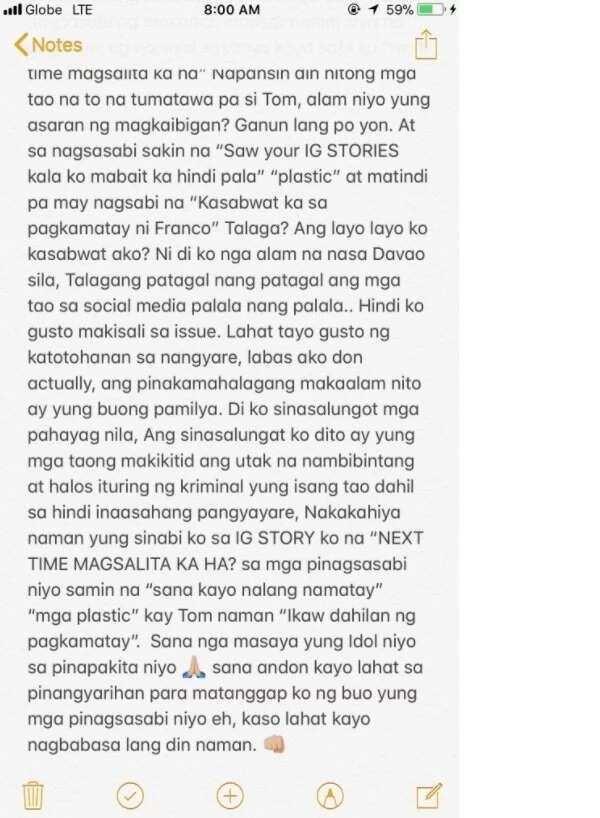 What do you think KAMI readers? What can you say about Jon's involvement on this issue?
Source: KAMI.com.gh