5-year-old Malaysian boy falls from 12 feet at NAIA, miraculously survives
- A child from Malaysia was playing near the ledge of Ninoy Aquino International Airport Terminal 1
- The playful boy fell from the Departure Area on the second floor to the Arrival Area on the first floor
- He suffered superficial cuts on his lips and scrapes on his chin and forehead
Malaysian kid Muhammad Alif Bin was rushed to the hospital on Wednesday morning after falling off the ledge of NAIA Terminal 1 Departure Area.
The fall was estimated to be 12 to 15 feet high. Thankfully, he suffered no grave injury. He was taken to the San Juan de Dios Hospital in Pasay City.
Dr. Denise Lauren Dalmacion, the airport medical officer on duty, said the incident happened around 8:22 AM.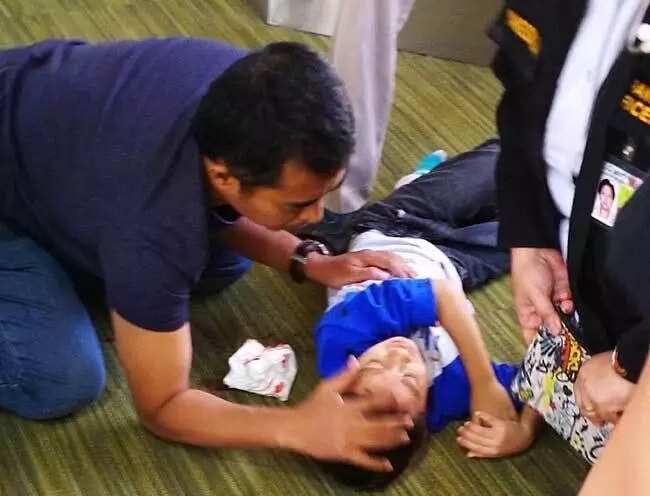 According to the first responders, the child might have climbed the low wall railing at the departure level and slipped.
They found Muhammad lying on the carpet at the arrival concourse area. He was crying in pain.
After noting no serious physical trauma aside from shallow cuts on the lips, the medical team immobilized his neck and rushed him to the hospital.
Reports vary on who was accompanying the boy. Most reports say he was traveling with his father and 66-year-old grandfather, who were both busy with their bags when the accident happened.
But according to this GMA NewsTV report, the 5-year-old was with his mother and sibling.
The family was bound for Jeddah, Saudi Arabia. Philippine Airlines has already rebooked their flight to Friday while the child recovers at a hotel near the airport.
Source: KAMI.com.gh