Love wins over politics: Imee Marcos' son marries granddaughter of old Manglapus political rival
Their love story is being touted as the "Ilocano Romeo and Juliet."
That's because their grandfathers, Ferdinand Marcos and Raul Manglapus, were political rivals back in the day.
They both ran in the 1965 presidential election which Marcos won. Manglapus, a former senator and foreign affairs secretary, was also one of the staunchest critic of the dictator's martial rule.
He spent 14 years in exile in the United States, and even founded the Movement for Free Philippines to oppose Marcos' dictatorship. He returned to the Philippines after the 1986 EDSA Revolution. He also opposed the return of Marcos' remains to the country.
But on November 25, Saturday, all hints of the old political rivalry were non-existent, as both families celebrate the wedding of Michael Ferdinand Manotoc and Carina Amelia Manglapus at the famous San Agustin Church in Paoay, Ilocos Norte.
Manotoc is the second son of Ilocos Norte Gov. Imee Marcos. Carina, meanwhile, is the daughter of Raul's youngest son Francis.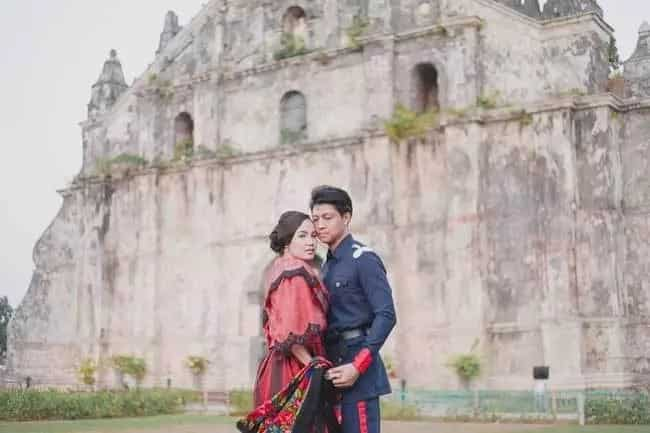 Mike and Cara met in 2014 during the wedding of Mike's cousin, Luis Marcos Araneta. Cara was a guest of the bride, Xandra Rocha.
Though scions of a decades-long political rivalry, the pair developed a relationship and had a baby girl in March 2016.
According to a statement from the Marcos Presidential Center, "the baby girl has drawn the two families closer together, widening the path for reconciliation of political differences."
The statement adds that Mike and Cara have no interest in going into politics.
The couple were already wedded in a private ceremony in Makati City on November 22, Wednesday.
The wedding on Saturday was called a "bales," an Ilocano traditional celebration that follows when a couple get married outside of their hometown.
Source: KAMI.com.gh