Inday Sara Duterte reacts to Mariel de Leon losing the Miss International 2017 pageant
Davao City Mayor Inday Sara Duterte-Carpio took to social media to share her reaction towards Mariel de Leon losing the Miss International 2017 pageant.
KAMI learned about Sara's reaction from her Facebook via Fashion PULIS.
Mariel is a known critic of Sara's father – President Rodrigo Duterte.
"Meron ako personal experience sa kanya, but I'm too tired to make kwento.
"I believe pageant judges see through the physical beauty and examine the heart. Para bang Ms. Venezuela sa Ms. Universe 2016. Parang ganyan.
"This is a schadenfreude moment for me. Sa binisaya pa, ang gabà di gyud magsabà," Sara posted.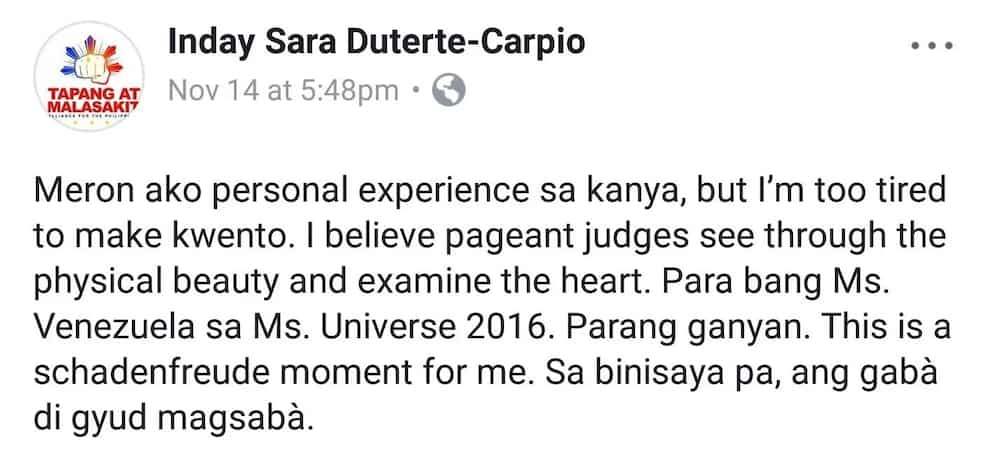 Many netizens agreed with Sara in the comments section of her post.
"A beauty queen should always carry grace wherever she goes and how she speaks is very important, HATE is not one of them since you're supposed to be an ambassador of goodwill and promote the country you're representing despite political biases."
"Remembering....dapat kc kunting respito pra e rispito ka din..yan tuloy."
"pak na pak! Schadenfreude. When another person's bad luck secretly makes you feel good, that's Schadenfreude. ... This German word perfectly captures that satisfied feeling everyone gets at times when someone else runs into misfortune. In German, Schadenfreude literally means "damage-joy," and it's always spelled with a capital S."
KAMI wants to remind you to always wish the good of others even if they are against you! That is the key to having inner peace!
Source: KAMI.com.gh