"I was locked in a room .." Heart Evangelista reveals a bad experience from a person she won't name
KAMI learned from PEP about Heart Evangelista's revelation about a person who locked her up in a room and threatened her.
Heart revealed that he was locked up in a room and was threatened 6 years ago by a person she won't name.
According to her, that person is the reason why she has bashers in social media.
Heart answered back to a basher with a handle name @kaynegh who called her "baog."
This can be seen in the comment thread of the actress' Instagram post dated November 14.
Heart reacted to this and wrote, "This account is a classic example of the many accounts created to basically hurt me and my family.
"Its been happening for almost 6 years now after an incident where I was locked in a room and told that 'this' would happen to me if I told anyone anything."
Heart did not reveal the identity of the person and the reason why it was done to her.
It is also a mystery why she remained silent for what had been done to her.
According to her, "I have remained quiet because I know the truth and believe God will deal with the rest... because the battle isn't mine to fight but His."
The actress urged her fans not to use harsh words to hurt other people in social media.
"so I ask one more time to pls ignore, pls don't fight back, pls don't be like them.
"Because at the end of the day as my 'fans' you should carry my heart ...
"it is hard but if I can do it and take it in for almost 6 years... you can too.
"God has been good to me so let it be. thank you."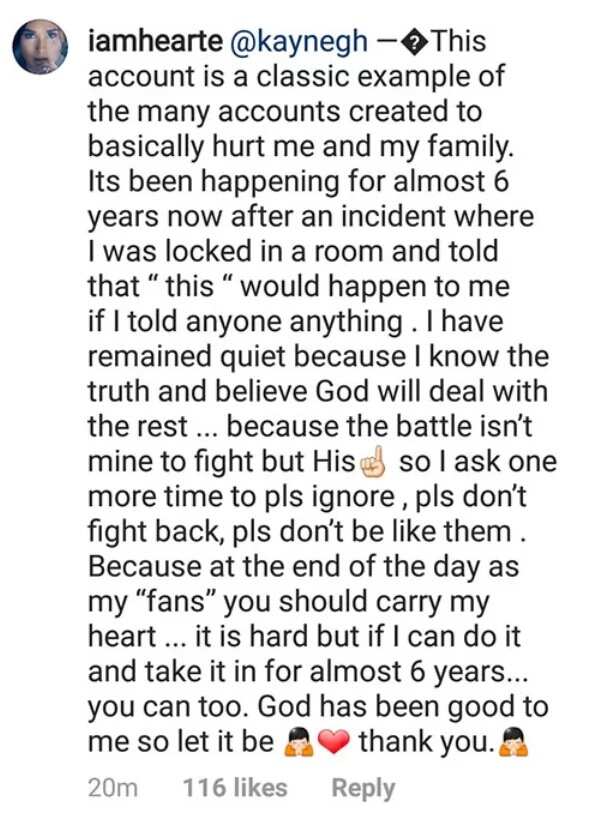 Another basher with a handle name @manyaksiheart wrote, "khit kailan di ka na mgkakaanak."
The netizen also accused Heart of having an abortion.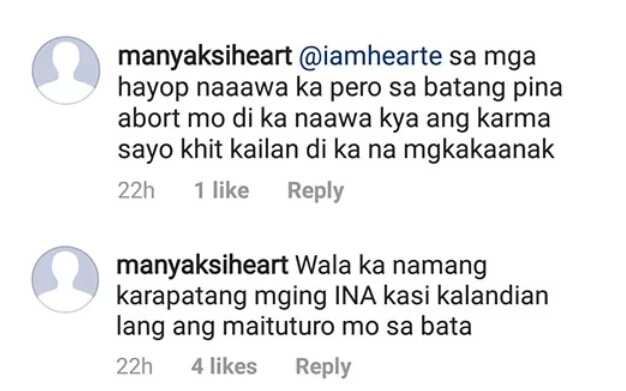 Heart once again reacted saying that the person who did those things to her 6 years ago is the person responsible for the negative comments.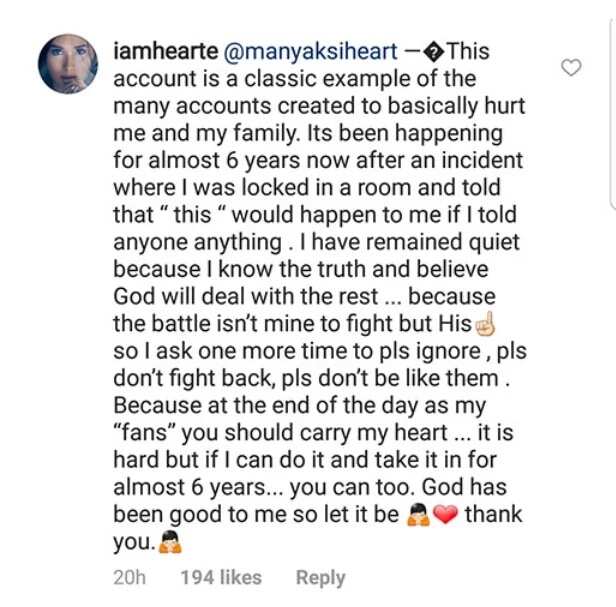 Source: KAMI.com.gh