Jessy Mendiola hits back at bashers: "Hindi naman siguro ako pupunta sa kasal na hindi ako invited"
Controversies over Jessy Mendiola's attendance at Anne and Erwan's wedding surfaced when she posted their photo of Luis in New Zealand.
Netizens started to think, Was she really invited at the wedding?
KAMI learned from PUSH that Jessy Mendiola fires back at Netizens who seem to keep the issue alive.
In the comment section of her Boyfriend's Instagram Account she wrote:
"Sa lahat ng mga tao na makikitid ang utak na namomoblema kung sinong invited o hindi, hindi naman siguro ako pupunta sa kasal na hindi ako invited. I just think that's crazy can we just all be happy for the lovely couple who are about to get married? Good vibes lang po sana, doesn't matter kung sino sino ang magkikita kita, the important thing is we are ready to put aside our issues for such a wonderful event,"
She also reacted to a netizen with the Instagram name @_maanster who posted a comment for Luis Manzano saying, "If you love her that much then marry her, maybe then you can save her from all the bashing. If she's the one for you then what are you waiting for? Right age naman na and it's not like Jessy has to put any career on hold if you do settle down."
Jessy replied:@_maanster I may not have a superstar status but i do have dreams on my own. Who are you to say that I don't have a career on my own? I am working on it, after all.. i'm only 24. Marriage is not something you just do for the sake of pleasing other people, not to save anyone from bashing. It's a special union that binds two people in love. Everything happens at the right time and with the right reasons. Maybe you need to get your values checked,"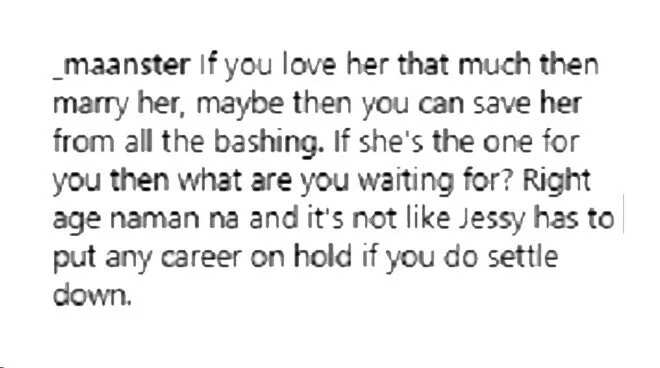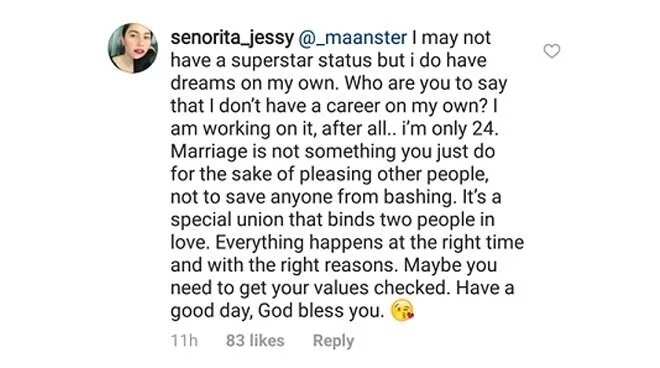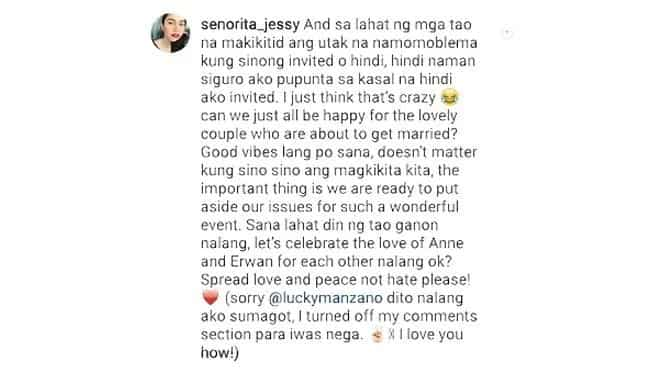 Source: KAMI.com.gh