Hashtag Franco's manager Erickson Raymundo of Cornerstone posted,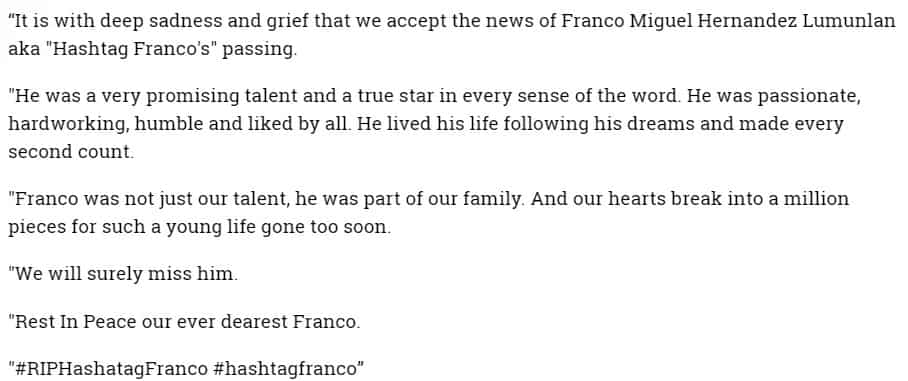 Showtime is now experiencing two faces of showbiz.
While they rejoiced for Anne and Erwan's wedding, they are now facing the sadness of loosing a family member.
Among the superstiotions we have is "it comes in three's."
Kean Cipriano and Chynna Ortaleza just got married and now Anne and Erwan. Next in line is Ai-ai-Gerald wedding.
Showbiz world is still grieving over Isabel Granada's death, Franco Hernandez followed. Hopefully this isn't true.
Our beauty queens also got 2 crowns already, Miss Earth (November 4 held in Pasay City, Philippines) and Reina Hispanoamericana (November in Sta. Cruz, Bolivia).
According to reports, Franco's family accepts what happened to him.
As the It's Showtime hosts return on Tuesday, November 14, they can all attend to Franco's funeral wake.
KAMI wishes to extend our condolences for the bereaved family and friends of hashtag Franco.
Source: Kami.com.ph