Kris Aquino fired back against netizen who implied that she is a bad boss to her household staff
A netizen had a question for "Queen of All Media" Kris Aquino, which seemed to imply that she was a bad employer to her household staff.
KAMI learned about the controversy from PUSH.
The netizen asked Kris on Instagram:
"Bincai is your household staff. Do you pay her at least $10.50/ hr- which is the minimum wage in NYC. Per labor law beyond 40 hrs is time and a half.
"My Q is not even whether you can afford, but of course you can. My question is are you required to abide. #curious&nosy (sic)."

Kris responded by telling the netizen that her question was offensive.
She also detailed how she treats her employees.
"I saw those papers when we applied for her US Visa, fyi her 10 year multiple entry visa is attached to mine & i am her guarantor...
"I'm a very fair boss & i'm feeling negativity from you so this will be long: Bincai flew business class w/ us, i gave her a clothing allowance before we flew here so she'd be prepared for the cold & i gave her a lot of my sweaters because lucky for her we are the same size...
"upon arriving here, Bincai had the $ salary as stipulated in the contract i signed w/ her to present to the US Embassy as a supporting document…
"I am offended by your question because there is an implication that is intended to make me appear like a clueless & selfish employer-so i shall add more details-
"staff at home received their 13th month pay in June, we deposit in their ATM accounts salary every 10th- but because my sons & i left, everybody received their salary 10 days in advance.
"Those working for us for 1 year or more will receive their 14th month pay this November. Your insinuations were insulting BUT i've always believed when the truth is on my side i should be vocal in defending my dignity…
"Being nosy about other people's financial practices in my opinion isn't proper especially when you just want to bring me down. I was also nosy & checked your account although it is on private but there were details- for someone who is a clinical coordinator in Yale New Haven Health the type of comment you sent my way seemed to be a bad match for someone in a position that requires trust & discretion"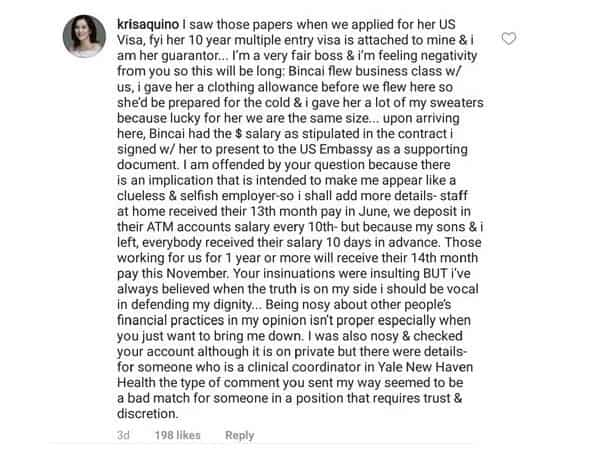 KAMI applauds Kris for being fair and kind towards her employees! All bosses should be inspired by her example!
Source: KAMI.com.gh