Just recently, Kris Aquino offered "Chowking Halo Halo" to a netizen who questions her on setting bad example by eating in bed.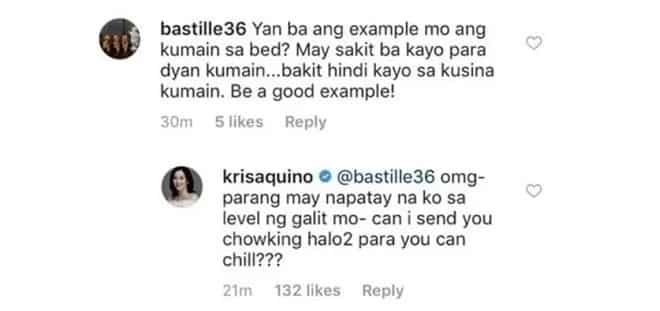 KAMI learned from PUSH that the Queen of all Media already learned how to handle 'bashers' with the help of her family.
"My ate said 'I can't stop you kung sometimes pipitik ka or mayroon kang gusto awayin you're only human, and if you want to defend yourself it's your right,'" said Kris In a PLDT event where she was introduced as the newest ambassador.
According to her siblings, Kris should just be thankful for her followers instead.
"My ate told me, 'It's your duty and it's your responsibility to say thank you because they make an effort to say you look good today, that you were beautiful today or you inspired them. A simple thank you is enough,'" she added.
Source: Kami.com.ph