- Anne Curtis uploaded her photo with Korean actor Nam Joo-hyuk
- Some netizens accused her of getting a special treatment at the fan meeting in Manila
- Anne reacted to the bashers on Twitter
Anne Curtis received criticism from some Korean drama fans for allegedly using her celebrity status to get special treatment at the fan meeting of "Weightlifting Fairy" in Manila.
KAMI learned about the controversy from Anne's Twitter page via Fashion Pulis.
The controversy began when Anne shared her photo with Korean actor Nam Joo-hyuk, a star of the show.
Some netizens started to bash her, saying that she did not fall in line but was able to get a photo with the Korean star.
"Yung Iba fans kasi nag bayad ng mahal na ticket to see weightlifting fairy guy Pero Wala solo pic Tapos si Anne Meron... unfair daw Sa mga VIP buyers which is unfair naman talaga. And she's didn't fall in line! Sino hinde mag rereklamo diba?" a netizen wrote.
Due to hateful comments, Anne appealed to her bashers to take it easy.
"Mga teh at tol, easy lang po. Nakakahurt kayo. If you don't have anything nice to say, then don't say anything at all," Anne tweeted.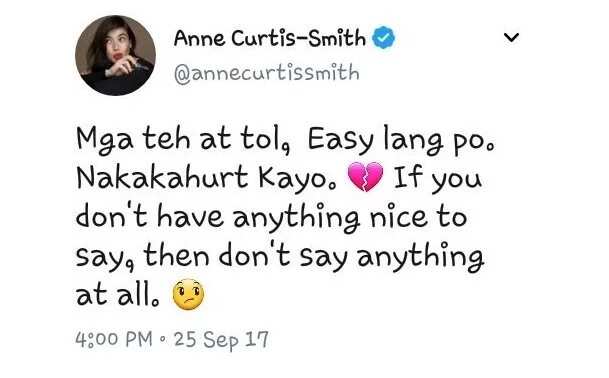 She then deleted that tweet, saying that she would rather spread positivity than sadness on her account.
"Actually, delete. Learn the art of deadma ulit ako. Sending out positive vibes and love to everyone! Even those who ain't feeling it," Anne wrote.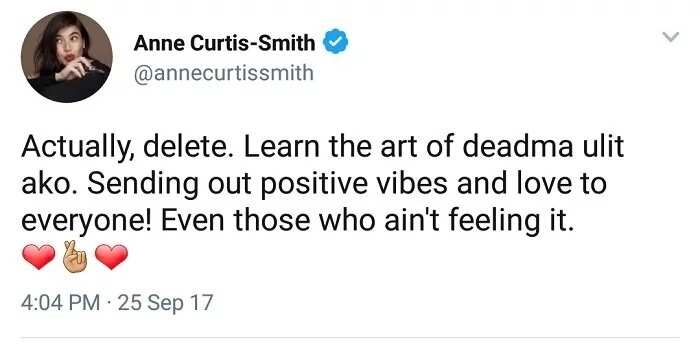 There were still netizens who defended the Kapamilya star.
"ito ba yung sa picture even nya with nam joo hyuk? sometimes even some people can get a little jealousy, mahirap nga naman makalapit with ur fave celeb while others have it easy,but i guess you can really get the perks for being a celebrity and all."
"Ewan ko ba why is being a fangirl a competition to these people? They cant just mind their own business and let people be happy"
KAMI is hoping that Anne would be able to move on from the controversy!