Roxas proves Duterte's dollar account in BPI
Liberal Party presidential candidate Mar Roxas claimed that he has proof of Mayor Rodrigo Duterte's alleged secret bank accounts in BPI, and added that one of them is a joint dollar account with daughter Sara Duterte.
On Thursday, the staff of Roxas made a P500 deposit to Duterte's account at the Bank of the Philippine Islands (BPI) branch in Julia Vargas. The machine-validated deposit slip indicated that account number 2433-0695-39 belonged to Rodrigo Roa Duterte and Sara Duterte.
At 3:06 pm yesterday, Roxas' camp made another deposit at the BPI Pasig Branch for the account number: 2434-0159-71, but they were told that it was a dollar account.
They then deposited an amount of $10 and the deposit slip also listed both Rodrigo Roa Duterte and Sara Duterte as owners of the account.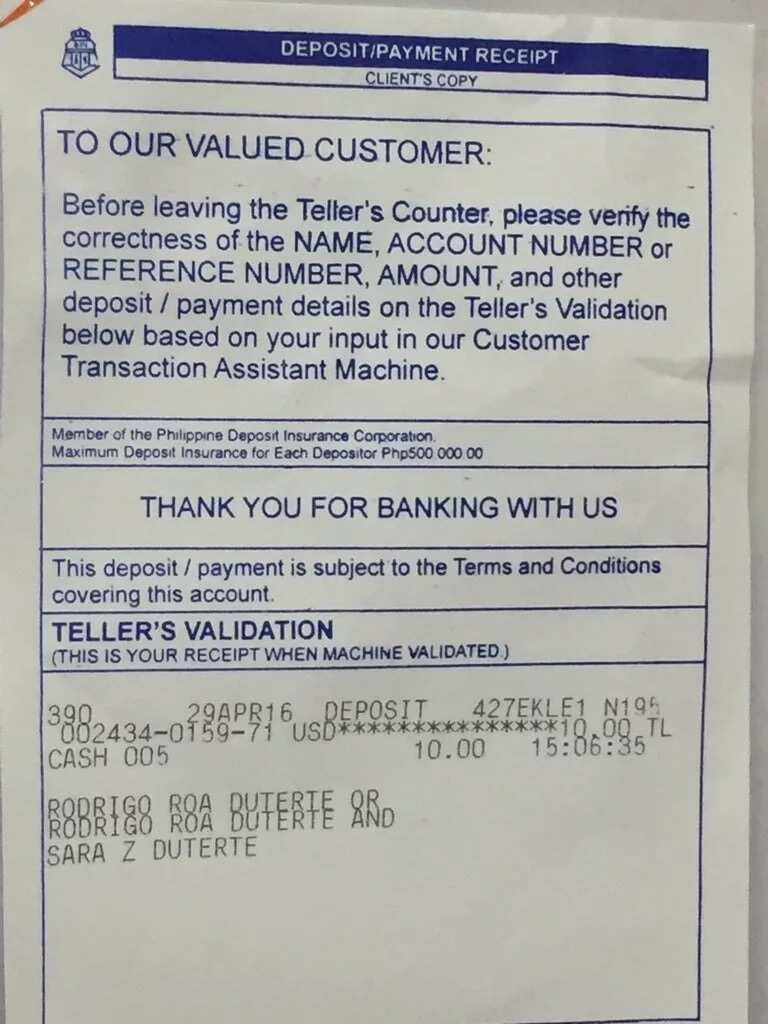 Roxas said they wanted to confirm if the allegations made by vice presidential candidate Senator Antonio Trillanes against the leading presidential candidate were true so they deposited money into the leaked account numbers.
The machine-validated slips of the Roxas camp support an earlier deposit made by a "concerned citizen" who also wanted to confirm if the accounts exist.
Speaking to reporters, Roxas questioned Duterte's moral credibility and called the Davao City mayor a liar for initially denying that the accounts existed.
Earlier this week, Senator Trillanes revealed the existence of Duterte's alleged P211 million secret bank accounts, claiming that the presidential candidate did not include this money in his Statement of Assets, Liabilities and Net worth (SALN).
In an article posted in CNN Philippines, Duterte already asked BPI-Julia Vargas to open his bank accounts on Monday. May 2, to his lawyer Salvador Panelo and Trillanes.
However, Duterte changed his estimates for the accounts. In the same article, Duterte said that the amount could be closer to what Trillanes claims.
"Basta malaman ninyo na hindi talaga umabot sa 211 [million pesos]. A little lesser," said Duterte.
(You'll find out that that it won't reach 211 million pesos. A little less.)
Duterte said that he will be in Davao on Monday and he will leave his lawyer to explain his accounts. He also assured the public that whatever money he has is not "dirty."
Source: KAMI.com.gh