KZ Tandingan fires back against netizen who bashed her fashion style
Singing sensation KZ Tandingan gave a long reply to a netizen who bashed her fashion style and urged her to look simple like the other famous Filipina singers.
KAMI learned about the issue from her Instagram via PEP.ph.
The basher accused KZ of trying too hard to look like a foreigner and of looking like a scarecrow.
"Na over na besh wa nay angay mukhang trying hard na ang aura besh di ka foreigner kaya wag kang pa feeling try to look simple and natural @kztandingan."
"Na over naman gud iyang fashion wala na sa lugar besh para na syang scarecrow sa palayan..tingnan mo sila Sarah G. Angeline at Klarisse simple lang natural diba? Eh si Taylor Swift hindi nga over sa mga blingaru," the basher wrote.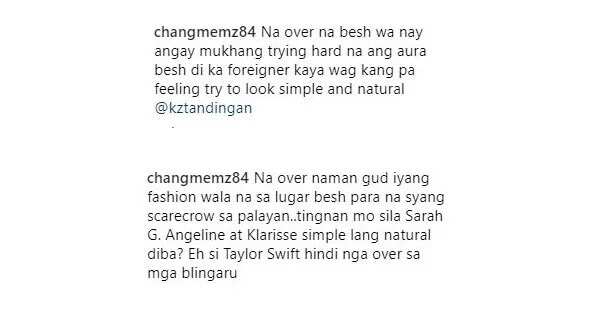 Here is the reply of KZ to the basher:
"Hi ate. I appreciate your concern na gusto ka simple rako. But unfortunately, im a maximalist pagabot sa pag style sa sarili ko as a performer and as a singer."
"Don't tell me to be like ms Sarah G, ms Angeline or Klarisse, because i wanna be myself. And being myself is expressing what i feel, in my music and in my style.
"Id understand if im not the artist na gusto mo, but stop telling people who they should be, what they should look like.
"Coz i'm not telling you to change your profile picture because the color of your dark lipstick doesnt suit you."
"I just wish your children dont get treated the way you treat other people."
"Btw, dont call my supporters Kunatay, whatever that means, because you have no right. Please unfollow me or ill block and report your account. Good day!"
KAMI believes that we should all learn to mind our own business and to seek to improve ourselves instead of judging others!
Source: KAMI.com.gh