Beauty explains herself to bashers on latest IG photo
A lesson all of us should know is that we can't please everyone.
Whether you're a celebrity or not, there will always be people who wouldn't like what we're doing.
Case in point was when KAMI spotted Beauty Gonzalez defending herself from bashers once again due to her photo on Instagram.
It was just a simple shot of her at the beach, which was nicely executed in black and white.
If you have been following the 'Pusong Ligaw' star on the social media app, her feed is usually filled with gorgeous photos of her during her vacations.
However, the comments section of her recent pictures has become divided into two camps – fans that gush about her and haters that like to nitpick.
On the said photo, two bashers got her attention. The first criticized her for not being creative enough in her shots, which she replied sarcastically.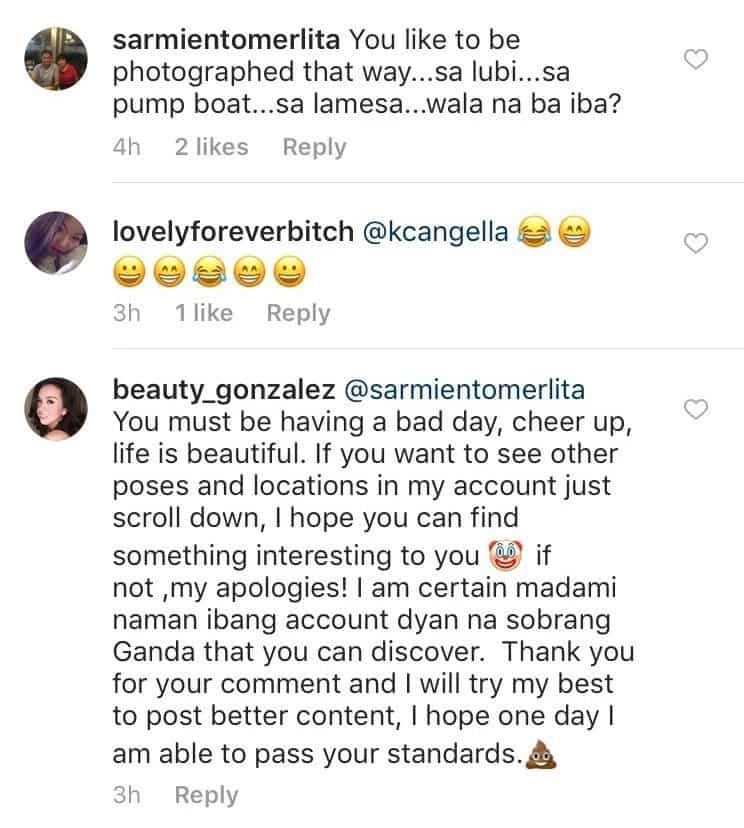 The other sounded like a mother disrespected with her child's attire, as she called out the actress for wearing underwear at the beach.

Beauty's response was hilarious and the basher was satisfied with it.


Can't the girl just post whatever she wants? It's her Instagram page and if you don't like what you're seeing, you're free to click that 'Unfollow' button.
Let KAMI know what you think of the constant bashing Beauty receives and how she responds to them below!
Don't forget to subscribe to our YouTube channel here!
Source: Kami.com.ph